It Turns Out We Weren't Kidding About Kevin McCarthy's Sex Scandal. Huh!
News
October 09, 2015 08:30 AM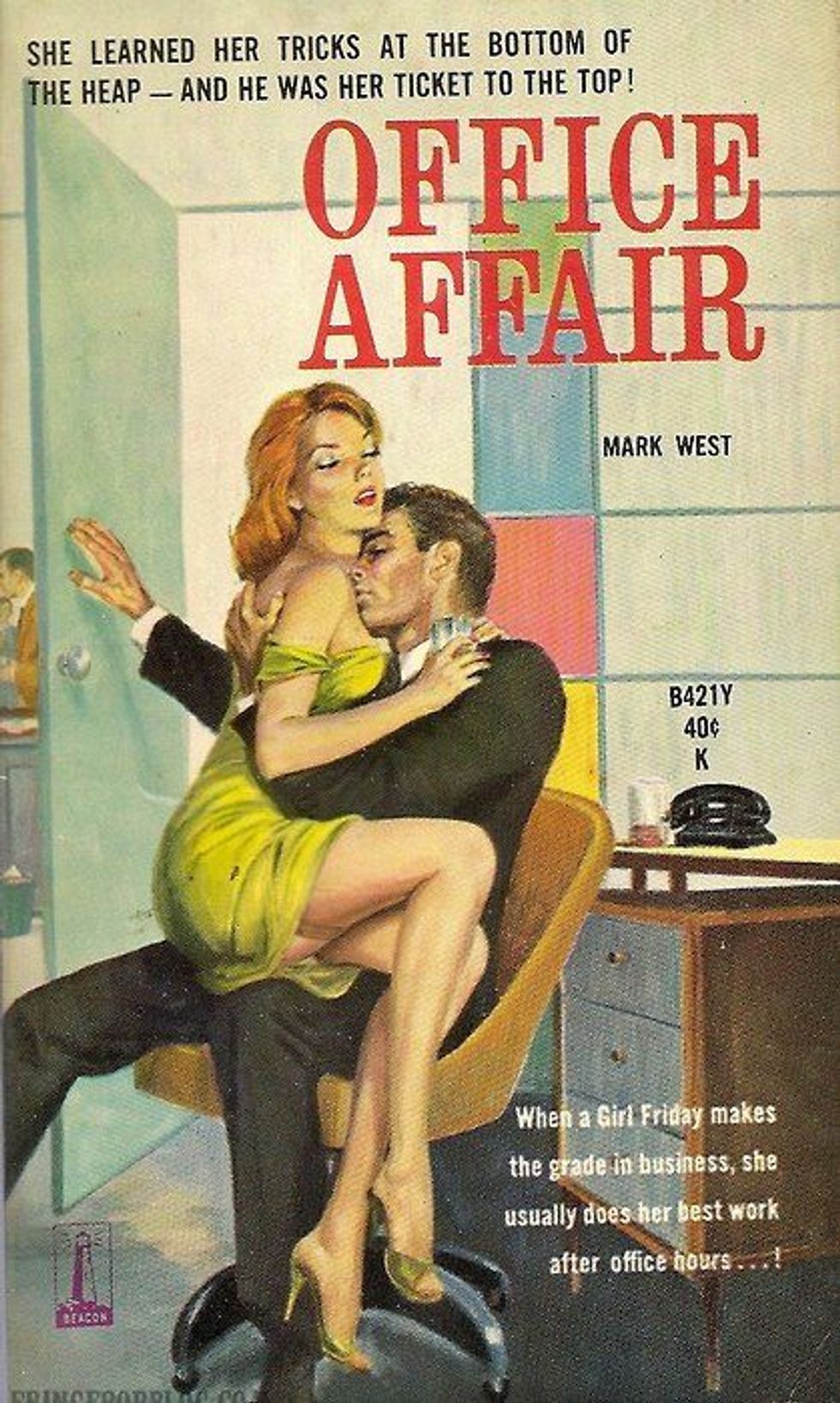 ANOTHER Republican sex scandal?!?!
---
Remember a long, long time ago, when we told you John Boehner was quittin' this here speaker job, probably because SEX SCANDAL? And you were like, Oh, Wonkette, LOLZ, you're so funny, with the jokes, that's why we love you and give you all our money.
And we were like, it's a SCIENCE FACT that every Republican speaker or almost-speaker of the House has had naughty sexxytime skeletons dirty dancing in his closet. Like, every single one: Newt Gingrich was cheating on the second Mrs. Newt with the shrew-faced helmet-hair aide who would eventually become the third Mrs. Newt; first runner-up Bob Livingston was like, "Oh yeah, I guess I've been banging some extramarital strange on the side, never mind, I'll go away now," and he did; and then last resort Denny Hastert, it turns out, had some real naughty molesty skeletons in his closet, ewwww, Denny, you sick bastard. Allegedly. 
So, thus therefore and thus, Bohener's resignation was probably because SEX SCANDAL, we told you, and the next guy after him, who was going to be House Majority Leader Kevin McCarthy, will undoubtedly resign one day because SEX SCANDAL too, it's just basic math.
And then Kevin McCarthy pulled a Livingston and very suddenly and very suspiciously withdrew his name on Thursday, before House Republicans even had a chance to vote "OK, fine" or "No way, fuck that guy." And what did we tell you? We told you SEX SCANDAL, probably, because that's how we do, and you laughed and gave us more money, because that's how you do. (That is how you do, right?)
[contextly_sidebar id="l2bRfk2pnVuTw9h1ezdITPLARQlrnh8Z"]
But for serious, you guys, SEX SCANDAL. Dig this.
"Award-winning" "journalist" spunk sock Chuck C. Johnson has been typing words for months that Rep. Renee Ellmers of North Carolina, a married family values Republican of course, has been secretly banging Kevin McCarthy since 2011:
The affair is something of an open secret in Washington, D.C. Reporters at other publications, lobbyists, congressional staffers of both parties all know about it. One staffer for a congressman describes it as the "biggest open secret" in D.C. A lobbyist describes Ellmers as a "social climber who has ingratiated herself" with McCarthy.

House leadership also knows about the affair. Speaker John Boehner reportedly told McCarthy to stop the affair once McCarthy was elected Majority Leader says a well placed congressional staffer. At least one leadership staffer doesn't think the affair ended. "They are unusually close," says the staffer who insists that the affair is going on. "It's weird if he's not fucking her."
But no one ever paid any attention to that because duh, Chuck C. Johnson. That guy is a total A Asshole and a A Idiot. But then ... drumroll, please ... The slightly a-tad-less Asshole Idiot Erick Erickson posted a story at RedState after Kevin McCarthy's dramatic news broke, which he then deleted without explanation, but it's still available at his website for his (eye roll) radio show.
According to Erickson, "a guy out in America who has emails for a massive number of members of Congress and the email addresses of highly influential conservatives outside Congress" -- a guy Erickson described in a subsequent post as "a prominent conservative activist/philanthropist," which the Hill reported late Thursday night was Chicago conservative activist Steven Baer, who "has been flooding lawmakers' personal email in-boxes with blogs and articles about the McCarthy rumors" -- had emailed everyone in his iRolodex a bunch of rumors that oh yeah, Renee and Kevin have totally been sitting in a tree, F-U-C-K-I-N-G. And, according to very reliable source Erickson, this got all of conservative Washington DC a-talkin' and a-gossipin' about how, OMG, are they really doing it, for reals? And whoa if true! And OH FUCK, not another Republican speaker of the House sex scandal!
In his subsequent post on Thursday, Erickson wrote about another email, from the same A Guy, sent "directly to Kevin McCarthy, Rennee [sic] Ellmers, Peter Roskam, Mike Huckabee, and others," with the subject line "Kevin, why not resign like Bob Livingston?" and suggesting "McCarthy might want to spare his family, neighbors, church, and members of Congress."
Is there more? YES! Glad you asked. Per Erickson's post, we learned that Ellmers's fellow North Carolinian, Rep. Walter Jones, wrote a very curious letter to the party's leadership:
With all the voter distrust of Washington felt around the country, I'm asking that any candidate for Speaker of the House, majority leader, and majority whip withdraw himself from the leadership election if there are any misdeeds he has committed since joining Congress that will embarrass himself, the Republican Conference, and the House of Representatives if they become public. 
And just to make it extra clear for his GOP colleagues, Jones name-checked former House speakers and almost-speakers so no one could act like they didn't know he was talking about SEX SCANDALS.
Now huh. Why would Rep. Jones all of a sudden worry about potential speakers having some naughty bits in their closets? Hmmmm. Good question, us! Maybe it's because he got the email from A Guy (Steven Baer) too, and it made him preemptively crap his pants. Maybe it's one of those totally Not True rumors, as Ellmers and McCarthy both insist, "No way, we are family values Republicans, we would never!" It wouldn't be the first apparently bull-oney rumor to circulate around DC in the last couple weeks. Ahem, looking at you, Rep. John Fleming, MD.
But as Erickson observed:
It is again worth noting that both parties deny it. But the rumor itself may have led to McCarthy's collapse. It has become a louder buzz over the past few days with more and more people on and off the hill talking about it. Once Ellmers' odd quote was out there, the buzzing became chatter.
Oh, did we forget to tell you another detail? Nah, we were just waiting to drop it on you at the right time, for narrative. But check it: On Wednesday, Ellmers said she wasn't so sure she'd support McCarthy for speaker, even though the two of them have been so bosom buddies for all these last four years, and she might vote for that wingding Jason Chaffetz from Utah instead:
"He has not spoken to me personally for my vote, and Jason Chaffetz has, so that's where I am right now. At this point I will be casting a vote for Jason Chaffetz," said Ellmers, who is facing a GOP primary challenger. "I can't vote for someone who doesn't ask for my vote.

"I'm apparently not high on his priority list," she added.
Meeee-OW, Renee Ellmers! What were you expecting McCarthy to do -- send you a dozen red roses and some chocolates and a calendar with babies dressed up like vegetables, saying "Pretty please be my Valentine and also can I have your vote?" How was he supposed to, uh, put you on his priority list? And is that a euphemism, wink wink, if you know what we mean? And, another follow-up question, how exactly did Chaffetz ask for your vote and make you feel like a priority? Or is that way too much TMI for the kids at home?
Curiouser and curiouser and what even the family values fuck is going on in the Republican caucus? No one knows! We're not even done wondering who Boehner was secretly drunk-boning, and now we have to wildly speculate about his almost-replacement doing secret boning too!
Maybe it isn't true, and McCarthy dropped out of the race because he was afraid he couldn't win anyway. Or maybe it isn't true, but the appearance of impropriety drove him away. Or maybe it is true, and Chuck C. Johnson really does deserve all the Pulitzers please, for doing journalism, and collecting McCarthy's scalp because McCarthy and Ellmers are full-on Doing It, and they were afraid someone besides Chuck C. Johnson was going to expose them for the fake family values adulterous hypocrites they are.
The only thing that could make this whole sordid tale any more ridiculous is if we could somehow work good ol' thrice-married perpetual cheater Newt "Moon bases!" Gingrich into the picture somehow:
During an interview with radio host Sean Hannity Thursday, the former speaker told the host that while he isn't pining to retake the position he vacated in 1999, he would not be opposed to serving as interim speaker if he had the 218 votes necessary. [...]

"Why are you laughing at my idea?" Hannity told Gingrich. "This is a serious proposal."

"I'm not laughing at it. I'm saying to you — I'm trying to be totally honest with you," Gingrich told the host. "If you were to say to me 218 have called you up and given you their pledge, obviously no citizen could ever turn down that kind of challenge. This is why George Washington came out of retirement — because there are moments you can't avoid."
And scene.
[Got News / Erick on the Radio / The Hill / Breitbart / The Hill / Washington Examiner]