It's Beginning To Look A Lot Like Terror! Wonkagenda For December 20, 2016
Elections
December 20, 2016 09:02 AM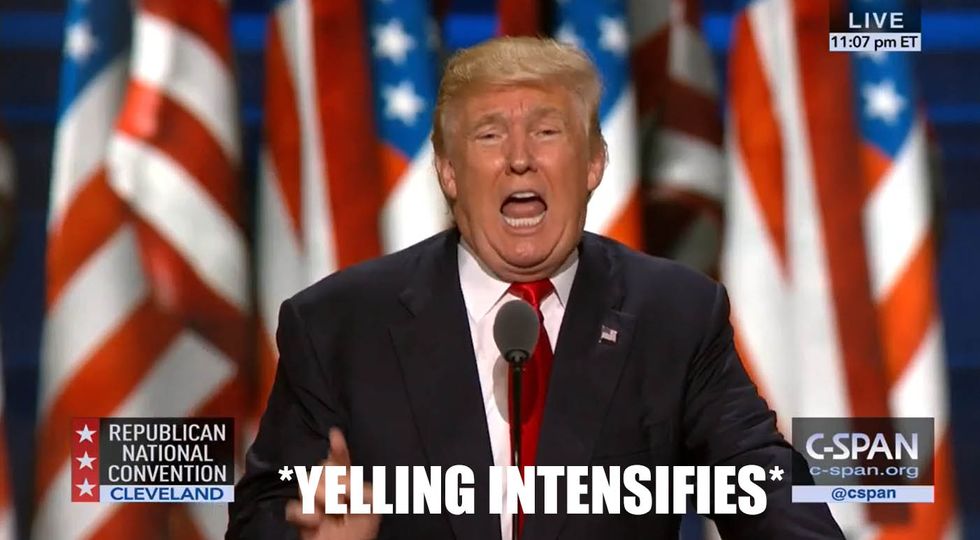 Morning Wonkers! There's a lot of things happening in the world today, so here's some of the stories 'yr Wonkette might be splainering for you!
---
Police in Berlin aren't sure whether they have the right suspect in yesterday's holiday market terror attack -- but considering the truck's original driver was found in the cab with a bullet in him, "terror attack" seems pretty likely.
Russia's ambassador to Turkey, Andrey Karlov, was assassinated yesterday in Ankara in response to Russian bombing of civilians in Syria, so of course this is completely Obama's fault.
The electoral college voted to elect Donald Trump amid protests, a historic popular vote loss, and a number of defecting electors, making it the worst collegiate exam ever.
Steve Mnuchin, Donald Trump's pick for Treasury secretary, may possibly have used hedgefunds to steal money from grandmas, (besides actually throwing grandmas out of their homes) and he'll probably get away with it too!
Trump has picked Vincent Viola, an ex-Army officer and billionaire, for Army secretary because anyone who can use a high-powered super computer to make high frequency stock trades is a sure fit to lead the military.
U.S. Air Force officials are saying they might be able to trim the costs on the F-35 program, a war fighter desperately sought by the DOD to replace decades old aircraft, after Donald Trump tweeted that the fancy flying pew-pews were too expensive.
Newt Gingrich wants Trump to wage "straight-out war" on federal civil service workers, thus reminding everyone that Gingrich has no business being in public policy because he's a hypocrite and A Idiot.
If you're a mayor in a big city or a small town, now might be a good time for you to get on your knees and slobber over the ring of the God-Emperor-elect because Trump's creating an infrastructure task force to identify what qualifies as infrastructure so that they can papier mache Ameros onto decaying bridges and public transit systems.
Victims of Trump University's "puffery" are finding out how much, if any, of a class action settlement they might receive, which is just a legal way of screwing innocent people. So gullible and pathetic. SAD and DISHONEST.
Michigan's attorney general has filed more criminal charges relating to the Flint, Michigan, water crisis but refused to publicly state which elected officials should be tarred and feathered for poisoning the water hole.
New Orleans settled cases of police brutality from way back in the old timey days of Katrina, proving that justice isn't blind, it's just old and takes forever, but we still love it despite its gross and crusty flaws.
Science bozos in Florida are hoping Donald Trump will read reports on climate change, but they keep forgetting that Donald Trump "is, like, really smart" with "a good brain" who doesn't need nerds hanging around with their books, facts, and spread sheets when he can just stiff "pay" someone to fix the greatest threat to humanity.
Donald Trump secretly met with Messican businessman Carlos Slim, and Trump presumably apologized for calling all the Messican people rapey drug-addicted mules who steal jobs. Then he went to Mobile, Alabama, to thank rednecks as they chanted "build that wall!" How sweet.
On Halloween, when Obama called Putin and told him to "cut it out," he used the "Red Phone," the super serious Cold War-era hotline that's meant for U.S. and Russian leaders to gab while they twirl their hair and ask what the other was thinking about.
The Kuwaiti embassy in Washington DC will hold its National Day celebration at the Trump International Hotel after reportedly being pressured by the Trump Organization to cancel its recently signed contract with the Four Seasons, but that doesn't mean the presidential transition team has been blackmailing foreign countries. Nope. Can't prove it.
The Chinese might be an entire nation of godless heathens, but they sure know how to export a shitload of Christmas decorations, so just remember to thank all the child slaves in polluted factories as you string up coal-powered plastic lights on that decaying tree corpse this year. Happy holidays!
FLOTUS gave Oprah Winfrey some super special one-on-one girl talk time where they gabbed about having hope in the face of impending doom, raising your kids while eight heavily armed men in body armor hang around staring, and how Melon Trump doesn't know the things she doesn't know until she descends from her glass house.
Controversial pollster Louis Harris passed away at 95. Harris helped to develop election projections for teevee in the 1960s, and was instrumental in the Senate and presidential elections of JFK.
It's not just SNL that's been making NOT FUNNY and LOW RATINGS satirical portrayals of Donald Trump, all over the world comedians are mocking the president-elect.
Here's Samantha Bee having a weird interview with Glen Beck where they agree to work together because they're afraid of Donald Trump having the spirit of Christmas taken out back behind a shed and shot.

And now, your morning Nice Time, some wee capybara! Aren't they just precious?
Dominic Gwinn
Dominic is a broke journalist in Chicago. You can find him in a dirty bar talking to weirdos, or in a gutter taking photos.