It's The Final Countdown! Wonkagenda For Thurs., Jan. 19, 2017
POTUS
January 19, 2017 09:06 AM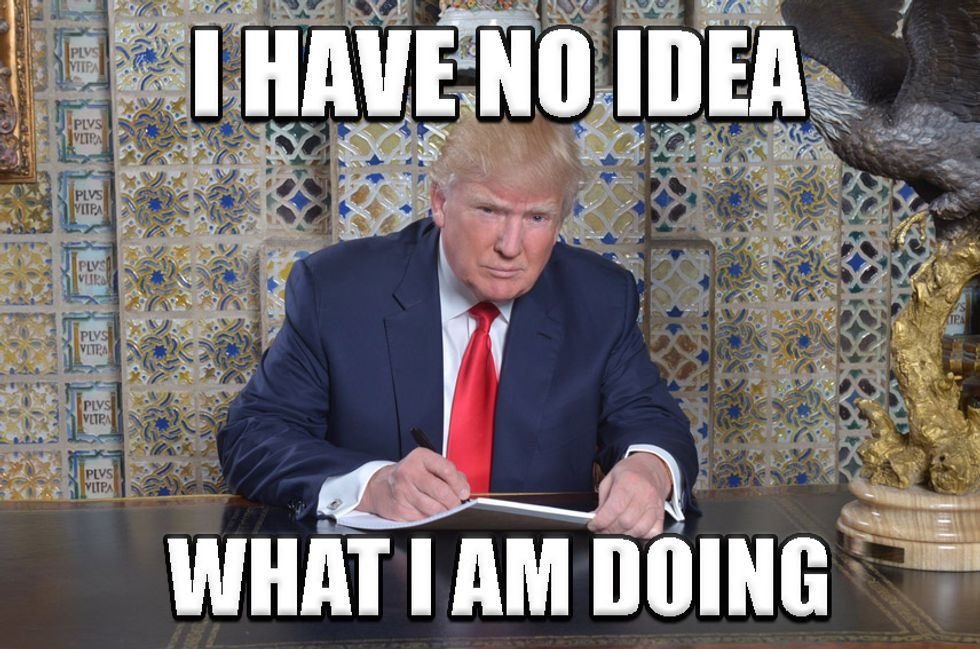 STOP LOOKING AT MY GROSS SAUSAGE FINGERS!
---
HEY-O Wonkareenos! There's a lot of news, 'splainerings, and C-SPAN-a-thons we've got going on (AGAIN!), so here's a quick rundown of the things we may be making silly dick jokes about today!
Rep. EPA nominee Scott Pruitt had a pretty bad day yesterday. He had to admit climate change was real, even though he's not sure what's causing it (it's PEOPLE!), Bernie Sanders yelled at him, and then he had to shrug his shoulders about whether or not, if appointed, he wouldn't actually sue himself.
South Carolina Governor Nikki Haley surprised people yesterday by not being a complete idiot during her confirmation hearing when she came out against some of Trump's policies, like his love affair with Putin, but she still has a long way to go.
Trump's pick for Treasury, Steve Mnuchin, is raising questions after he accidentally forgot to list over $100 million in assets on his disclosure form. Meanwhile, Mnuchin is blaming Democrats for renewed criticismthat he profited handsomely during the financial crisis ahead of his confirmation hearing today.
Look, Rick Perry is not a dumb son-of-a-bitch, he's just got a lot of homework to shove into his brain meat before he's grilled by Congress today for a job he wanted to cut. That's why he wears those smart-guy nerd glasses. Duh!
The head of the House Office of Government Ethics, Walter Shaub Jr. will meet the chairman and ranking member of the House Committee on Oversight and Government Reform, Jason Chaffetz and Elijah Cummings, in a closed-door interview so that they can bitch at each other in earnest without putting on airs for the public or press.
Trump has tapped political opportunist Sonny Perdue to head the Department of Agriculture, which is rather fitting when you think how many people are already praying to their deity of choice to save them from what insurance companies call "acts of God."
Here's your story about Trump's health. TLDR: He's fat, unhealthy, and probably won't die of a heart attack for another 15 years because modern medicine is pretty good (if you can afford it).
If you're a poor person, you're understandably worried about what you'll do the next time you need a doctor, so here's an infographic projecting the Republican/TrumpCare plans and what you're currently getting under the Affordable Care Act (AKA: Obamacare) for your InstaFaceGrams.
The GOP is fucking terrified now that people have realized that people kind of like having health insurance, so they're canceling public appearances, town halls and Internet Q&A's because people are showing up and giving them a piece of their mind.
House Republicans are creating their own vagenda for 2018 by trying to convince more Republican women to run for office to support President Pussburglar.
Army Secretary Eric Fanning is projecting Trump's promise of military expansion will cost at least $12 billion dollars as adding new ships, soldiers, and pew-pew machines ain't cheap.
Hey space nerds! Remember way back in the olden timey days when Trump trotted out a space lady during the Republican National Convention, and was all, "Mars," and stuff? Well, Trump's team is talking about public-private partnerships in Exo-America because they just can't believe how vastly, hugely, mindbogglingly big space is. [Archive]
Jared Kushner is talking to a lawyer from the Bush and Cheney White House days for a gig in the White House, which makes sense considering how many laws and human rights violations that administration skirted.
GOOD NEWS EVERYONE! The CFPB is suing Navient for its habit of royally screwing millions of people with student loan debt saying the company has deceitful and unethical business practices, though Navient says this is politically motivated by the Obama administration.
A Maryland state law maker fired an aide just because the dude made up totally false claims of election rigging in Ohio, because of how he has a little black jellybean where his moral center should be, and everyone is now shocked (SHOCKED) to find out that there was fake news involved!
The global elitists and money makers in Davos are worried about the trend of extreme populism sweeping the world and are reminding people that provincialization and nationalism has extreme consequences for everyone, not just people with caviar fever dreams.
Bernie Sanders is the inspiration for fashion designer Demna Gvasalia's new menswear collection for people who only want to look like they're a broke as fuck and idealistic hipster-millennial without actually suffering all the icky perils and pitfalls of poverty.
There was a Big Gay Dance Party at Mike Pence's house in D.C. last night and IT. WAS. FABULOUS!
And now your morning Nice Time, lemurs!
Dominic Gwinn
Dominic is a broke journalist in Chicago. You can find him in a dirty bar talking to weirdos, or in a gutter taking photos.