It's Time We Talked About That John Fetterman Shotgun Incident
Elections
July 23, 2021 11:00 AM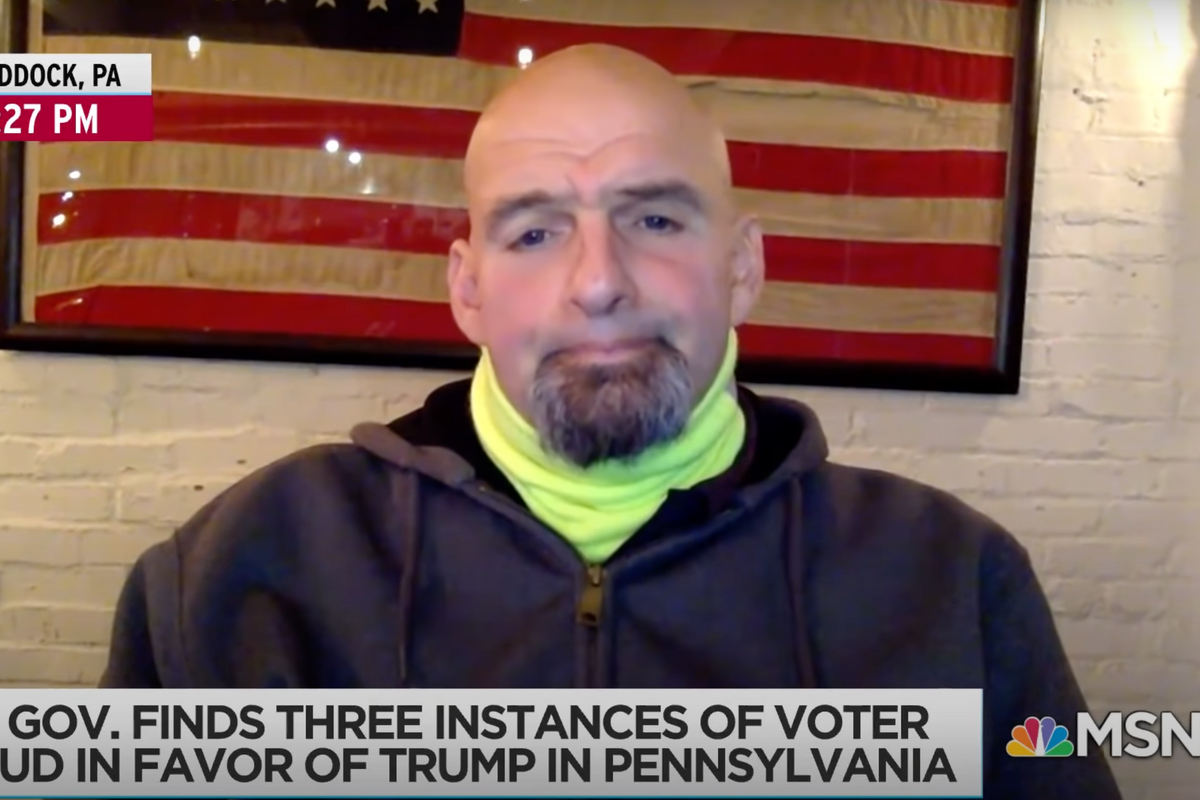 Democrats currently control the Senate, at least whenever Joe Manchin finagles a hall pass from Mitch McConnell. Holding the Senate in 2022 is an uphill battle. Democrats need to keep their seats in Arizona, Georgia, Nevada, and New Hampshire. (The last two might actually be tougher than the first couple.) They'd like to pick up seats in Florida, North Carolina, and Ohio, but President Joe Biden lost each one in 2020. Republicans have a coup-state advantage.
Biden did flip back Pennsylvania and Wisconsin, but the Blue Wall is still slightly gelatinous. Pennsylvania seems doable: Biden won the state by a larger margin than Wisconsin, and there's no Republican incumbent, even a dullard like Ron Johnson, defending the seat.
This brings us to Pennsylvania Lt. Governor John Fetterman, who announced his Senate candidacy in February. He received national attention when he mercilessly dragged Donald Trump and his Big Lies about the Pennsylvania presidential election. He's an ideal Democratic candidate in many ways. He's personable, and although he has a masters in public policy from Harvard, he doesn't talk like he studied humanity at an Ivy League school on Vulcan. However, he freely admits that he comes from a privileged background. (The admission doesn't erase the privilege, though, as some Black state officials have already pointed out.)
But there's still that incident, the one we wish hadn't happened. In 2013, as mayor of Braddock, a town just 11 miles outside Pittsburgh, Fetterman pulled a shotgun on an unarmed Black jogger, "detaining" him until the police arrived. Fetterman reportedly heard shots fired outside his home and spotted the man running, which joggers are known to do. According to the police report, "Fetterman continued to yell and state that he knows this male was shooting."
An officer who patted down the man, Christopher Miyares, then 28, found no weapons. The officer noted that Mr. Miyares was wearing running clothes and headphones. Mr. Miyares was released.
---
Braddock is located in Allegheny County, which was crucial to Biden defeating Trump and saving democracy for at least the next few months. Braddock is 68 percent Black, and my experience is that this tends to make the white minority nervous. We are often suspected of having committed 136 percent of all crimes in the area. However, Fetterman released a video describing his version of the incident and defending his actions. He made a point of saying he saw an "individual dressed entirely in black and a face mask" running in the direction of an elementary school. He literally didn't see race, unlike George Zimmerman, who stalked and killed Trayvon Martin in February 2012. Zimmerman repeatedly mentioned Martin's race and declared he was "up to no good" for such suspicious acts as wearing a hoodie in the rain and staring at the deranged man following him. A Twitter user said Fetterman was just like Zimmerman minus the part where he didn't kill the guy. That's a very big minus. It's like saying I'm just like Michael B. Jordan minus the movie career and boyish good looks.

"I believe I did the right thing," Mr. Fetterman told WTAE-TV at the time. "But I may have broken the law in the course of it. I'm certainly not above the law."
Black people have a tense relationship with white guys playing vigilante. It's why we prefer Black Panther to Batman. Christopher Miyares didn't enjoy having a shotgun pointed at him, but he never filed a complaint with the Allegheny County Police Department nor did he claim Fetterman said anything explicitly racist while holding him against his will. The man who fatally shot Ahmaud Arbery last year allegedly shouted "fucking n****r" at his dying body.
Miyares was charged in 2018 with multiple felonies, including "kidnapping for ransom, making terroristic threats and reckless endangerment." He's currently serving time in state prison. If Fetterman wins the Democratic primary, his Republican opponent might try to Willie Horton him for not shooting Miyares in 2013.
It's likely that white voters in the state, about 80 percent of the electorate, will either sympathize with or at least forgive Fetterman, and the eventual Democratic nominee will need to match Biden's 42 percent support from 2020 if they want to win. Hillary Clinton's 40 percent wasn't enough, even though she matched Biden's performance among Black voters statewide. (She actually outperformed him in Philadelphia.) The suburbs were the key, and a lot of his supporters there voted for Republicans down ballot.
However, it's also not wise to take the Black vote for granted. Democrats need to max out support in places like Allegheny County. But I don't think this one incident should disqualify Fetterman. In some ways, he's a potentially better candidate for turning out the Black vote than potential primary rival Conor Lamb, who's a nice guy but he also grew up in Mt. Lebanon, a suburb of Pittsburgh that's about 1 percent Black.
Fetterman was mayor of Braddock for 14 years and received some press for his efforts at revitalizing the struggling town with arts programs and urban farms. He emphasized community policing in Braddock (though that shouldn't mean the community literally polices people) and fired officers with a history of complaints. When Republicans, including Donald Trump. Jr, recently tried to make political hay of the 2013 incident, Fetterman released a statement calling out their hypocrisy:
I'm not going to just sit here while a bunch of Republicans who have never given a damn about racial justice launch these bad-faith attacks from the safety of their gated communities.
Braddock voters reelected Fetterman that same year, so the Black voters who knew him best didn't hold a grudge. That's worth considering as we move further into this Senate race. Fetterman seems to appreciate the severity of the issue. Although I know some folks would prefer if his statements were more contrite.
Some other primary options include Montgomery County Commissioner Val Arkoosh,state Rep. Malcolm Kenyatta, and state Sen. Sharif Street. Neither of them have pulled a shotgun on a Black man. However, I will fiercely support whoever winds up the Democratic nominee. Too much is at stake. If they turn Sinema on us, we can burn that bridge when we come to it.
Follow Stephen Robinson on Twitter.
Keep Wonkette going forever, please, if you are able!
Stephen Robinson
Stephen Robinson is a writer and social kibbitzer based in Portland, Oregon. He writes make believe for Cafe Nordo, an immersive theatre space in Seattle. Once, he wrote a novel called "Mahogany Slade," which you should read or at least buy. He's also on the board of the Portland Playhouse theatre. His son describes him as a "play typer guy."