Jaime Harrison Wants To Send Lindsey Graham's Smug Lie Sneering Jerk Ass Home
Post-Racial America
May 30, 2019 02:41 PM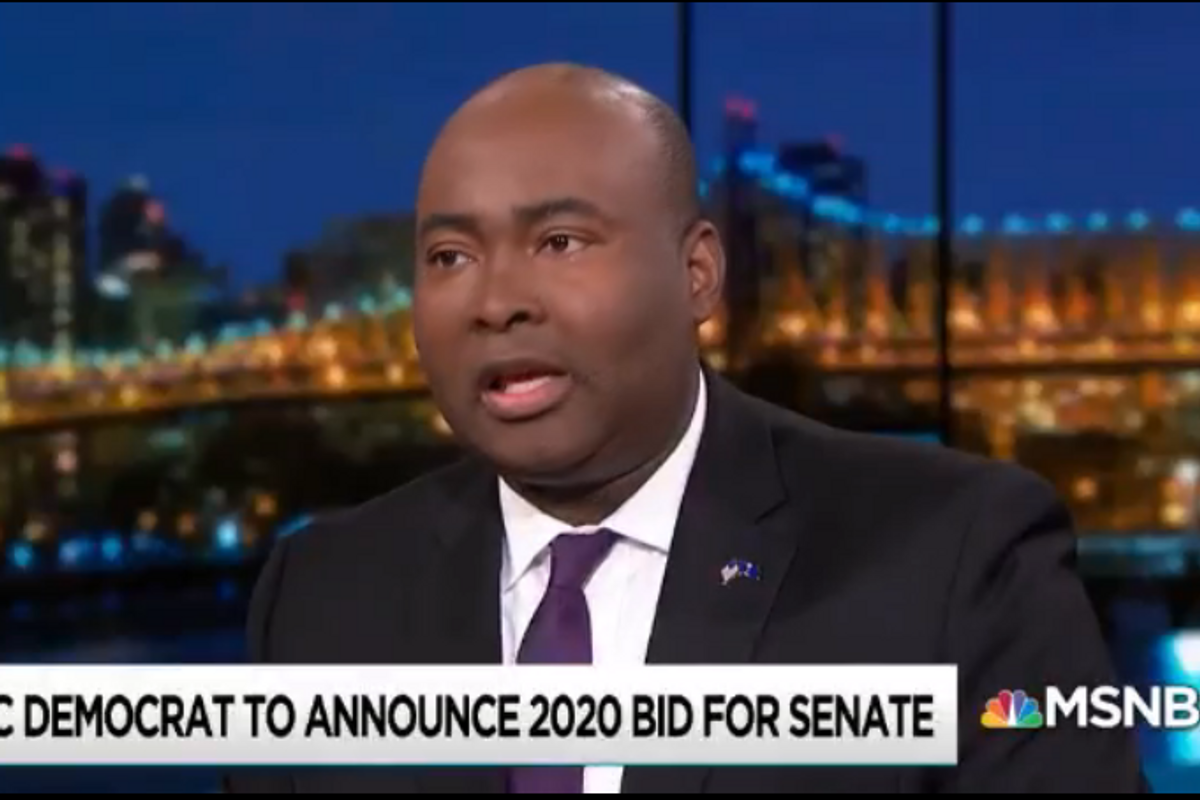 Many of us do not like Lindsey Graham. This is normal.
Fortunately for us, we now may have something far better to do than start that garage band named "Launch Lindsey Graham into the Sun." Unlike most years, Senator Graham will not be gliding to a definite victory in 2020, oh no he will not. And who might his lovely, lovely, wonderful challenger be? Why it's none other than Mr. Jaime Harrison, the former South Carolina Democratic chair.
Hear Jaime Harrison for yourself:
Jaime Harrison Tells Rachel Maddow: "I'm Running for the U.S. Senate"youtu.be
Harrison made his announcement this morning in South Carolina, and we'd like to direct it to half of the people running for President: Some of you should be more like Jaime Harrison! Run for Senate instead of becoming the 549th white male Democrat to declare his unique brand of mayo is exactly what America needs.

---
From Post and Courier:
"In a 3-minute, comic-book-themed announcement video released early Wednesday, Harrison charged that Graham has "forgotten about the people he represents" and cast himself as a candidate who would look out for South Carolinians from all walks of life."
"I won't care who you voted for, what education you've gotten or what career you have," Harrison said. "I remember a time when senators helped the people they represent. I want to bring the spirit of helping back."
Well, isn't that sweet of him to imply that Lindsey at one time actually cared about helping someone not named Lindsey or Trump? Perhaps there were times like that when he shared a brain with John McCain, but that was a very long time ago, and we barely remember McCain anyway. Besides, Megs McCabe owns all memories of HER FATHER now, so BACK OFF.
Here is his announcement video, it shames Lindsey most cunningly:
[ia_video https://s3.amazonaws.com/roar-assets-auto.rbl.ms/runner%2F12386-tfpp8K2ZUcpp5OLr.mp4.crdownload source="https://s3.amazonaws.com/roar-assets-auto.rbl.ms/runner%2F12386-tfpp8K2ZUcpp5OLr.mp4.crdownload" autoplay=true feedbacks=true shortcode_id=1559158756457 expand=1 ]
Harrison has a GOOD STORY, I wasn't crying AT ALL when he bought his grandparents a house after they lost theirs and got scammed out of their LIFE SAVINGS. No. I never cry. I cried.
Citing the victory of Joe Cunningham in South Carolina's 1st Congressional District last year and the narrow losses of Andrew Gillum and Stacey Abrams in the Florida and Georgia gubernatorial races respectively, Harrison argued that there are signs of political changes in historically conservative southern states.
"We're on the verge of a renaissance in the South, a new South," Harrison told MSNBC talk show host Rachel Maddow. "I really hope people will help join me in this effort."
Stacey Abrams, who, among others, inspired Harrison in this run, was robbed, and did NOT concede that Georgia race in November 2018; she simply admitted that the corrupt secretary of state would be swept in as the new Georgia governor, regardless of her efforts. For Harrison's campaign, the fact that the 26.6% of the population of South Carolina that is African American compares well with Georgia's 30.5% AA, and it isn't too much of a stretch to think that, barring historic voter suppression efforts, Harrison might just have a shot.
Lindsey Graham was elected to the House in '94 and the Senate in '03. He loudly brayed his support for the impeachment of Bill Clinton on the basis of "cleansing the office," though now completely ignores the lawlessness of the Trump Admin, and I am unable to find ONE FUCKING CONTRIBUTION to our society in his whole fucking career. What the fuck is he even? Does he, like, have a job at his workplace in the Senate besides covering up for Trump? Oh right: Screaming and yelling in an insane manner about Brett Kavanaugh until some of us feared he'd smack the next woman who entered his line of sight. Send Lindsey home. It's a hashtag, a commandment, a way of damn life.
Wonkette is ad-free and funded ENTIRELY by YOU. Be a doll, if you're able, and leave us a tip!
Wonderbitch
Follow Wonderbitch aka Bravenak aka Bianca DeLaRosa, loves her jobs as Social Media Manager for Wonkette more than Sarah Huckabee Sanders loves lying to America. Bianca also moonlights as a Witch (THE BAD KIND!!) and is a Freelance Goddess of All Things Ever. Be very nice her because she likes to curse people, especially mean people. You can find Bianca on Twitter @Wonderbitch81, or email her at bianca@wonkette.com