Jan. 6 Committee Came To Chew Bubble Gum And Drop Subpoenas, Is All Out Of Bubble Gum
January 6
September 30, 2021 01:19 PM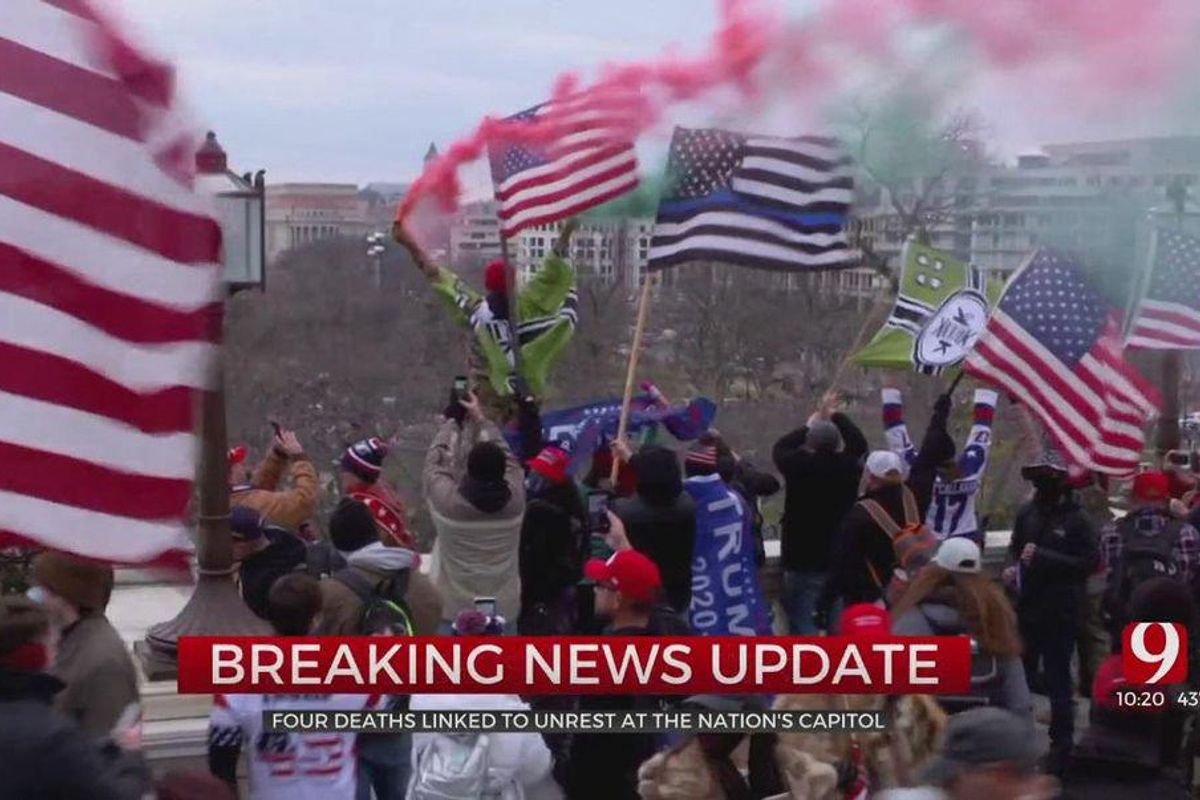 It's going down for real at the House Select Committee investigating the Capitol Riot, with 11 more subpoenas dropping yesterday. Because time is short, and no one is farting around with a request for voluntary appearance so Team Insurrection can wait 'til the last second before putting a "no" on their RSVP.
This latest batch of invites went to organizers of the march, most notably Amy and Kylie Jane Kremer, the mother-daughter duo leading the group Women for America First, and former Trump spox Katrina Pierson. These brave patriots are invited to hand over their documents by mid-October and then come in for a friendly chat two weeks later.
ProPublica reported on the power struggle between Kremer and the more radical, potentially violent groups, such as the Oath Keepers, Three Percenters, and Proud Boys, who were drawn in by Alex Jones and Ali Alexander. The White House was not only aware that these self-styled militia members were headed to DC, but in fact Trump and his allies had the final say on how things went down that day.
---
Alexander and Jones wanted to speak at the Ellipse rally, but Kremer was opposed. The provocateurs found a powerful ally in Caroline Wren, an elite Republican fundraiser with connections to the Trump family, particularly Donald Trump Jr. and his partner, Kimberly Guilfoyle. Wren had raised money for the Ellipse rally and pushed to get Alexander and Jones on stage, according to six people involved in the Jan. 6 rally and emails reviewed by ProPublica.

Pierson, the Trump campaign official, had initially been asked by Wren to help mediate the conflict. But Pierson shared Kremer's concern that Jones and Alexander were too unpredictable. Pierson and Wren declined to comment.

On Jan. 2, the fighting became so intense that Pierson asked senior White House officials how she should handle the situation, according to a person familiar with White House communications. The officials agreed that Alexander and Jones should not be on the stage and told Pierson to take charge of the event.
Wren has also been subpoenaed, and perhaps she can shed light on the thinking behind getting these dangerous goons to DC, but keeping them nominally separate from the "legit" gathering where the Donalds Jr. and Sr. as well as Rudy Giuliani, Mo Brooks, Madison Cawthorn, and John Eastman urged the crowd to overthrow democracy. And while she's at it, maybe Wren can explain how Alexander's notorious "Stop the Steal" group came to rebrand itself as "One Nation Under God" and get a permit to march on the Capitol.
Meanwhile, Trump has been making noise about asserting executive privilege over testimony and documents from his time in the White House.
"We will fight the Subpoenas on Executive Privilege and other grounds, for the good of our Country, while we wait to find out whether or not Subpoenas will be sent out to Antifa and BLM for the death and destruction they have caused in tearing apart our Democrat-run cities throughout America," he whined on his blog.
Which is fine, because who doesn't feel better after a good bitch session, right? But can he actually do that?
Well, it's complicated. Here's a long article by Prof. Jonathan Shaub over at Lawfare on all the ways this might go down. And if you're nerding out, how about a history of the use and exercise of executive privilege with regard to presidential records by Prof. Ryan Goodman at Just Security. No doubt Donald Trump is poring over them as we speak.
LOL, we are silly today! But we are living in an era where law professors have become celebrities, which was not on our bingo card when we were sitting through CivPro, not gonna lie.
TL,DR: Trump can probably drag a lot of this shit out in court through 2022, functionally mooting it if Republicans take back the House and kill the Committee. And while some of the documents requested fall under Biden's exclusive purview, Trump has at least a colorable claim to privilege over documents and communications with his close advisors.
In reality, the Committee is likely to get some, but not all of what it wants. CNN reports that none of the four Trump allies subpoenaed last week has made clear whether he'll comply with the inquiry. But there is no way on God's green earth that former chief of staff Mark Meadows and comms flack Dan Scavino are going to buck Trump's demand that they refuse to testify citing executive privilege. And Adam Schiff can threaten to hold them in contempt, but federal charges take time — Merrick Garland will not be racing over to slap the cuffs on Scavs when he fails to appear on October 15.
On the other hand, Amy Kremer and Katrina Pierson were on the other side of those conversations with the White House to coordinate the MAGA mob, and the Committee has made them an offer they can't refuse. Ditto for Steve Bannon, who got his summons last week. As for Kash Patel, who worked at the Defense Department during the relevant period, his claim to be covered by privilege is highly tenuous — although, if there's anyone nervy enough to try, it's Kash Patel.
It's a hot mess, and while we're guessing what might happen, let's not forget that the caliber of lawyer Trump hires for this exercise might matter a lot. As the Daily Beast noted, a lot of the more experienced lawyers in Trump's corner, like Marc Mukasey and Marc Kasowitz, have noped out recently. The lawyer representing Trump in his bullshit suit against his niece Mary has a relatively thin resume, which includes a stint as general counsel for a parking garage. And it shows. Presumably he'll hire someone more experienced for this privilege fight, but you never know with this idiot.
This is going to get ugly, and fast.
[ProPublica / CNN]
Follow Liz Dye on Twitter!
Click the widget to keep your Wonkette ad-free and feisty. And if you're ordering from Amazon, use this link, because reasons.
Liz Dye
Liz Dye lives in Baltimore with her wonderful husband and a houseful of teenagers. When she isn't being mad about a thing on the internet, she's hiding in plain sight in the carpool line. She's the one wearing yoga pants glaring at her phone.