January 6 Report: Trump Tried To Crime Boss State Legislators Into Stealing Election
January 6
December 27, 2022 03:35 PM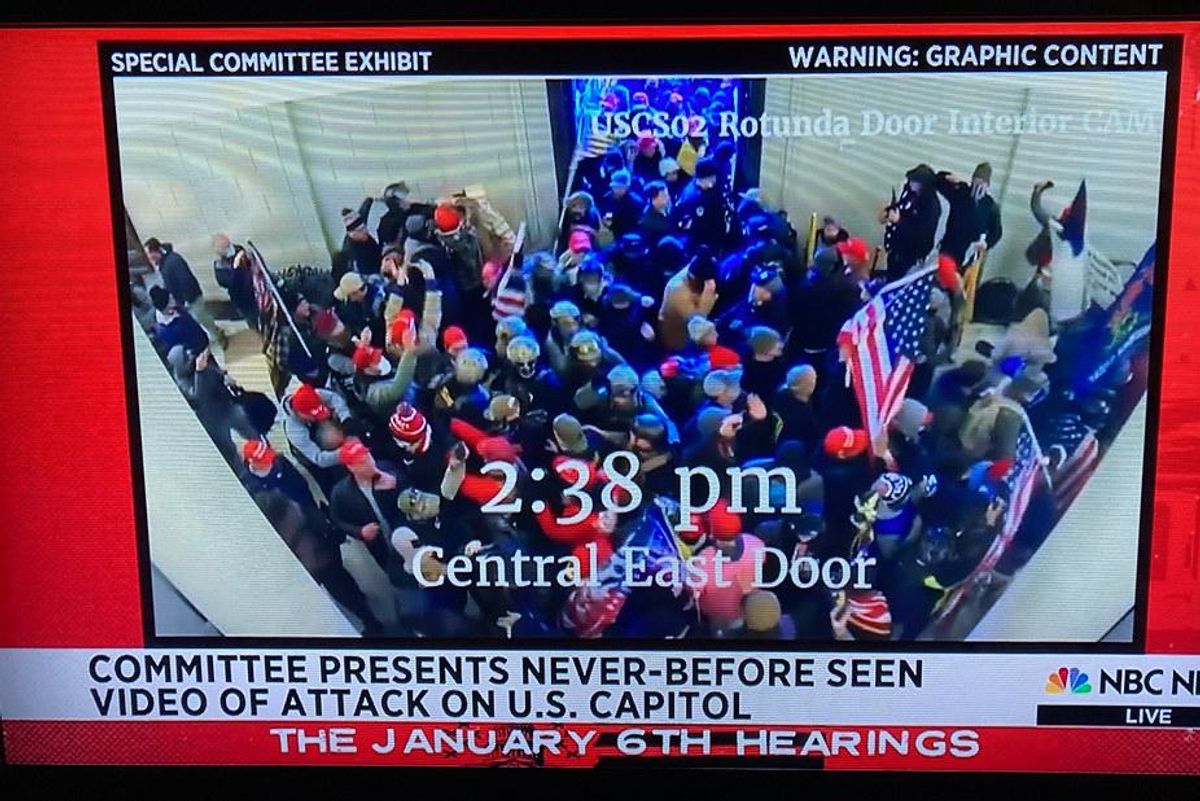 Time for the Second Installment of We Read the January 6 Select Committee's Report So You Don't Have To. Today we're on Chapter 2, titled "I Just Want to Find 11,780 Votes," in "honor" of Trump's phone call to Georgia Secretary of State Brad Raffensperger pressuring him to "find" enough votes for Trump to "win" the state's 16 electoral votes.
PREVIOUSLY:
January 6 Report Is Real, And It's Spectacular
No Big, Just Trump Begging Georgia Secretary Of State To 'Find' Him 11,780 Votes
"All I want to do is this. I just want to find 11,780 votes, which is one more than we have because we won the state," Trump wheedled, alternating between phony statistics about vote fraud in Georgia — "It's 4,502 who voted but they weren't on the voter registration roll which they had to be. You had 18,325 vacant address voters" — and threatening Raffensperger and his deputy Gabriel Sterling if they wouldn't go along with his corrupt scheme to steal the election.
"All of this stuff is very dangerous stuff. When you talk about no criminality, I think it's very dangerous for you to say that," Trump said, adding later, "That's a big risk to you and to Ryan [Germany], your lawyer."
Trump also made upwards of a dozen references to Wandrea' Arshaye "Shaye" Moss and her mother Ruby "Lady Ruby" Freeman, the two election workers in Georgia whose lives were ruined after Rudy Giuliani spliced and diced a video of them counting votes, accusing them of pulling out a suitcase of ballots for Joe Biden and smuggling USB drives "as if they're vials of heroin or cocaine." Because racism really is the GOP's bag, baby. In fact, Freeman was simply passing her daughter a ginger mint as they worked late into the night to serve the people of Georgia.
---
And for their troubles, they were viciously harassed, forcing them to leave their homes for months after the president and his minions painted a target on their backs. The report:
Freeman's sense of dread is well-founded. According to Federal prosecutors, a member of the Oath Keepers militia convicted of multiple offenses for his role in the January 6th insurrection had a document in his residence with the words "DEATH LIST" written across the top.

His death list contained just two names: Ruby Freeman and Shaye Moss.
Indeed, before they set the mob on the US Congress, Giuliani and Trump made threats to sic his supporters on local elections officials a central part of a pressure campaign to overturn the election in the state legislatures. On December 2, 2021, Giuliani told a hearing of Michigan's state House Oversight Committee that there was "nothing wrong with putting pressure on your state legislators" and that "you have got to get them to remember that their oath to the Constitution sometimes requires being criticized. Sometimes it even requires being threatened."
RUINED: Donald Trump Destroys People's Lives
In the two weeks before January 6, Giuliani and his henchman Bernie Kerik put out a "[n]ationwide communications outreach campaign to educate the public on the fraud numbers, and inspire citizens to call upon legislators and Members of Congress to disregard the fraudulent vote count and certify the duly-elected President Trump." On New Year's Eve, Giuliani appeared on Steve Bannon's podcast to decry "a weak element to our party . . . a cowardly element," directing "our people" to "let them know what they think, and that they're not gonna get away with pushing this aside. That the consequences of turning your back on a massive voter fraud are gonna be dire for them, and historically these people are gonna become enemies of the country."
The Raffensperger call is a perfect set piece for this chapter about Trump's pressure campaign to convince state-level Republican officials to reconvene their legislatures and steal Joe Biden's electoral votes. Trump showed up with gobbledygook numbers backed up by exactly no data; refused to acknowledge that the people on the ground had investigated and debunked his claims; when cajoling didn't work, he implicitly threatened them; and, as a final resort, he used his Twitter account to direct the fury of his followers against elected officials.
And the former president did manage to put dozens of people in physical danger, forcing them to leave their homes. As Raffensperger wrote in his book about being singled out for attack in Trump's social media posts, "Others obviously thought [it was a threat], too, because some of Trump's more radical followers have responded as if it was their duty to carry out this threat."
We all heard Arizona House Speaker Rusty Bowers, a Republican, testify about being harassed by Rudy Giuliani to reconvene the legislature and corruptly reallocate electoral votes. When he refused, his house was targeted for protests by Trump supporters, even as his daughter was undergoing cancer treatments. It was a pattern repeated across several swing states as the Trump campaign reached out to nearly 200 state legislators between November 30 and December 3, often "on behalf of the president," as if it were official business:
Nearly 300 State legislators from battleground States reportedly participated in a private briefing with President Trump, Rudolph Giuliani, John Eastman, and others on January 2nd. The President reportedly urged them to exercise what he called "the real power" to choose electoral votes before January 6th, because, as President Trump said on the call, "I don't think the country is going to take it."
That's the same day Trump made the Raffensperger call. Just four days before he sent the mob to attack Congress.
Here's what happened when Michigan legislators, who'd already seen heavily armed men descend on their Capitol just months earlier, resisted the White House charm offensive:
In Michigan, President Trump focused on Republican Senate Majority Leader Mike Shirkey and Republican House Speaker Lee Chatfield. He invited them to the White House for a November 20, 2020, meeting during which President Trump and Giuliani, who joined by phone, went through a"litany" of false allegations about supposed fraud in Michigan's election. Chatfield recalled President Trump's more generic directive for the group to "have some backbone and do the right thing," which he understood to mean overturning the election by naming Michigan's Electoral College electors for President Trump. Shirkey told President Trump that he wouldn't do anything that would violate Michigan law, and after the meeting ended, issued a joint statement with Chatfield: "We have not yet been made aware of any information that would change the outcome of the election in Michigan and as legislative leaders, we will follow the law and follow the normal process regarding Michigan's electors, just as we have said throughout this election."

When President Trump couldn't convince Shirkey and Chatfield to change the outcome of the election in Michigan during that meeting or in calls after, he or his team maliciously tweeted out Shirkey's personal cell phone number and a number for Chatfield that turned out to be wrong. Shirkey received nearly 4,000 text messages after that, and another private citizen reported being inundated with calls and texts intended for Chatfield.
In reality, what Trump was asking for wasn't even possible under the law. Legislators had no right to reconvene on their own initiative, despite Giuliani's bizarre ranting about implicit authorization to do so under the Constitution. Perhaps then-president of the state Senate Jake Corman had observed Rudy's epic faceplant during that hilariously doomed election challenge in Pennsylvania federal court. But for whatever reason, he went with the advice of his own lawyers that he had no power to do what Team Trump was asking, after which Rudy and Jenna Ellis told him his attorneys were "terrible," "bad," and "wrong."
The claims of election fraud were always bogus, but to some people in Trump's orbit, like Vince Haley, the deputy assistant to the president for policy, strategy and speechwriting, and Trump's body man turned White House loyalty enforcer Johnny McEntee, that never really mattered anyway:
For Haley, however, purported election fraud was a way to justify President Trump-friendly legislatures changing the outcome of the election, but there were other reasons for doing so, too. Election fraud was "only one rationale for slating Trump electors," Haley told McEntee, and "[w]e should baldly assert" that State legislators "have the constitutional right to substitute their judgment for a certified majority of their constituents" if that prevents socialism.30 Haley added, "[i]ndependent of the fraud—or really along with that argument—Harrisburg, Madison, and Lansing do not have to sit idly by and submit themselves to rule by Beijing and Paris," proposing that radio hosts "rally the grassroots to apply pressure to the weak kneed legislators in those states . . ."

McEntee replied "Yes!" and then: "Let's find the contact info for all these people now."

Hours later, Haley sent him names and—in most cases—cell phone numbers for top GOP legislators in six States, suggesting". . . for POTUS to invite them down for a WH meeting . . ."
"Imagine if every red state legislature slated zero electors. It would reveal that we are a red country. To do this we would have to jack this to the nth degree as a battle of tribes," Haley wrote in another message.
Aren't we all glad we paid taxes to employ these two brave patriots!
The theory that legislators could simply overturn the vote was always cockamamie and ahistoric, but it gained wide purchase within Trumpland within hours of the polls closing:
Just two days after the election, President Trump's son, Donald Trump, Jr., forwarded to White House Chief of Staff Mark Meadows a suggestion that "State Assemblies can step in and vote to put forward the electoral slate[,] Republicans control Pennsylvania, Wisconsin, Michigan, North Carolina, etc. we get Trump electors" and so "we either have a vote WE control and WE win OR it gets kicked to Congress 6 January . . ." Chief of Staff Meadows responded: "Working on this for pa, ga and nc already."
"Why can't the states of GA NC PENN and other R controlled state houses declare this is BS (where conflicts and election not called that night) and just send their own electors . . . I wonder if POTUS knows this," former Energy Secretary Rick Perry texted Meadows.
Rep. Andy Biggs, who pressured his home state legislators in Arizona to disregard the popular vote, also texted Meadows about a "highly controversial" plan to have "Republican legislature's (sic)" "appoint a look doors," by which he presumably meant electors. Would the plan have succeeded if Biggs weren't such an ignorant numpty? Probably not. And yet, it's still terrifying.
In the end, none of it worked. No state legislature took the bait, and most Republican officials responded like Arizona Governor Doug Ducey, who defended his own state's election practices while implicitly giving oxygen to Trump's election lies.
"In Arizona, we have some of the strongest election laws in the country," he boasted, adding that "The problems that exist in other states simply don't apply here."
Not that it saved Ducey from Trump's wrath, which in turn made him persona non grata with Trump's voters and probably kept him out of the US Senate race this cycle. Womp womp.
So Trump turned to Plan B: Violence.
It is fortunate that a critical mass of honorable officials withstood President Trump's pressure to participate in this scheme. They and others who stood up to him closed off avenues for thwarting the election so that, by noon on January 6th, President Trump was left with one desperate, final gambit for holding on to power: sending his armed, angry supporters to the U.S. Capitol.
And, well ... we all know the rest.
[January 6 Select Committee Report]
Click the widget to keep your Wonkette ad-free and feisty. And if you're ordering from Amazon, use this link, because reasons.
Liz Dye
Liz Dye lives in Baltimore with her wonderful husband and a houseful of teenagers. When she isn't being mad about a thing on the internet, she's hiding in plain sight in the carpool line. She's the one wearing yoga pants glaring at her phone.