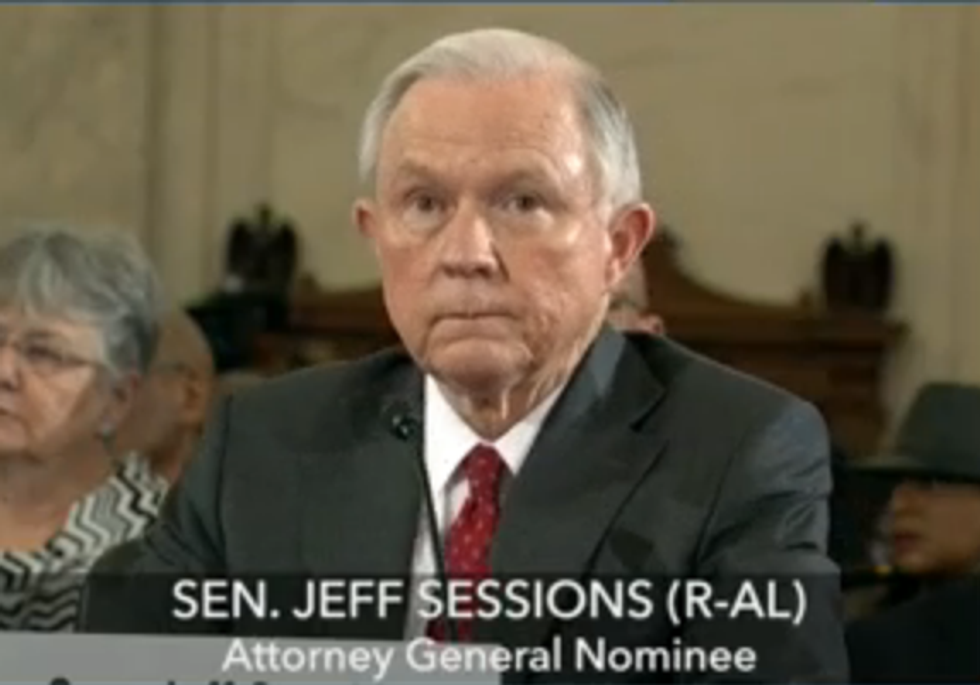 Hands where we can see them, sir.
---
Have you been enjoying Jeff Sessions's confirmation hearing, where Democrats have been asking good questions, and Republicans have been giving Sessions every opportunity to deny he was ever a gross, racist, sexist homophobe, because that's just silly? (It's not silly.)
One of the REAL WEIRD questions today came when Utah Republican Sen. Orrin Hatch referred to pornography as a "public health" concern and asked what Sessions would do about it as attorney general. In his answer, Sessions said he'd consider re-establishing the Obscenity Task Force in the Justice Department, originally established in 2005 during the Bush administration, for the purpose of going after all the dirty dirty. He confirmed that he would enforce obscenity laws, and also said he didn't realize the porn-loving Democrats had gotten rid of the task force in the first place.
GRRRRR, JEFF SESSIONS, GET AWAY FROM OUR TUMBLR PORN, NOT THAT WE HAVE EVER HEARD OF SUCH A THING.
Now, Jeff Sessions does not like porn, allegedly, according to Jeff Sessions. In 2013, in a hearing on sexual assault in the military, Sessions suggested that porn was at least partly to blame for the epidemic, because you know how men get when they see naked ladies or naked mens doing sex on computers. (According to normal people, if it's porn they like, they might get boners and play with themselves. According to wingnuts, they get PORN ADDICTED AND TURN INTO RAPE MONSTERS.)
So is Sessions really going to go after your precious porns? MAYBE. Noted softcore porn star Donald Trump has pledged to crack down on the porns. Other members of Trump's transition team, like Ed Meese and Ken Blackwell of the Family Research Council, are also crusaders against porning, and one of Trump's top picks for the Supreme Court, William H. Pryor, Jr., has in the past supported putting people in jail for doing the gay buttsex. (Even though he MAY have done some porning of his own, oh my stars!) Oh, and also Mike Pence, the evil, anti-gay, anti-sex scold, is going to be our vice president.
Sessions was already being pressured to enforce existing obscenity laws, by wingnuts who (like they always do) lump regular porn in with issues like CHILD porn and CHILD sex trafficking, because according to the morality police, there is literally no difference between grown-ups getting their rocks off watching other grown-ups get their rocks off, and predatory behavior against children. For example, here is a sampling of suggested questions for Sessions in today's confirmation hearings, written by an anti-porning lady called Donna Rice Hughes, that very cleverly weave back and forth between regular, fun porn, and actual crimes against children, as if they are the same thing:
Will you aggressively enforce the existing federal obscenity laws, child pornography laws, sexual predation laws and the sex trafficking laws?
Research substantiates that online pornography is a growing health crisis that must be addressed and reversed. What strategies would you implement to deal with the proliferation of prosecutable pornography which has been allowed to flourish online due to the failure of the Obama Justice Department to enforce the existing federal obscenity laws?
Will you support the work of a presidential commission to examine the harmful public health impact of Internet pornography on youth, families, and the prevention of sexual exploitation of children in the digital age?
You see the bait-and-switch, just in the three questions we picked out? The casual conflation of separate issues? It's because these folks literally believe they're the same. From that crazy WorldNetDaily interview, here are the words of Donna Rice Hughes:
To date, scientific data reveal that Internet pornography fuels sexual exploitation, violence, addiction, aggression, abuse, trafficking, divorce, hinders psychosocial development and decreases well-being.
Okey-doke, you bet! "Scientific data." The anti-porning lady didn't get all her questions asked in the hearing, but the fact that Sen. Hatch asked about it and Sen. Sessions was like SURE WHY NOT probably made her very happy!
And she should be happy, since she saved the world from President Gary Hart. Because yes, that is the same Donna Rice, now Donna Rice Hughes, who sailed The Monkey Business with him, and later spokesmodeled for No Excuses jeans.
No excuses except for the porno broke all the brains! Here, have a crazy WorldNetDaily interview with her. She is nuts!
The porn industry was already worried about Sessions becoming attorney general. Salon quotes industry attorney Karen Tynan, who says, "Jeff Sessions is a redneck in the traditional sense, and I can use that term as I am a Southerner," and adds, "We need to watch him carefully these next few months -- I'm concerned for my clients." So maybe we're in for a bunch of years of porners being prosecuted, simply for trying to bring people joy and orgasms.
But maybe a coming Sessions anti-porn crusade wouldn't actually go that well for the morality police! Consider this amazing paragraph from the same Salon article, describing the first obscenity prosecution in over 20 years, under Bush's Justice Department in 2008:
In her opening statement, prosecutor Bonnie Hannan said the material in question "exceeds the bounds of decency." But apparently, milky butt play and squirt scenes seemed to fit with the "prurient interests" of enough people. After just a four-day trial, the charges against [John] Stagliano were tossed on account of insufficient evidence. According to the Pornhub analytics blog, "squirt" scenes tend to be a popular pick among men and women based in the United States. As for the milky stuff, well, there's a market for that too.
Haha, Salon printed the words "milky butt stuff." (To be fair, it's a reprint from Alternet.)
MORAL OF STORY: If you are a normal porn watcher, like literally BILLIONS OF AMERICANS, go ahead and download and save your favorite porns, to keep you warm during the Trump years, and JUST IN CASE Jeff Sessions tries to take it away. It's always handy to have a back-up copy, you know!
(Haha, we said "handy," because that is what you are giving your junk when you watch your porns! ALLEGEDLY!)
Evan Hurst
Evan Hurst is the managing editor of Wonkette, which means he is the boss of you, unless you are Rebecca, who is boss of him. His dog Lula is judging you right now.
Follow him on Twitter RIGHT HERE.