Jim Jordan Throws Tantrum, Says January 6 Committee Is The REAL Insurrection
January 6
January 10, 2022 10:55 AM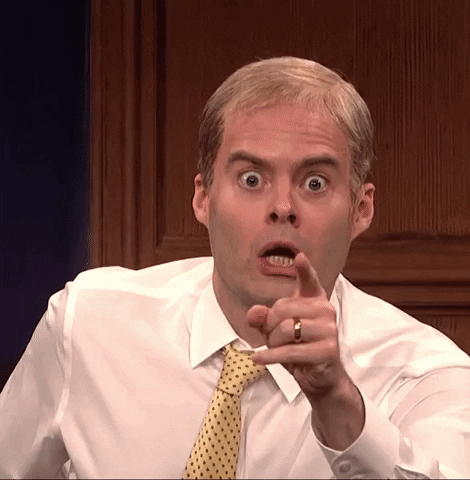 Giphy
And we're back!
The January 6 Committee hits the ground running this week receiving a rousing "Fuck you" from GOP Rep. Jim Jordan, who was invited in for a chat about his role in the plot cooked up by Donald Trump and his allies to overturn the results of a free and fair election.
"The American people are tired of Democrats' nonstop investigations and partisan witch hunts," huffed one of the chief Benghazi inquisitors. (Also, nope.)
Former White House chief of staff Mark Meadows has already turned over texts that show Jordan working hand-in-glove with Trump on his cockeyed schemes to have Vice President Pence unilaterally toss out 18 million swing state votes. Nonetheless, Jordan howls about "an unprecedented and inappropriate demand to examine the basis for a colleague's decision on a particular matter pending before the House of Representatives."
He goes on to blame Speaker Nancy Pelosi and the Capitol Police for the attack, embellishing his own debunked claims about Democratic responsibility for the attack by a mob incited by Trump. Also BLM RIOTS HENGHHHHH???
---
We've all heard Jim Jordan shout before, but he tweeted the whole letter out, so read it yourself if you're into performative bullshit. Spoiler alert: he makes no attempt to reconcile his previous statements that he has "nothing to hide" with his current hissy fit over being asked to explain himself.
Politico suggests that Committee Chair Bennie Thompson is reluctant to go nuclear by subpoenaing a fellow member. And according to CNN, the panel says that Jordan is still coordinating his response with Trump.
"Mr. Jordan has previously said that he would cooperate with the committee's investigation, but it now appears that the Trump team has persuaded him to try to hide the facts and circumstances of January 6th," a committee spokesperson said.
Meanwhile, Politico reports that the Committee is preparing to hold public hearings in the spring on the Trump team's efforts to interfere with elections at the state level.
"We want to let the public see and hear from those individuals who conducted elections in those states," Thompson said.
They've already interviewed secretaries of state from Pennsylvania, Georgia, Michigan and Arizona, with particular emphasis on Georgia, since Meadows and Trump leaned hard on Brad Raffensperger, a Republican, to toss out votes and steal the state from President Biden.
And while it was previously reported that some groups sent fake certifications of "alternate" electors for Trump to the National Archives — allowing buffoons like Rep. Louie Gohmert to argue that there were "competing" slates of electors — Politico breaks the news that these clowns actually forged the state seal in Arizona, a possible crime.
The Archives detected the forgeries and rejected the illegitimate submissions from Arizona and Michigan. First clue: They purportedly cast the electors for that crybaby loser Donald Trump.
This afternoon, Trump will try to convince US District Judge Amit Mehta to dismiss three cases seeking to hold him responsible for siccing the rioters on Congress. The plaintiffs include Reps. Thompson and Eric Swalwell, as well as a Capitol Police officer. We hope to liveblog for you.
Welcome to another week of Republican obstruction and dumbfuckery. Everything continues to be ridiculous and vile.
Follow Liz Dye on Twitter!
Smash that donate button to keep your Wonkette ad-free and feisty. And if you're ordering from Amazon, use this link, because reasons.
Liz Dye
Liz Dye lives in Baltimore with her wonderful husband and a houseful of teenagers. When she isn't being mad about a thing on the internet, she's hiding in plain sight in the carpool line. She's the one wearing yoga pants glaring at her phone.