Joe And Mika DID NOT Make Out With Donald Trump On New Year's Eve, SHUT UP!
News
January 02, 2017 12:58 PM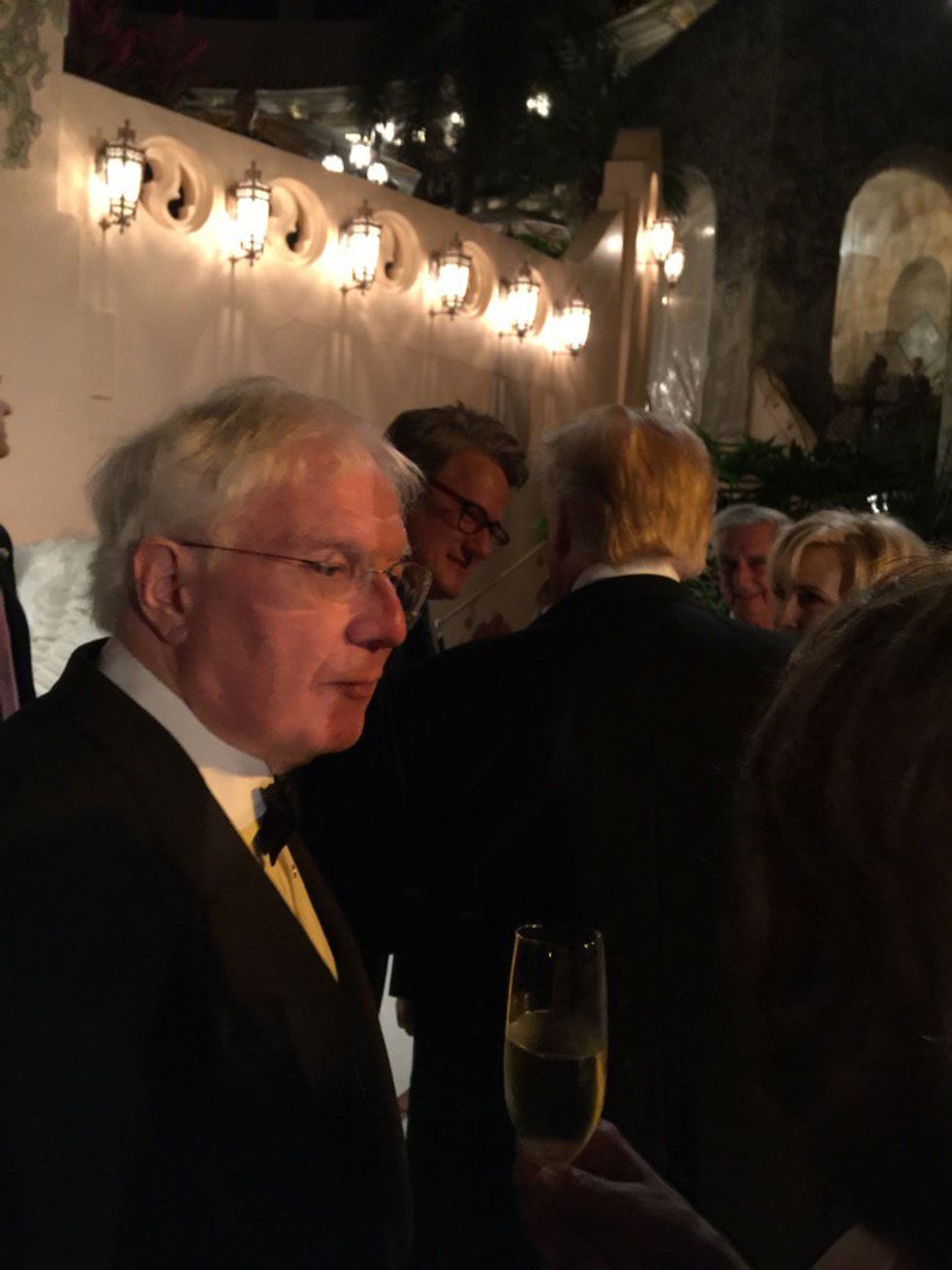 Not partying.
---
Once upon a time on New Year's Eve 2016, which happened before New Year's Day 2017, which was yesterday, Joe Scarborough and Mika Brzezinski got all dolled up in their finest street clothes and hopped on a flight down to Florida so they could go to Mar-A-Lago to "ask Donald Trump for an interview," the very same night he was having a $525-$575 a head New Year's Eve party. This is a normal thing for journalists to do, when presidents-elect they are SO GAY FOR (to the point that JoeScar has been advising Trump off and on for months now, which is another Totally Normal thing for journalists to do!) are throwing New Year's Eve parties the very same night. (Presidents-elect charging for parties they throw at their home is also very normal. VERY NORMAL ALL AROUND, EVERYONE!) They didn't even know! They were BEING JOURNALISTS. They also definitely didn't hump each other on the plane on the way down, because come on, they are #professionals and also why would two people spending New Year's Eve together do that? Pfffffft!
According to the New York Times, guests dined on "Mr. Trump's wedge salad," because "wedge salad" is what everybody thinks about when they are craving truly luxurious food. Trump's gross sons who murder animals and have bad hair were there, oh and also, "Joe Scarborough and Mika Brzezinski from MSNBC's 'Morning Joe' were also there." At the party???? Except, uh oh, turns out the New York Times is doing #FAKENEWS at us, because Scarborough is Having A Upset!
In fact, he has been tantruming for about 24 hours about how he DID NOT go to that party, yelling at CBS reporter Sopan Deb about people doing mean fake news to him, yelling at the Times's Maggie Haberman for writing such Mika and Joe libels, and ...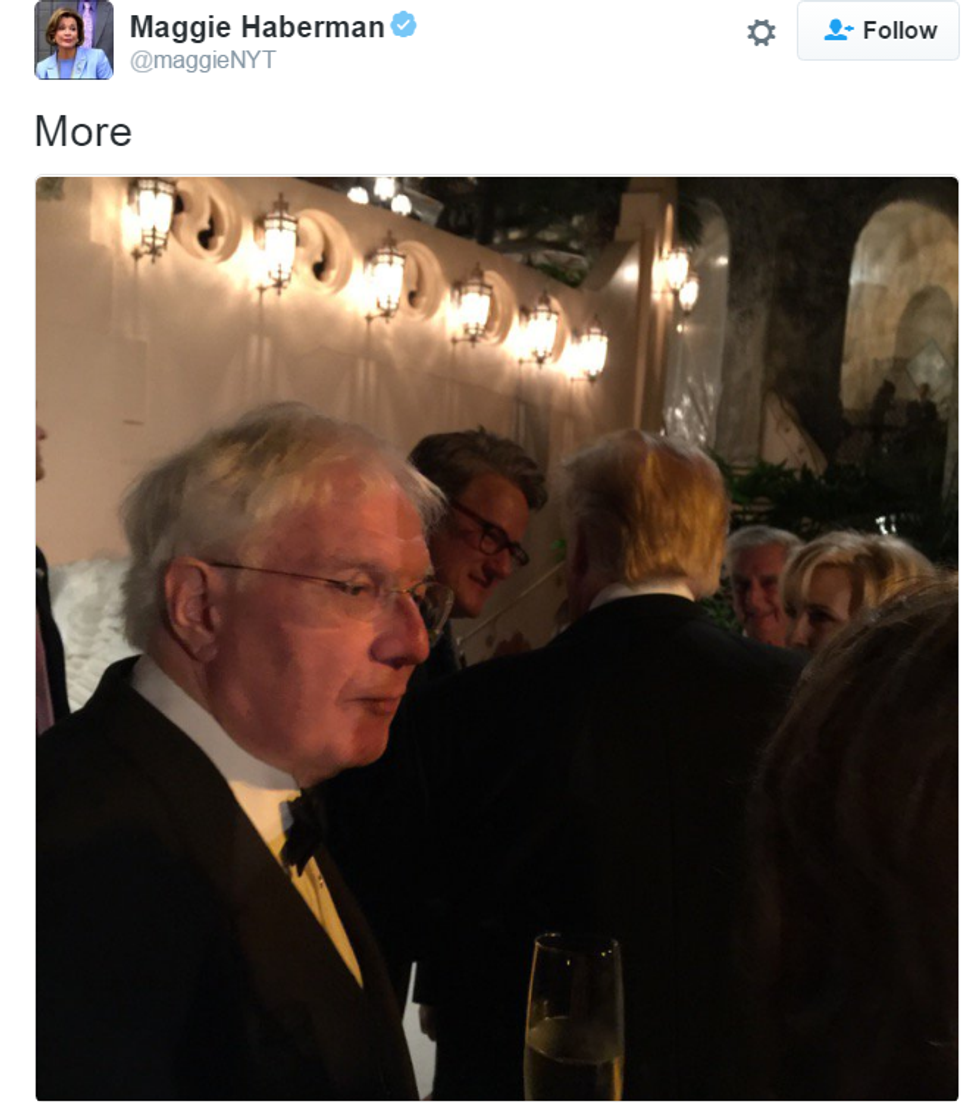 THAT PICTURE IS A LIAR!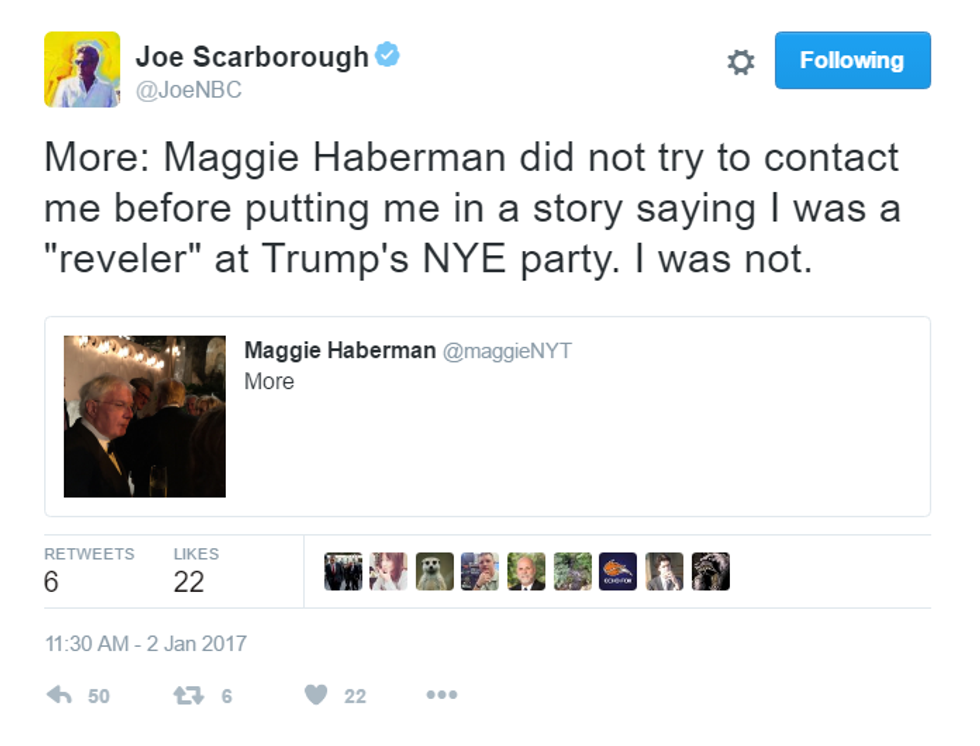 DOES THAT PICTURE LOOK LIKE A "REVEL" TO YOU? IS HE EVEN DOING THE LAMBADA WITH MIKA AND TONGUE-KISSING HER AT MIDNIGHT? DID HE PUT ON A SEXY DRESS AND DO A "HAPPY NEW YEARS, MISTER PRESIDENT" LAP-DANCE LIKE A COMMON MARILYN MONROE?
NUH UH! So stop saying he did.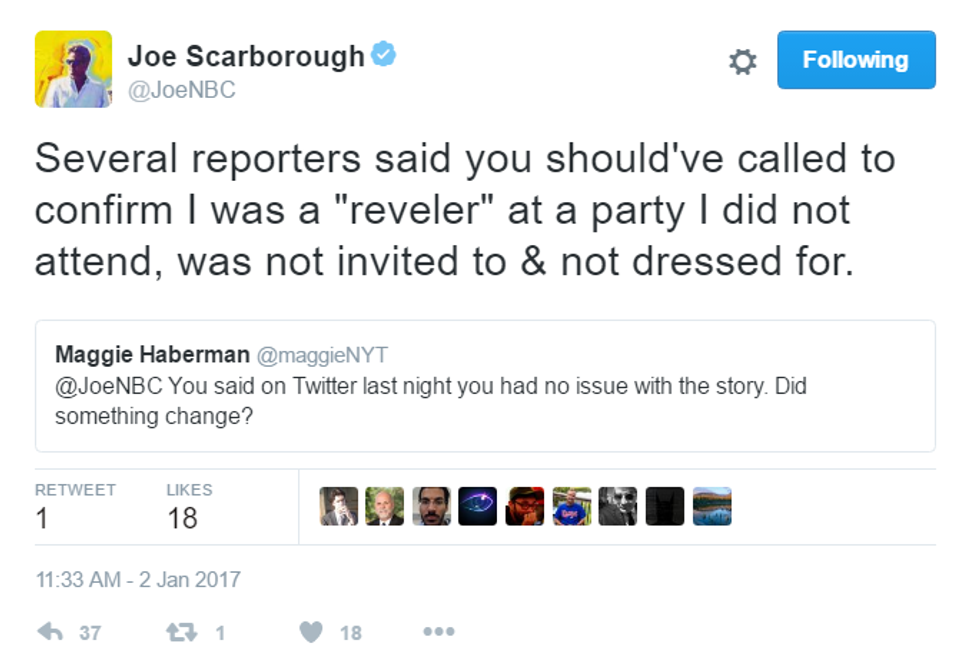 It was a black-tie affair, and Donald Trump can confirm that Joe Scarborough wasn't even wearing pants half the time he was there, ALLEGEDLY!
That is just the latest tantruming. Let's look at his original GRRRRR-ing, which started Sunday: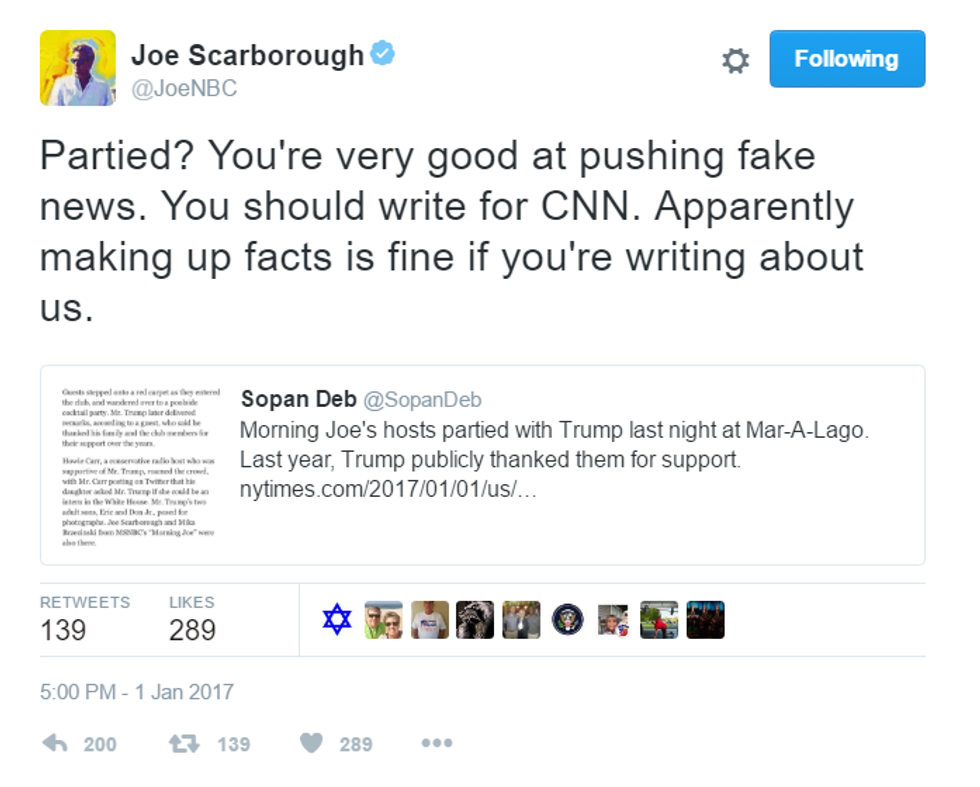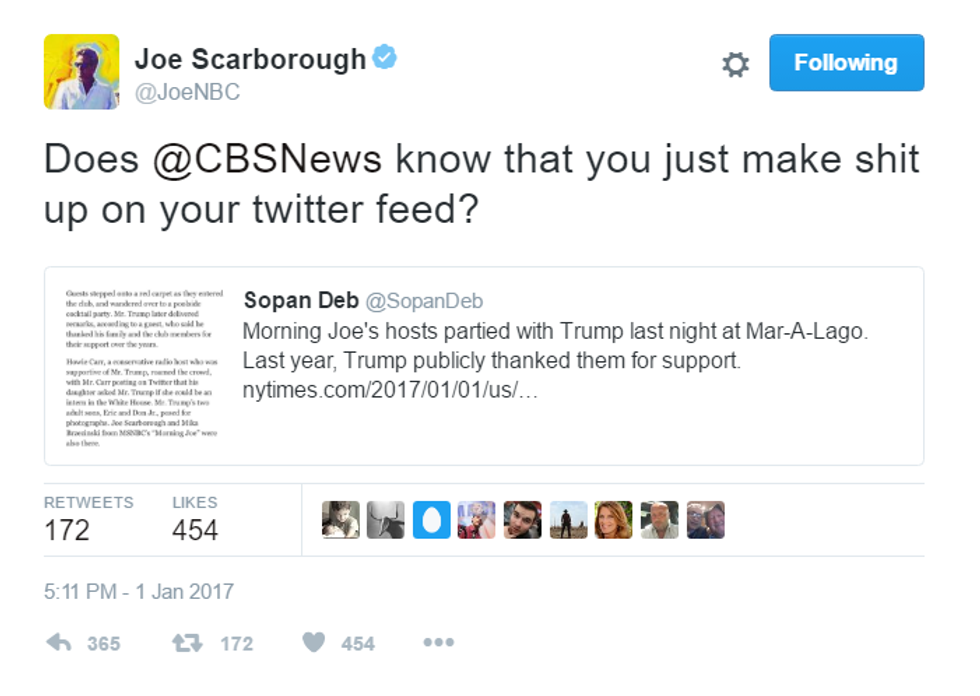 In fact, JoeScar quoted Deb's tweet like five times, making yells at him every single time! Then he felt the need to set the record straight on exactly what he did, and what kind of pants he was wearing, for the whole New Year's Eve holiday: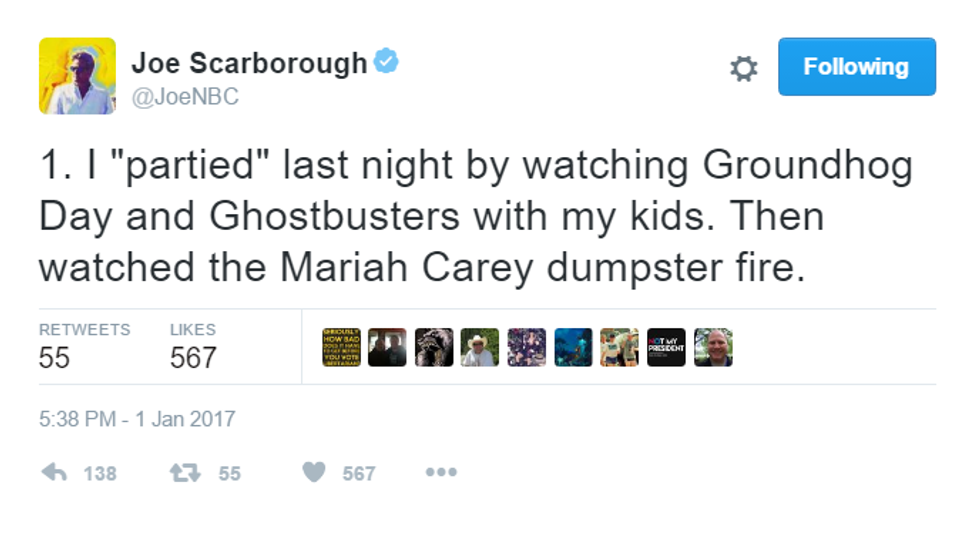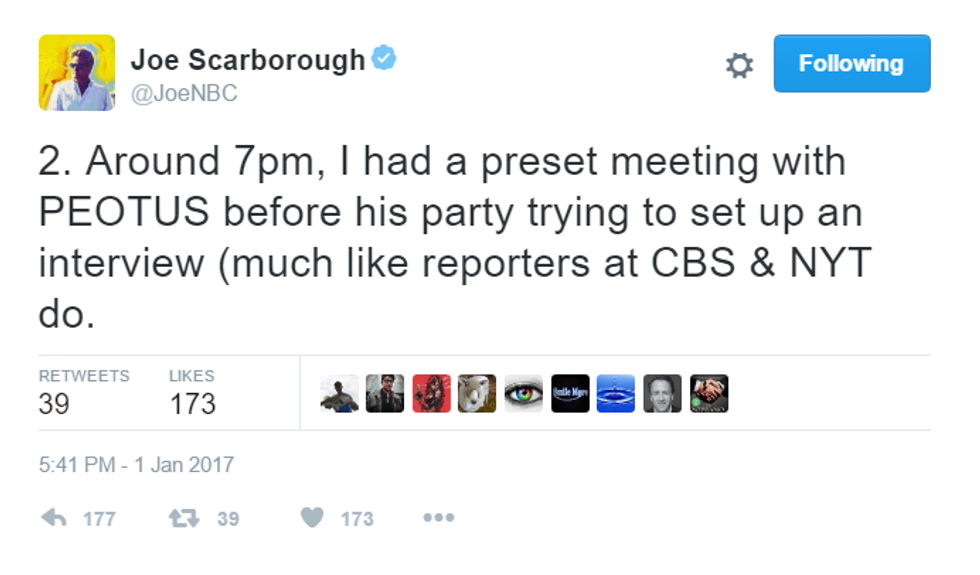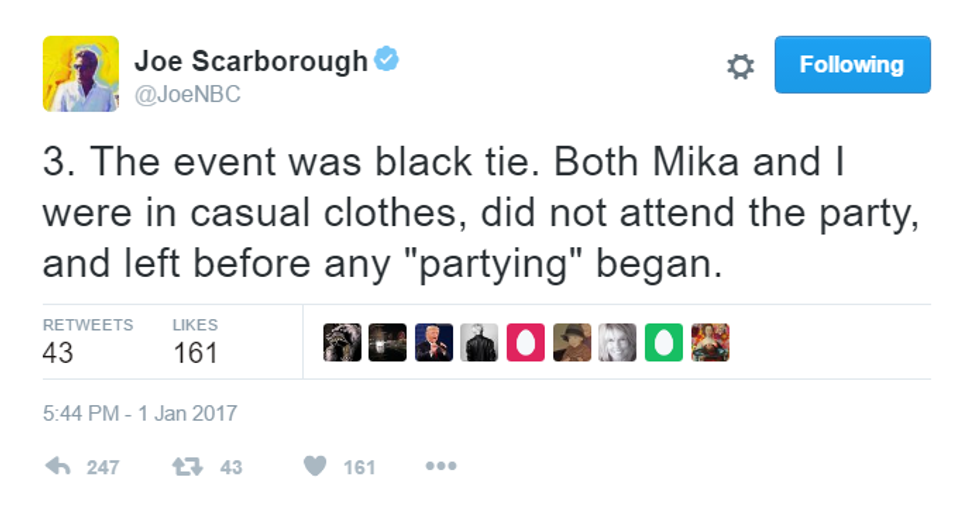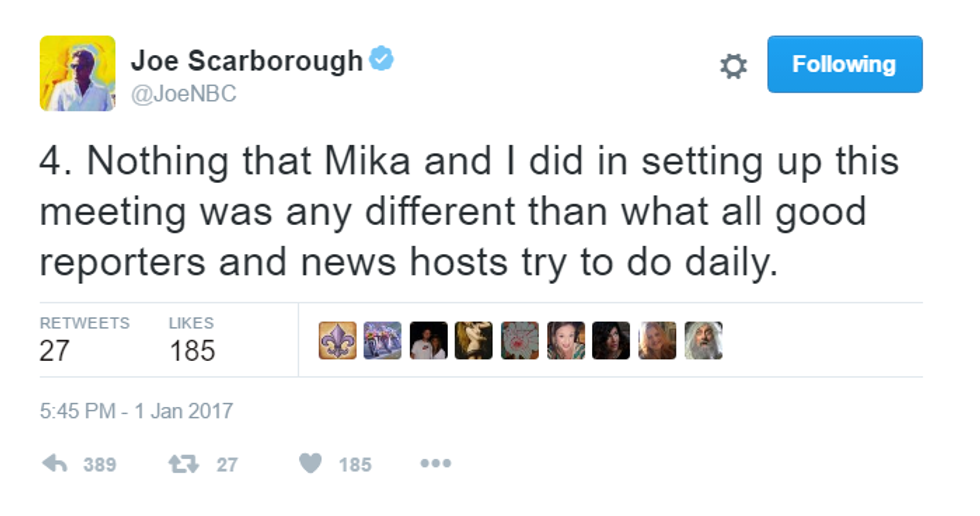 GOD, Joe Scarborough, we get it! You and Mika are NOT banging Donald Trump, and we shouldn't think you are!
Of course, there were many more tweets in that thread, and after that he was done bitching hahaha just kidding. Judd Legum from Think Progress was like "Mm hmm, everybody does meetings with the president-elect at his private club at 7 PM on New Year's Eve, sure yep why not: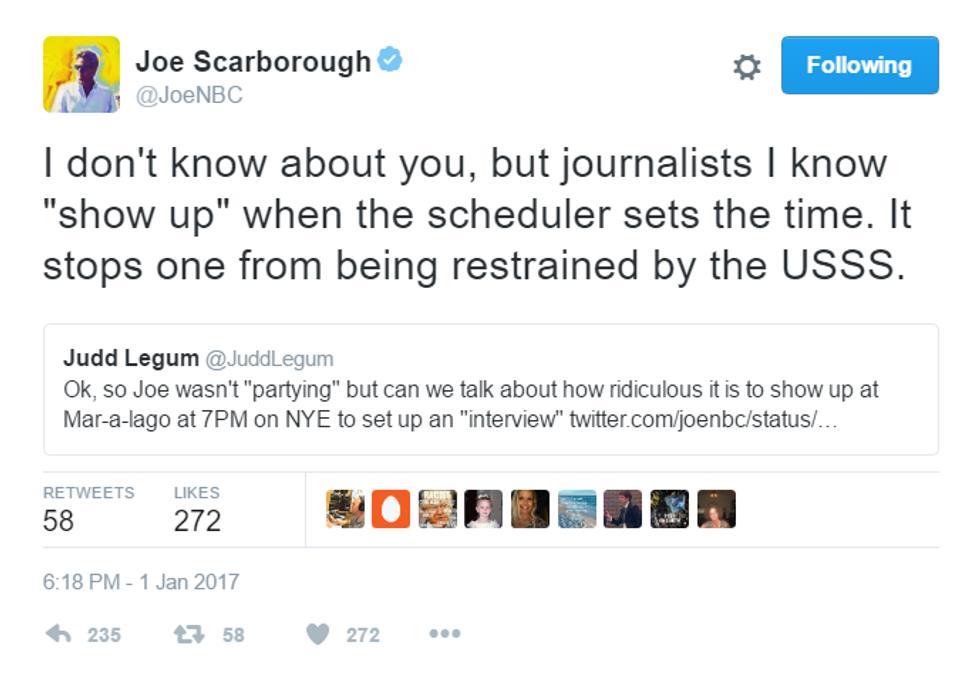 Ugh, you have no idea how many tantrum tweets we are skipping here. Mika's Not Boyfriend didn't like it when Hillary Clinton's former press secretary tweeted this: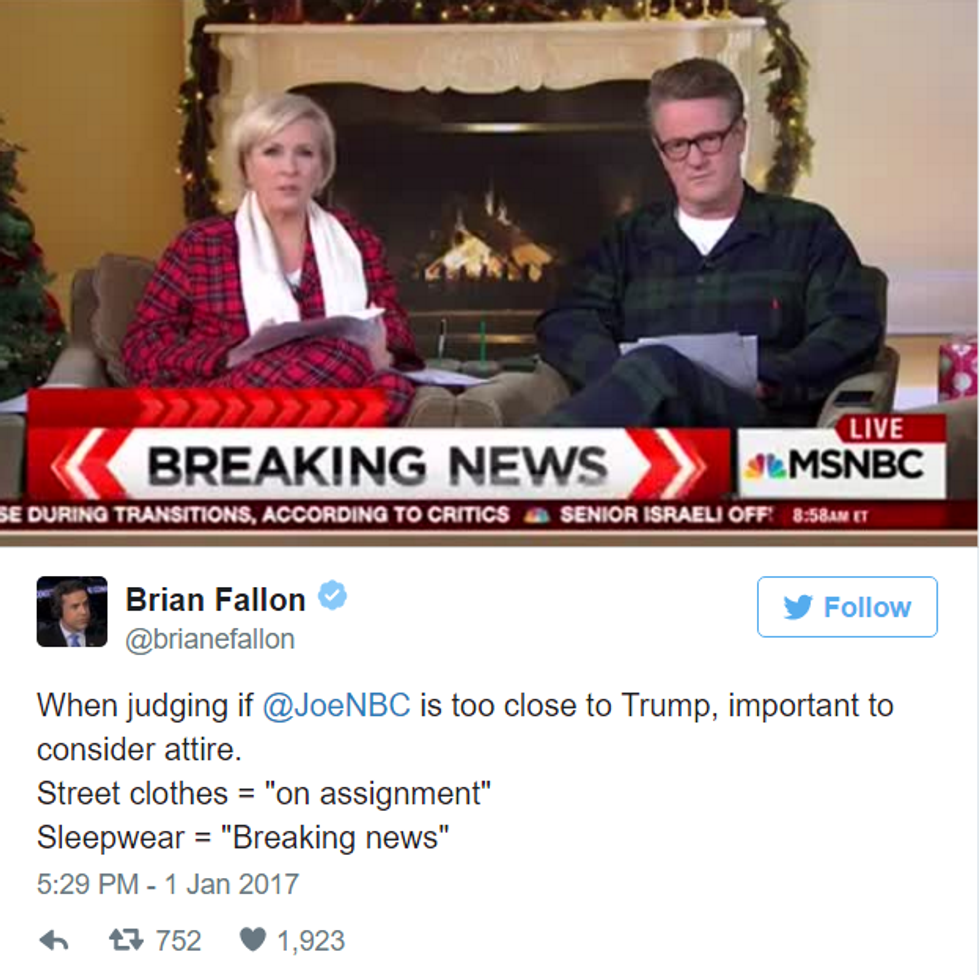 LOLOL, dorks.
Also on Sunday, Scarborough began his yelling at NYT reporter Maggie Haberman: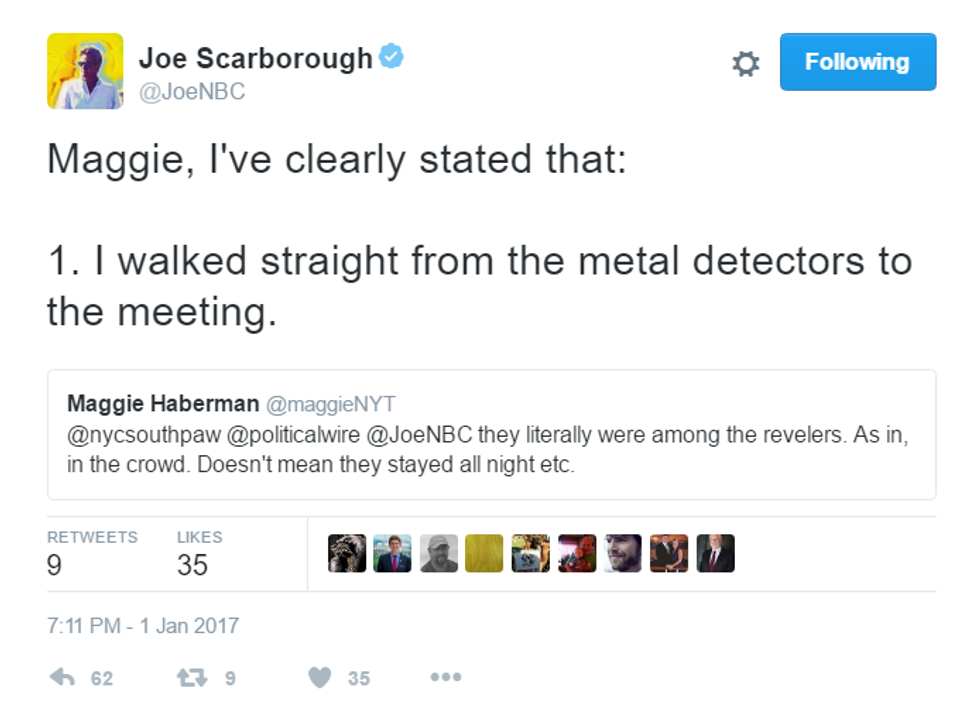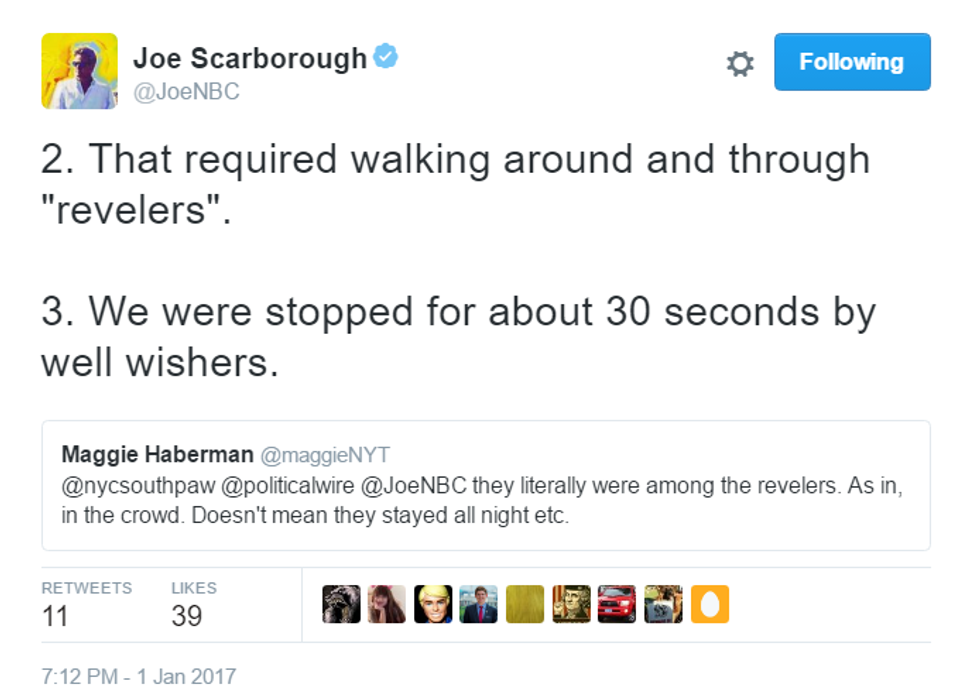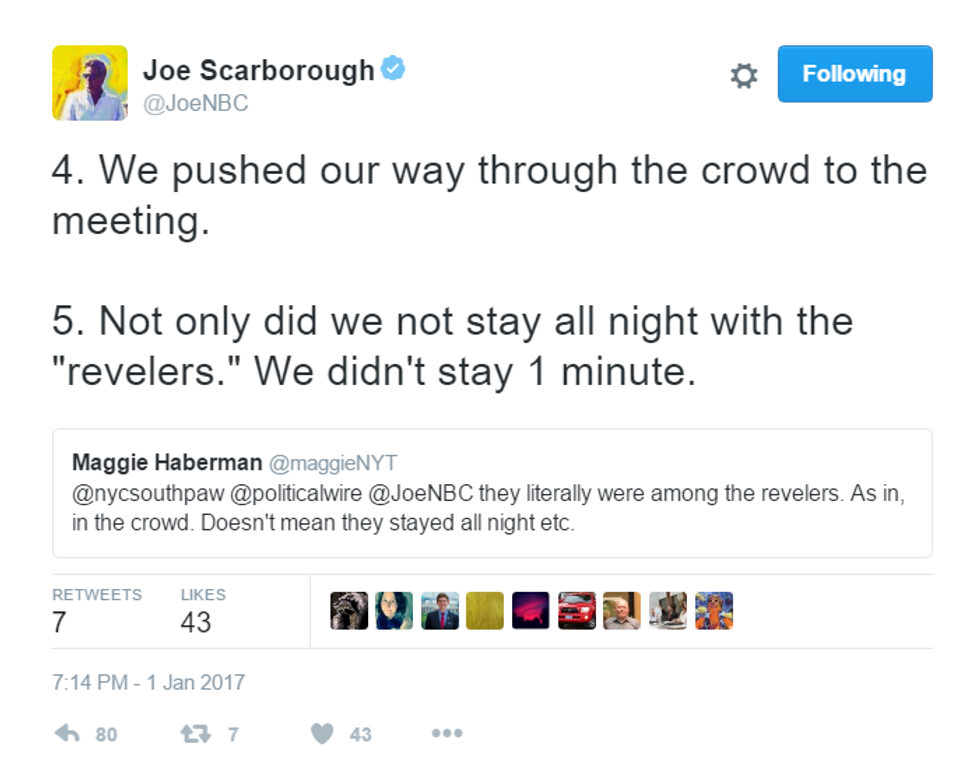 OK, so what we think Joe is saying is that when he and Mika were there, they absolutely had to walk through the guests at the party and drink wine and do Fireball shots out of Donald Trump's belly button, because the Secret Service forced them to, and then after that, they did their meeting and went home. We hope that is an accurate reading, but we are not sure.
Is Joe still tantruming, as we finish writing this post? Ayup! Is Noted Hack Chuck Todd being all "EVERYBODY STOP BEING MEAN TO JOE SCARBOROUGH YOU GUYS"? Ayup!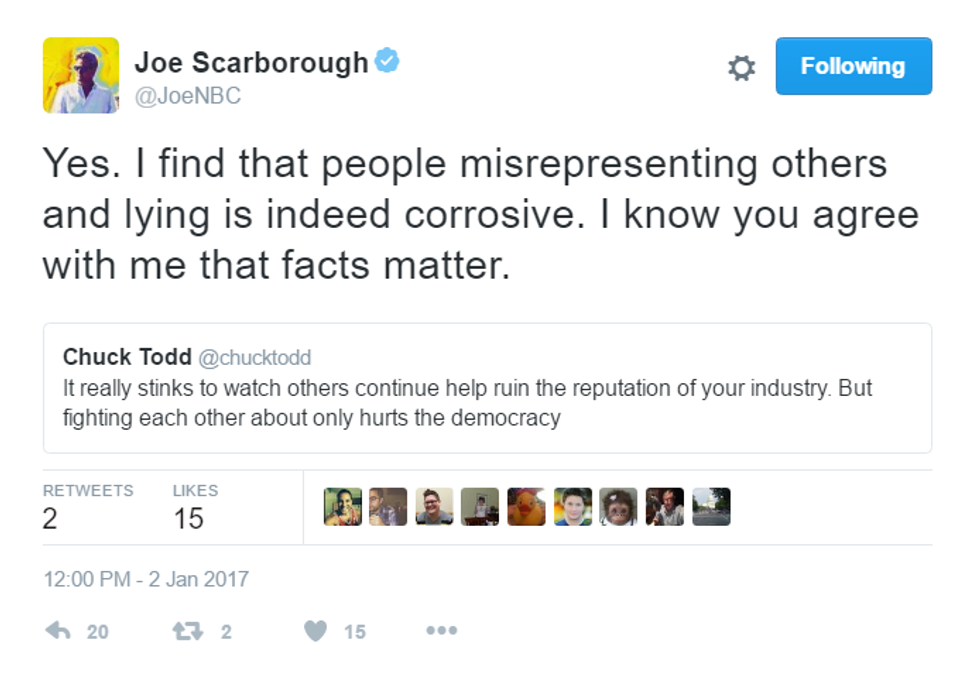 Has Mika Brzezinski remotely said dick about this on Twitter? No way, bro, she ain't about to kiss and tell, or NOT KISS AND TELL, since there is no story here.
Are we sick and tired of constantly refreshing Joe Scarborough's Twitter, as we watch him unravel over how his "integrity" is being impugned, so therefore this post is over? YUP BYE FUCKERS.
[New York Times / Joe's Twitter viaThe New Civil Rights Movement]
Evan Hurst
Evan Hurst is the managing editor of Wonkette, which means he is the boss of you, unless you are Rebecca, who is boss of him. His dog Lula is judging you right now.
Follow him on Twitter RIGHT HERE.