John Conyers, You Fucking Jerk
News
November 21, 2017 10:55 AM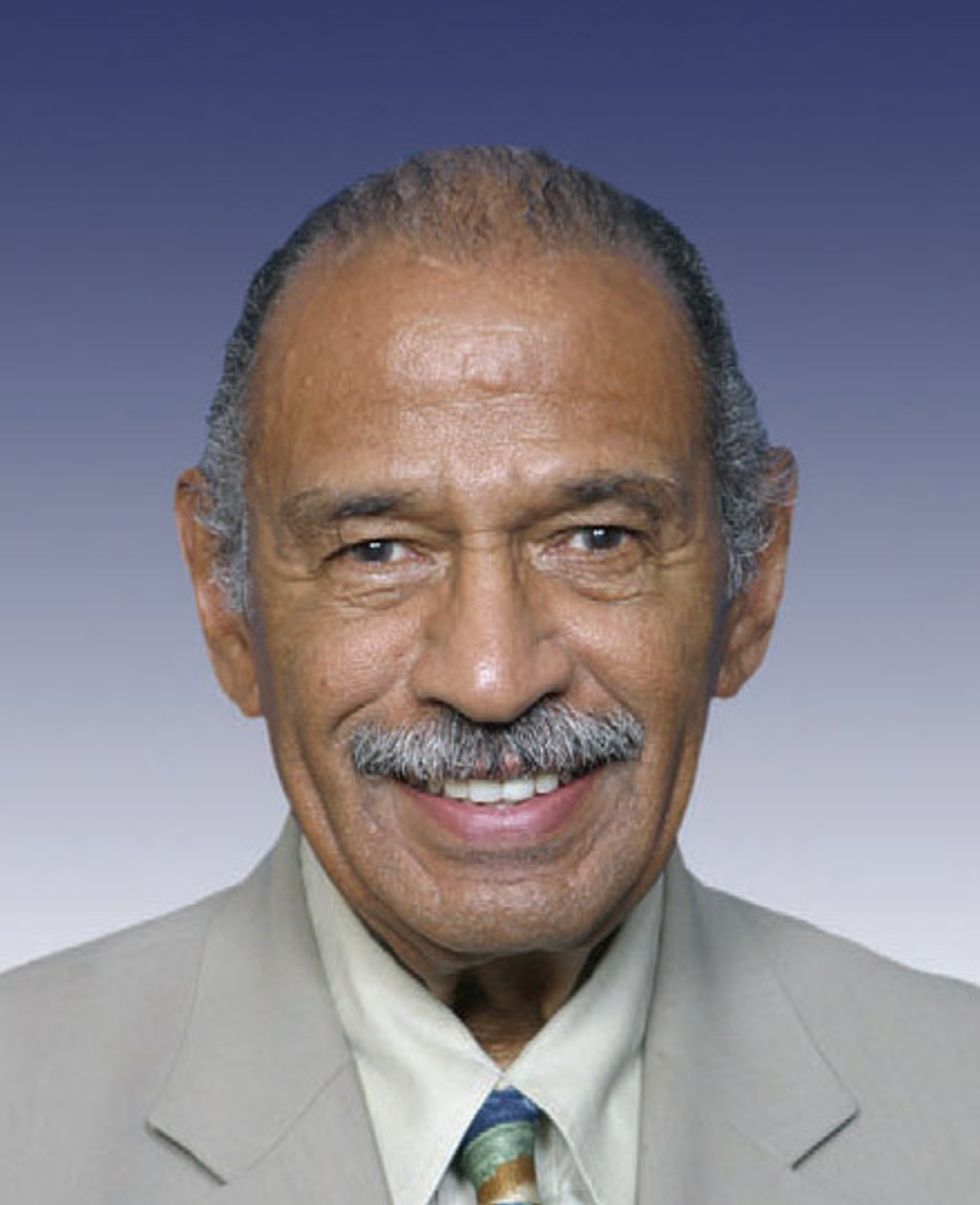 John Conyers (D-Gross)
---
Michigan Rep. John Conyers, it is your time in the barrel! That is what Roger Stone would say, and come to think of it, it's probably what he is saying. We've all been reading the allegations about Glenn Thrush (ugh) and Charlie Rose (ugh), but if you've been interested in who's paying out settlements to guarantee women's silence after sexual harassment allegations, the answer is Bill O'Reilly and half the Fox News top brass.
Apparently the answer is also John Conyers. It's pretty gross.
As Buzzfeed reports, Conyers settled a case in 2015 with a woman who says she was fired for failing to "succumb" to his sexual overtures. It has affidavits of support from women who both witnessed his behavior toward the complainant and, in come cases, experienced it themselves. Buzzfeed quotes a former Conyers staffer, who says, "When you make private settlements, it doesn't warn the next woman or the next person going into that situation." Indeed.
Documents from the complaint obtained by BuzzFeed News include four signed affidavits, three of which are notarized, from former staff members who allege that Conyers, the ranking Democrat on the powerful House Judiciary Committee, repeatedly made sexual advances to female staff that included requests for sexual favors, contacting and transporting other women with whom they believed Conyers was having affairs, caressing their hands sexually, and rubbing their legs and backs in public. Four people involved with the case verified the documents are authentic.
Like we said, gross. Let's read some affidavits of support together, to get us in the mood for Thanksgiving turkey. (It will not get you in the mood for Thanksgiving turkey.) In one, the writer alleges Conyers constantly made sexual advances at her and her coworkers, and she describes Conyers luring her colleague (the original accuser) to his hotel room to "ask her for sexual favors in exchange for advancement of her career." The writer also was supposed to keep Conyers's list of ladies he liked to have flown in, for sex:

Another affidavit of support describes Conyers being asked to "pick up women and bring them to Mr. Conyers," and the congressman's habit of rubbing female staffers' legs in a sexual way. Yet another affidavit features much more of the same.
As Buzzfeed explains, this story exposes how sexual harassment allegations in Congress have a specific place they go and die, and it is called the Office of Compliance. It seems to be designed to shut these women up and make them go away:
The woman who settled with Conyers launched the complaint with the Office of Compliance in 2014, alleging she was fired for refusing his sexual advances, and ended up facing a daunting process that ended with a confidentiality agreement in exchange for a settlement of more than $27,000.
And, of course, there is a bureaucratic process that simply must be followed:
... [C]ongressional employees have 180 days to report a sexual harassment incident to the Office of Compliance, which then leads to a lengthy process that involves counseling and mediation [that takes another 90 days! -- Ed.] and requires the signing of a confidentiality agreement before a complaint can go forward. [...]

The process was "disgusting," said Matthew Peterson, who worked as a law clerk representing the complainant, and who listed as a signatory to some of the documents.

"It is a designed cover-up," said Peterson, who declined to discuss details of the case but agreed to characterize it in general terms. "You feel like they were betrayed by their government just for coming forward. It's like being abused twice."
That is some fuckery right there. If you like your news in handy videos, here is MSNBC's Kasie Hunt explaining the process:
So, what happens when you file a sexual harassment claim on Capitol Hill? Let's walk through it ... pic.twitter.com/fltUcd2cdl

— Kasie DC (@KasieDC) November 20, 2017
Buzzfeed broke the story, but it received the documents from Mike Cernovich, the #PizzaGate conspiracy theorist whose eyes are too close together, who was in possession of them for ... why? Buzzfeed confirmed their authenticity and spoke to the accuser, though, so while it's probable the "alt-right" is 100% committed to ratfucking the shit out of the #MeToo movement (remember how Roger Stone had advance notice of the Al Franken allegations FOR SOME REASON?), it doesn't mean stuff like this isn't real, especially when real reporters from Buzzfeed verify it. (#PizzaGate is still not real. Sorry, Mike Cernovich.)
(Also, beware of ratfucking.)
See, Roy Moore supporters? Wonkette is a liberal commie mommy blog and we believe the women who experienced these things at the hands of the longest-serving member of the House, who is also a civil rights icon. (And it sucks.) It doesn't matter on which side you find this behavior, because wrong is wrong.
Also, your guy is literally accused of molesting kids, so ...
Follow Evan Hurst on Twitter RIGHT HERE.
Wonkette salaries, servers, and all of the things are fully funded by readers like you! If you love us, click here to fund us!
[Buzzfeed]
Evan Hurst
Evan Hurst is the managing editor of Wonkette, which means he is the boss of you, unless you are Rebecca, who is boss of him. His dog Lula is judging you right now.
Follow him on Twitter RIGHT HERE.