John McCain Admits He Is a Fraud, Declares Love For Russ Feingold
News
November 30, 2010 02:39 PM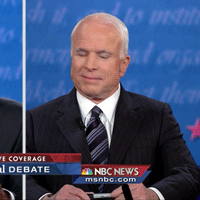 John McCainwent on the Senate floor to deliver a heartfelt eulogy today about Russ Feingold, his dear campaign-finance-reform life-partner, even though Feingold is still alive, geez. But it turned out to be a moment of striking clarity, because John McCain may have finally admitted he is a two-bit shell of a leader who has no business having books about political courage ghost-written under his name. "We don't often hear anymore about members of Congress who distinguish themselves by having the courage of their convictions; who risk their personal interests for what they believe is in the public interest," said McCain. "I confess I have always felt he was my superior in that cardinal virtue." Umm!
---
Here's a video. He has sad.
I will also miss the daily experience of Russ Feingold's friendship, and the qualities that distinguish his friendship – his thoughtfulness, kindness, humor and loyalty. I have treasured that friendship all the years we have served together, and while friendship does not end with a Senate career, I will sorely miss his presence here. I will miss seeing him every day. I will miss traveling with him. I will miss the daily reminder of what a blessing it is to have a true friend in Washington.
Poor John McCain. Russ' mom will probably let him call you on the phone once in a while, right? He's not gone forever. He's just moving away.
Or if McCain was suggesting something else by all of this, we have to say we don't think it's necessary to take Feingold out back and shoot him. He doesn't have rabies just because he lost his re-election bid.
But I will miss him here. Every day. And I will try harder to become half the public servant he is. Because his friendship is an honor, and honors come with responsibilities.
So is this the turning point in Walnuts' career? Will he suddenly stop abandoning his positions on the issues and assume the brave responsibility of the late Russ Feingold?
Ha. Probably not. [The Hill]