Congress is officially down one Nazi-curious representative. Steve King, the nine-term Republican House member from Iowa, lost his primary race Tuesday. This delights us because King is racist scum. Although the New York Times considers King someone who merely dabbled in racism.

New York Times
Someone with a "history" of setting fires is an arsonist, and someone who's said racist shit for decades is racist. Is the Times that worried about a law suit? King ain't got no job, and Fox News already has a Tucker Carlson.
King was a repulsive racist for the entirety of his political career. It wasn't a new development. He displayed a Confederate flag on his desk, even though Iowa fought on the American side of the Civil War. He defended the traitor flag even after a white supremacist murdered black churchgoers in Charleston, South Carolina. King warned against judging slave states because "none of us know what it was like living during that time and in that era." It's true we don't have time machines, but we do have libraries and people who escaped slavery did write a great deal about how much it sucked.
King wasn't just a jackass about black people. He claimed Mexicans had "cantaloupe calves" but also insisted he was just as "Latino and Hispanic" as Julian Castro, which was probably his way of bragging about his own cantaloupe calves. During a trip to Auschwitz in 2018, he said he wanted a "Polish perspective aside from a Jewish" one. He asked the Poles who was worse, the Nazis or the Soviets? He also repeated the gross slander that George Soros might've sold out his fellow Jews to the Nazis when he was a teen. He finished up all this Jew-loving behavior by sitting for an interview with a publication historically tied to literal Nazis.
David Duke of all people tweeted, "God bless Steve King!" after King said "we can't restore civilization with somebody else's babies." Duke must've somehow interpreted that as a racist statement.
---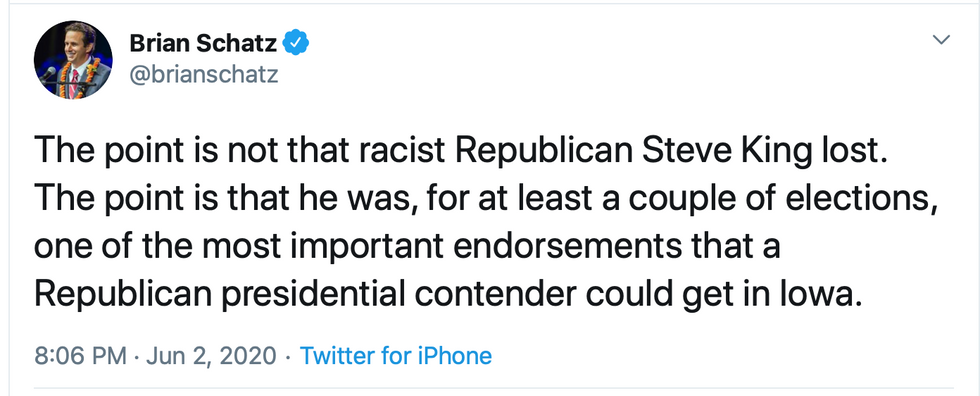 Twitter
Despite all this, Republicans still regarded King as a lovable crank. Presidential candidates actively sought his endorsement. The National Review even described him as an Iowa "Kingmaker" (get it?). Mitt Romney cozied up to him during his 2012 campaign, and King had suggested in 2008, which was before 2012, that terrorists would "dance in the street" if someone with the Muslim-y name "Barack Obama" were elected president. King endorsed Ted Cruz for president in 2016 and was national co-chair of his campaign.
Mitt Romney Says He Wants Steve King As His Partner In Washington DC www.youtube.com
King started to become a political liability for Republicans in 2018 when he barely won re-election against Democrat J.D. Scholten. His margin of victory was just three points in a congressional district Donald Trump carried with 61 percent of the vote. He was now a racist albatross around the GOP's neck. King freaked out over the Democrats' new diverse majority. He probably assumed the House's property values would drop. He then gave an interview with the New York Times where he repeated Eurocentric, white supremacist garbage.
At the same time, [King] said, he supports immigrants who enter the country legally and fully assimilate because what matters more than race is "the culture of America" based on values brought to the United States by whites from Europe.

"White nationalist, white supremacist, Western civilization — how did that language become offensive?" Mr. King said. "Why did I sit in classes teaching me about the merits of our history and our civilization?"
Republicans, even his old buddy Mitt, abandoned the swiftly sinking USS King. Within a week, GOP House leadership had stripped him of his committee assignments, rendering him useless to his constituents. He didn't exactly lay low during his down time. He implied black victims of Hurricane Katrina were freeloading deadbeats. He questioned whether there'd be any civilization at all without rape or incest. He also was willingly seen in public with Diamond and Silk.
Hilariously, King held a town hall last summer and the audience was filled with empty chairs for Clint Eastwood to yell at.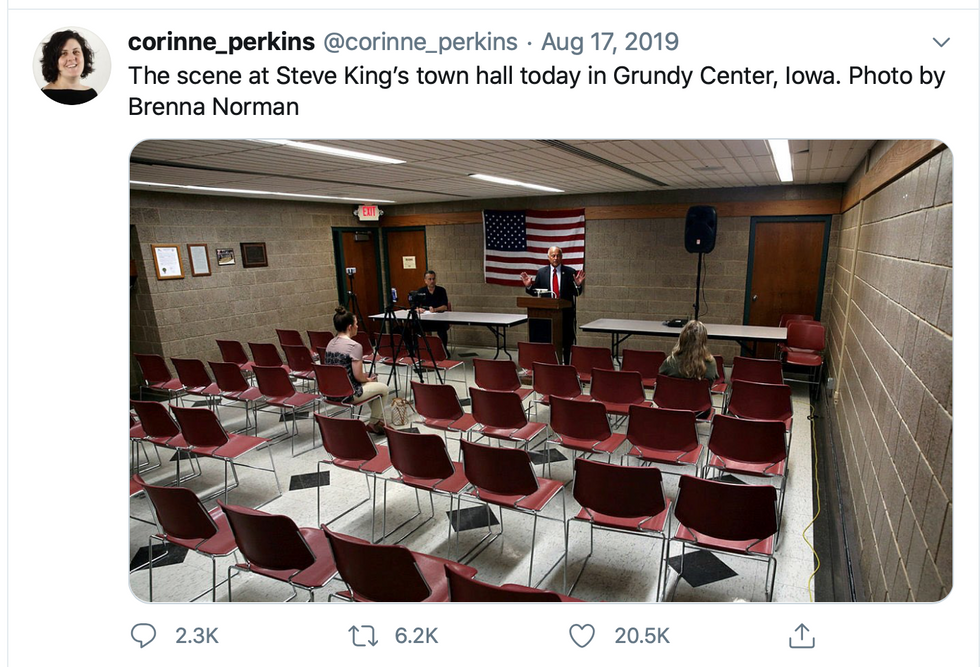 Twitter
The one human in attendance asked King about reparations, and the soon-to-be-former congressman compared slavery to a bad freelancing gig where no one pays you no matter how often you follow up over email.
KING: It's kind of hard to hear the arguments for reparations these days and think about it in terms of some people gained a foundation of wealth prior to 1865 because they used slave labor. At the same time, 600,000, maybe 750,000 Americans died putting an end to it. What's the price for that? There's no reparations for lost lives, but there is for lost wages? I think it's a hard argument for them to make, and it's much better for us to be grateful for both sides.
I suppose I am grateful that the Confederacy wasn't that good at slave preservation. The failure to achieve their evil ambitions is certainly worth all those memorials. I'm also grateful that King's ass was kicked Tuesday night, even if it means that his seat is more likely to remain in GOP hands. Primary winner Randy Feenstra is a loyal Donald Trump stooge, but given the year Trump's having, maybe J.D. Scholten still has a shot. Regardless, it meant a lot to see King lose against a backdrop of nationwide protests against racism and police brutality.
Donate to Scholten here.
[The New York Times / The Progressive]

Follow SER on Twitter.
Wonkette is ad-free and 100 percent reader funded. You're reading us, so please help fund us if you're able.
Stephen Robinson
Stephen Robinson is a writer and social kibbitzer based in Portland, Oregon. He writes reviews for the A.V. Club and make believe for Cafe Nordo, an immersive theatre space in Seattle. He's also on the board of the Portland Playhouse theatre. His son describes him as a "play typer guy."