Judge Says Ex-St. Louis Cop Didn't Murder Guy After Saying He'd 'Kill This Motherfucker' So That's A Relief
Post-Racial America
September 15, 2017 04:45 PM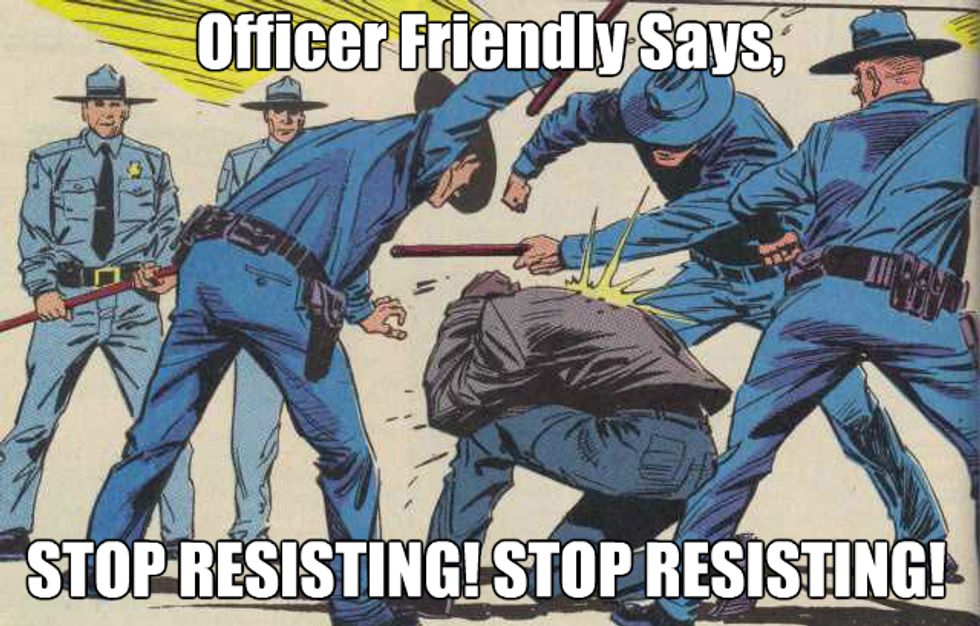 They always have to get shot. Why is that?
---
A former St. Louis police officer, Jason Stockley, has been found not guilty of first-degree murder in the 2011 shooting death of Anthony Lamar Smith following a car chase, despite a prosecution case that included video of Stockley saying during the chase, "Going to kill this motherfucker, don't you know it" and evidence that Stockley fired the fatal shot into Smith from just six inches away. Stockley claimed he acted in self-defense.
At the risk of being biased fake news, we'll mention here that Stockley is white and Smith was black.
Assistant Circuit Attorney Aaron Levinson had argued that while Smith had fled from police, and led them on a high-speed chase, the shooting itself was premeditated. The defense argued that Smith continued to struggle after Stockley and his partner, Brian Bianchi, rear-ended Smith's car with their SUV, causing it to crash. The defense said Smith was reaching for a revolver found in his car; the prosecution alleged that after shooting Smith, Stockley planted the pistol, which tests showed only had Stockley's DNA on it.
Circuit Judge Timothy Wilson, who decided the case after Stockley waived his right to a jury trial, wasn't convinced by the prosecution's case:
In his decision dated Friday, Wilson wrote that the state had not met the burden of proof. Wilson wrote that Stockley's conduct was not consistent with the conduct of a person who intentionally killed another person unlawfully. Wilson wrote that he had "agonizingly ... poured [sic] over the evidence again and again" and watched the videos "innumerable times."

"The Court believes it is significant that defendant Stockley and Smith did not know each other prior to December 20, 2011, they had no prior history, there was no history between Stockley and members of Smith's family, and there was no basis in the evidence to suggest any pre-existing animosity by Stockley towards Smith," Wilson wrote. "There was also no evidence that Stockley even knew who was being pursued."
Yr Wonkette is not a lawyer, but we're fairly sure that being on a first-name basis with someone isn't necessary to prove premeditation, only that the killer went into the situation with the intent to kill. We may watch too many TV shows, though. Maybe the prosecutors do, too? They note in their argument for a guilty verdict that Missouri law demands only that the state "prove that a defendant knowingly causes the death of another person after deliberation upon the matter," and that deliberation "means cool reflection upon the matter for any length of time no matter how brief." Again, we're just amateurs, but that doesn't sound like Smith had to be on Stockley's Christmas card list for the shooting to be murder.
As to Stockley's state of mind before shooting Smith, the prosecution's brief has this:
At 12:41:30 in the dash cam video, Stokley tells Bianchi "We're killing this motherfucker, don't you know". Forty-five seconds later, he fatally shot Smith.
During the trial's opening statements, Levinson acknowledged Smith had a record of drug and firearm offenses, and that he was fleeing the police:
"Anthony Smith didn't deserve to die on Dec. 20, 2011, but Jason Stockley took his life anyway and tried to cover it up," Levinson said. "He may have fled from police, but he did not deserve to be executed."
The December 2011 chase started when Stockley and Bianchi saw Smith in what they believed was a drug deal in a parking lot; according to Stockley's attorney, Neil Bruntrager, both officers said they'd seen a revolver in Smith's Buick before he backed out of a parking space, hitting the police SUV and almost hitting Stockley, then fled. Stockley fired seven shots at Smith's car as it drove away.
Then the cops chased Smith for 3 miles at speeds of almost 90 mph:
After Bianchi and Stockley rear-ended Smith's car, both officers got out, and Stockley fired several pistol shots into the car, then put his rifle back into the police SUV. Four bullet casings were found outside Smith's car; one was found inside the driver's side, which Levinson said probably was the close-range shot that killed Smith.

Once police pulled Smith's body out, Stockley climbed into the Buick's driver side. Police reports say Stockley's DNA — but not Smith's — was on the .38-caliber Taurus revolver police said was found in Smith's car. Stockley told investigators he unloaded the revolver as a safety precaution. Police also found in the car a bag of heroin that had only Smith's DNA on it.
The prosecution also questioned why Stockley would have handled the revolver without rubber gloves, and noted that video showed Stockley walked back to Smith's car at least four times after the shooting, getting into the car while other officers stood nearby.
Judge Wilson didn't find the prosecution's assertion that the gun was planted convincing:
The state's contention that Stockley planted a handgun, wrote Wilson, "is not supported by the evidence."

In one line, Wilson wrote that based on his nearly 30 years on the bench, that "an urban heroin dealer not in possession of a firearm would be an anomaly."
Heck, maybe in Judge Wilson's extensive experience, he knows that heroin dealers regularly keep weapons on the front seats of their cars without getting their own fingerprints or DNA on them, because they're just that sneaky.
HuffPo notes that in a separate civil case,
The St. Louis Board of Police Commissioners paid a $900,000 settlement in 2013 as part of a wrongful death suit filed on behalf of Smith's daughter, who was 1 year old at the time of his killing.
But isn't that how these things go? The city or the police department settle in a civil lawsuit for wrongful death, pay out some money, and then the cop who actually pulled the trigger walks, because when do cops ever not walk?
St Louis is preparing for lots and lots of angry protests. Expect the usual apologetics for cops who had to kill someone because they were resisting. If only everyone would just stop resisting, everything would be fine. And why do people have to get so darned upset that they protest the police doing their jobs, sometimes with murderous glee? Just calm down, everyone, and stop resisting.
Yr Wonkette is supported by reader donations. Click here to support us and we promise we'll post more stuff about kittens. Unless the kittens resist arrest.
[HuffPo / St Louis Post-Dispatch / Missouri v. Stockley, Memorandum in Support of a Guilty Verdict]