It Was A Good Damn Day For Decency, Humanity, And Our Trans Children In Red States
Legal
July 22, 2021 10:15 AM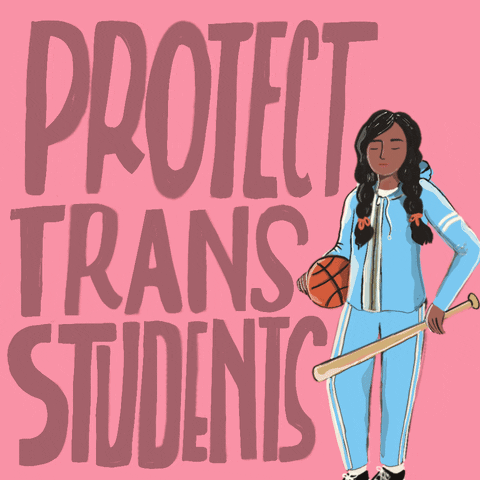 Bless up! Yesterday, two federal judges stepped in to protect trans kids from legislative bullies, and the Louisiana legislature failed to override a gubernatorial veto of yet another anti-trans sports bill. So, all in all, a good day for Team Not An Asshole!
In West Virginia, US District Judge Joseph Goodwin ruled that educators violated the Equal Protection rights of an 11-year-old trans girl when they excluded her from participating in middle school sports. The state tried to get around this by doggedly insisting that the plaintiff is a boy, and thus there's no discrimination in treating her like other "boys." But the court was having none of it, citing to binding Fourth Circuit precedent in the case of Gavin Grimm, where the appellate court agreed that apparent sex at birth could not serve as a basis to exclude trans kids from participation in school activities.
Plaintiff is not most similarly situated with cisgender boys; she is similarly situated to other girls. Accord Grimm, 972 F.3d at 610 ("The overwhelming thrust of everything in the record . . . is that Grimm was similarly situated to other boys"). Plaintiff has lived as a girl for years. She has competed on the all-girls cheerleading team at her school. She changed her name to a name more commonly associated with girls. And of the girls at her middle school, B.P.J. is the only girl who will be prevented from participating in school-sponsored athletics. Here, there is an inescapable conclusion that Section 18-2-25d discriminates on the basis of transgender status.
And although the law was strategically captioned the "Save Women's Sports Bill," Judge Goodwin further held that there was no compelling state interest in excluding the tiny number of trans athletes from participation in school sports. Particularly when, as here, the child in question is taking puberty blockers which negate any advantage from testosterone she might get if she went through endogenous puberty.
---
Over in Arkansas, US District Judge James Maxwell Moody Jr. tossed an exceptionally vile statute which would have banned all trans-affirming healthcare for minors. Captioned the "Save Adolescents From Experimentation (Safe) Act," the law made a series of unsubstantiated claims about the longterm effects of treating gender dysphoria and outlawed provision of any and all gender affirming care, even going so far as to bar insurance companies from covering treatment costs. These claims were immediately refuted in an amicus brief filed by damn near every major medical association in the country, including the American Academy of Pediatrics, the Academic Pediatric Association, the American Academy of Child and Adolescent Psychiatry, the American Medical Association, the American Pediatric Society, the American Psychiatric Association, and the Arkansas Psychiatric Society.
The law was facially discriminatory — for instance, it would have allowed a 17-year-old cisgender girl to get breast implants with parental permission, but not a trans girl. And in an added twist of cruelty, it would have halted care for trans kids in Arkansas who were already undergoing gender affirming treatment.
"How do you justify giving the treatment to one sex and not giving it to another and then you say that's not sex discrimination?" Judge Moody asked, during a contentious hearing yesterday in which the state made a series of cackhanded arguments defending the denial of healthcare based on the subjective motivation of the patient.
"But it's the same treatment," Judge Moody countered. "I've said, for the purposes of this argument, if everyone gets the exact same amount, the same dose in the same manner — or that's what they're both asking for — you want to say it's a different procedure because of the perceived desire of why they want it. How does it make it a different procedure just because you want it for one thing and I want it for another?"
Ruling from the bench, Judge Moody enjoined enforcement of the law, which would have gone into effect on July 28.
"To pull this care midstream from these patients would cause irreparable harm while the status quo for a very long time has been that there is no ban," he said. "The notion that the Legislature woke up as soon as the United Kingdom issued a paper saying this is experimental medicine and they needed to rush in and protect these children is not credible to me."
"We have your back and we will continue to fight on your behalf," 15-year-old plaintiff Dylan Brandt told the Arkansas Democrat Gazette. "We want you to know that you can be exactly who you are and we should all have freedom to make choices about our medical care with the support of our parents and experts in the field of medicine. And the judge agreed with us today."
And if you can't stick up for these kids when they're out there taking the punches, then what are you even doing on this earth?
Rounding out the day, Louisiana's legislature failed to override Democratic Governor John Bel Edwards's veto of a bill that would have barred trans kids from participation in school sports, which saves the state the expense of getting their asses kicked in court. Everything's coming up Milhouse!
Let's give Judge Goodwin the last word here:
It is clearly in the public interest to uphold B.P.J.'s constitutional right to not be treated any differently than her similarly situated peers because any harm to B.P.J.'s personal rights is a harm to the share of American rights that we all hold collectively. The right not to be discriminated against by the government belongs to all of us in equal measure. It is that communal and shared ownership of freedom that makes up the American ideal. The American ideal is one "that never has been yet— And yet must be—the land where every man is free." Let America be America Again, Langston Hughes.
AMEN.
[B.P.J. v. West Virginia State Board of Education, Docket via Court Listener / Brandt v. Rutledge, Docket via Court Listener / Arkansas Democrat Gazette]
Follow Liz Dye on Twitter!
Click the widget to keep your Wonkette ad-free and feisty. And if you're ordering from Amazon, use this link, because reasons.
Liz Dye
Liz Dye lives in Baltimore with her wonderful husband and a houseful of teenagers. When she isn't being mad about a thing on the internet, she's hiding in plain sight in the carpool line. She's the one wearing yoga pants glaring at her phone.