Jury Finds Lord and Lady McDonnell Of Virginia So Many Kinds of Guilty (UPDATE!)
Featured
September 04, 2014 03:15 PM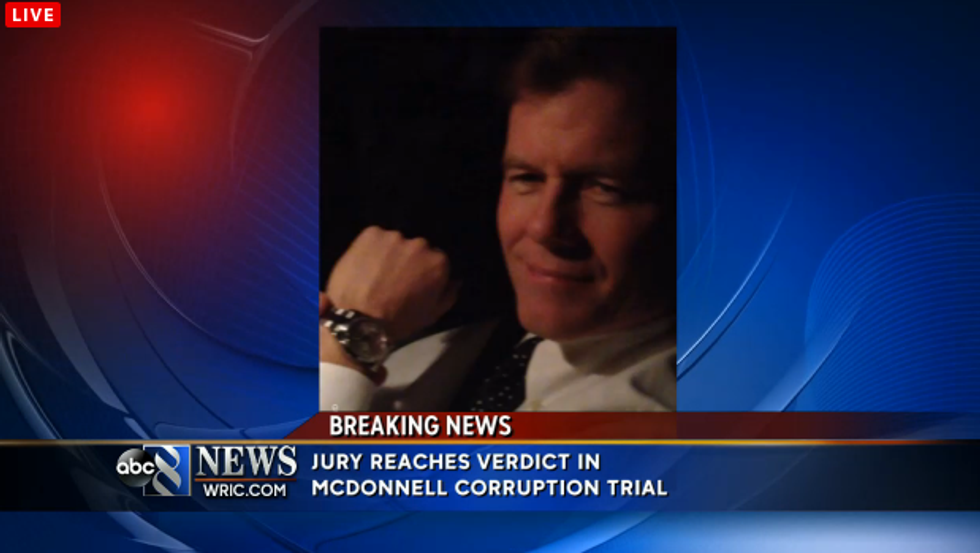 After three days of deliberations, the jury in the Trial of the Century of the Summer has reached a verdict for Bob and Maureen McDonnell on charges of corruption and bank and wire fraud and more fraud and more corruption. Guilty, guilty, guilty, and guilty some more. There were a couple things they weren't guilty of. Pretty much guilty though.
---
From the very beginning, yr Wonket has been taken in by the fairy tale of Bob and Maureen McDonnell, whose time as Richmond Royalty was marked by a strange sexless love triangle and new heights of gubernatorial griftiness. Their "friend," shifty tobacco peddler Jonnie Williams, kept Mrs. Governor Bob in ugly handbags and pastel dresses. The First Couple wallowed in luxury on Cape Cod and tooled around in Jonnie's Ferrari and all they had to do was let Jonnie have his snake oil coming-out party at the Governor's Mansion. What's so wrong with that? Can't friends who aren't really friends let each other use the credibility of each other's political offices anymore?
We here at the Political Grift Bureau will miss so much about this story: the endless soap opera details of Maureen's crush on Señor Snake Oil, the governor's relocation to a scandal-tarred priest's rectory, the betrayal of the mansion chef who Knew Too Much and reached out from beneath the bus to pull the McDonnells down with him.
Bob and Maureen will always have the memories, since the feds took all the toys.
UPDATE! We hear from our friends at ABC 8 News that the deposed governor "has been sobbing in the courtroom." We hope he remembered to swipe some fine linen napkins from the mansion kitchen to dry his eyes.
The McDonnells will be sentenced on Jan. 6, 2015, which means these dangerous convicts will be allowed to roam the streets of Richmond for FOUR MONTHS. Let's make sure they have some ankle monitors! They have access to all kinds of private planes and speedy luxury cars so clearly a FLIGHT RISK.
You can follow Beth on Twitter for all the negotiations in advance of the Sentencing of the Century of the Summer right after New Year's!