Just Two Russian Tourists Out For A Stroll, Not Poisoning Any Englishmen, No No!
Russia
September 14, 2018 09:55 AM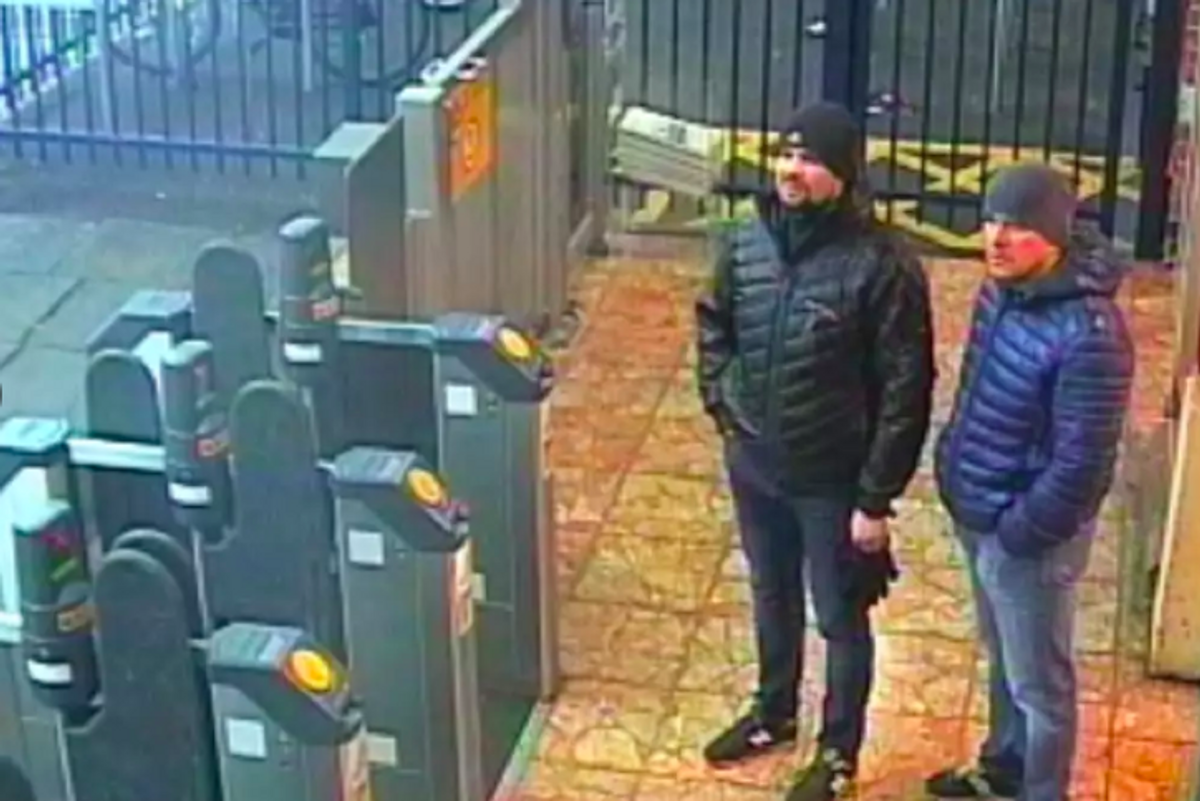 Oh, FUCK YOU, VLAD!
Last year the Russian dictator dispatched two spies to the UK to murder double agent Sergei Skripal with a perfume bottle filled with Novichok poisoning. They sprayed his front doorknob, tossed the bottle of deadly nerve agent by the side of the road in Amesbury, and hightailed it back to Moscow. Miraculously, Skripal and his daughter Yuliya survived, but Dawn Sturgess, who found the "perfume" and sprayed some on her wrist, died a week later. Russia is murdering citizens on foreign soil and not even bothering to hide it.
---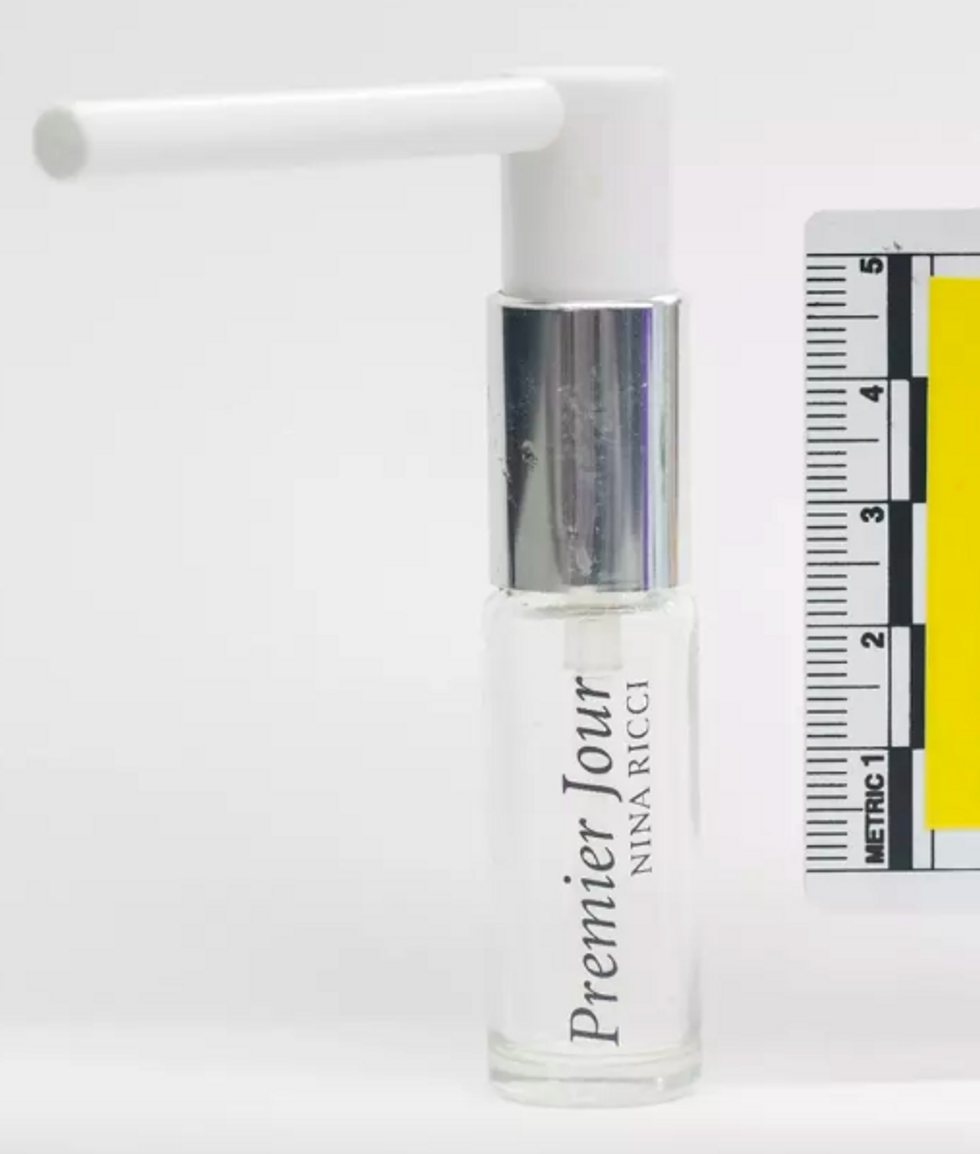 When MI6 tracked down the murderers, the Kremlin had a very credible response. And it is ...

LOL, WE ARE SIMPLE TOURISTS. Also, отъебись от меня!
Here's a half hour video with the Kremlin's pet television network RT, where Alexander Petrov and Ruslan Boshirov explain that they are just a couple of tourists on business visas to the UK who decided to take a daytrip from London to see Salisbury's famous cathedral. As one does.
Their lives have been turned upside down by the British government's hurtful accusation, and they expect an apology. They're just two fitness executives who wanted to see the oldest working clock in the world.
Our friends had been suggesting for a long time that we visit this wonderful town.
So they got on a train from London to Salisbury on March 3, 2018, and but they only spent an hour there because it was really cold and maybe snowing?
We traveled there to see Stonehenge, Old Sarum, and the Cathedral of the Blessed Virgin Mary. But it didn't work out because of the slush. The whole city was covered with slush. We got wet, so we went back to the train station and took the first train to go back.
Being natives of tropical Russia, of course, they couldn't handle the arctic British weather. So they rode back to London and returned to Salisbury the next day, March 4. But then they got lost, see? So they wound up wandering around Skripal's neighborhood, which was in the opposite direction from the Cathedral. Ooops!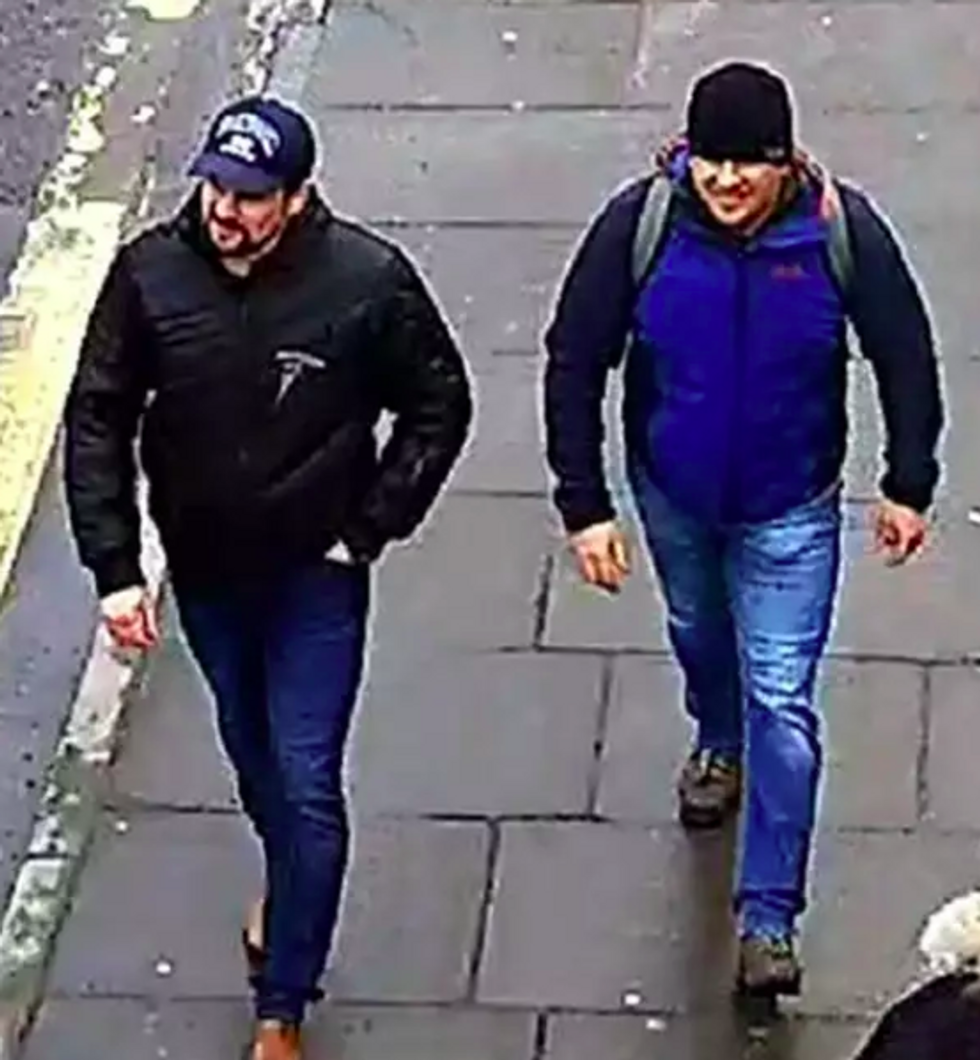 Security footage of Petrov and Boshirov taking in the sights in Skripal's neighborhood on March 4, the day someone sprayed poison on his doorknob.
Then they went back to London and immediately boarded a plane for Moscow. And they have no idea how the traces of Novichok poison got into their hotel room. Also, the UK authorities must have doctored those photos to make it seem like they went through customs separately, since they were together all the time. But, you know, NO HOMO or whatever.
Interviewer Simonyan: Speaking of straight me, all footage features the two of you together. You spent time together, you stayed together, you went for a walk together. What do you have in common that you spend so much time together?

Boshirov: You know, let's not breach anyone's privacy. We came to you for protection, and you're turning this into some kind of interrogation.
Heh. See it's funny because gay men get beat up and arrested in Russia, and these guys are assassins pretending to be a couple of gay tourists. Get it?
RT boss Margarita Simonyan on the alleged Salisbury poisoners: "I don't know if they're gay or not. They're fashi… https://t.co/OxSBjmutM6

— max seddon (@max seddon) 1536838809.0
Maybe funny is the wrong word.
As they show the clips of RT's editor-in-chief Margarita Simonyan "interviewing" #Skripal poisoning suspects, panel… https://t.co/oKzDebHAN1

— Julia Davis (@Julia Davis) 1536853955.0
Hilarious. No wonder Republican senators, congressmen, and Cabinet secretaries are hopping on planes to Moscow to hang around with these jokesters.
YEAH, PROBABLY.
[Independent / Guardian]
Follow your FDF on Twitter!
Help your Wonkette live forever. All the cool kids are doing it!
Liz Dye
Liz Dye lives in Baltimore with her wonderful husband and a houseful of teenagers. When she isn't being mad about a thing on the internet, she's hiding in plain sight in the carpool line. She's the one wearing yoga pants glaring at her phone.