Justin Trudeau Falls Flat On His Blackface
White Nonsense
September 19, 2019 10:30 AM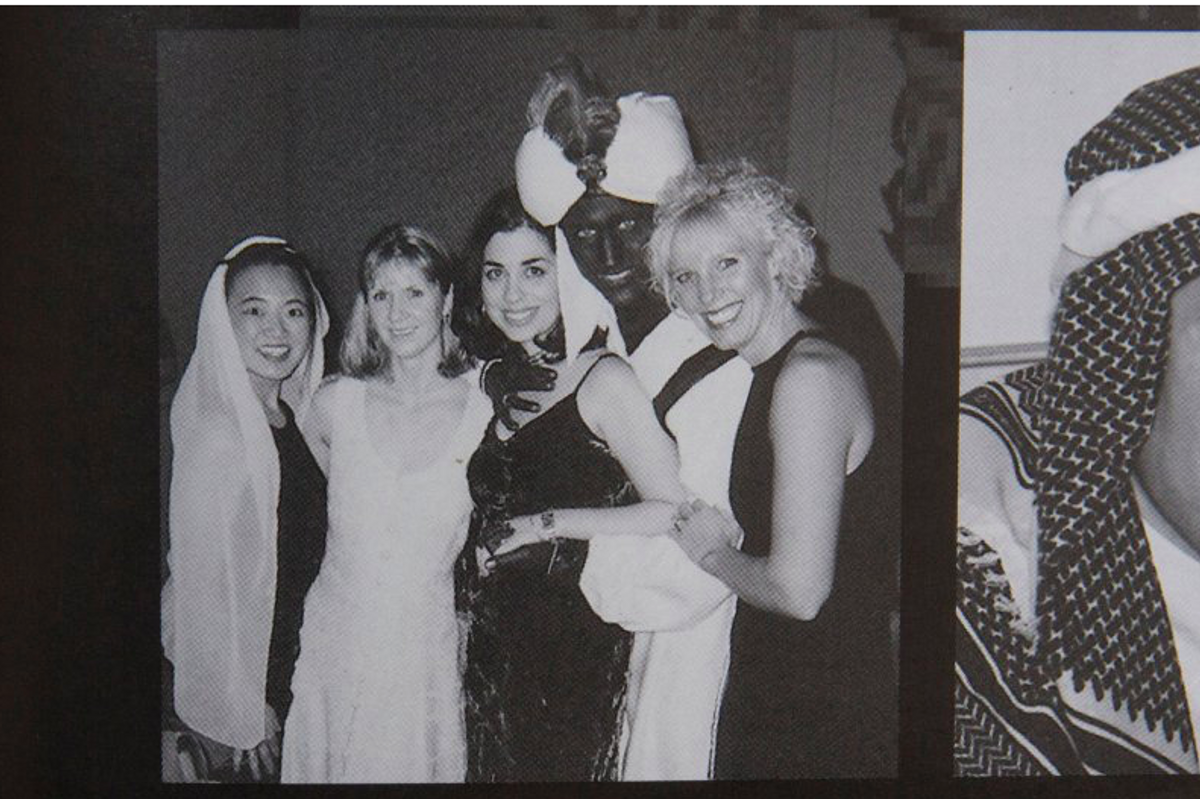 It's Thursday, so it's time for another blackfacescandal. We've covered a variety of Al Jolson sightings while on the blackface beat, but this is our first with an international dateline. We learned last night that Canadian Prime Minister Justin Trudeau wore blackface to an "Arabian Nights"-themed party at the private school where he was a teacher. A photograph of Trudeau insulting multiple cultures appeared in the West Point Grey Academy yearbook. This happened in spring of 2001. Trudeau was 29.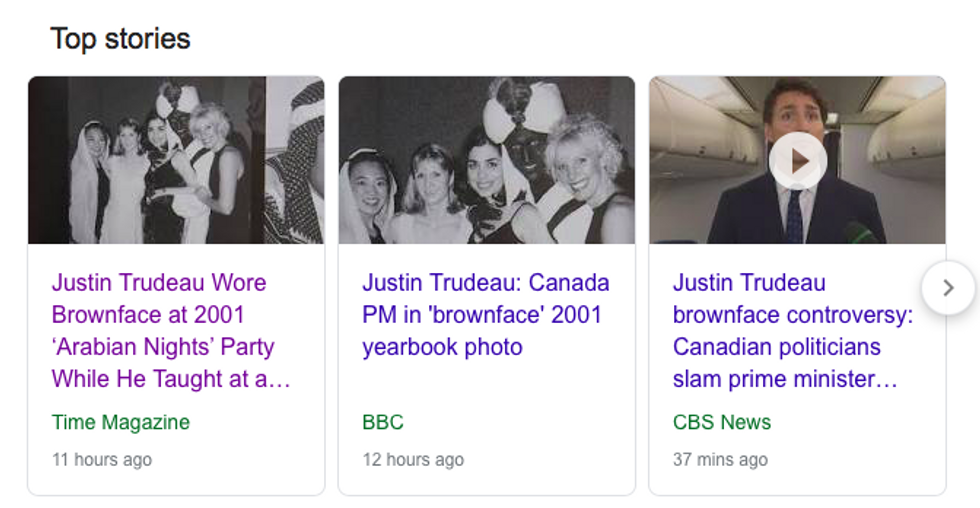 Google
The media is calling this a "brownface" incident, but Trudeau wasn't cosplaying as the second Aunt Viv on "The Fresh Prince of Bel-Air." He went full original recipe Viv. Joy Behar once put on "darker makeup" to look like an African queen for Halloween. That's "brownface." That was also the 1970s. Trudeau's face is blacker than Fred Astaire as Mr. Bojangles.
---
Vancouver businessman Michael Adamson gave Time Magazine a copy of the yearbook with the photo of Trudeau in blackface. Adamson wasn't at the party himself and claims to have first seen the photo in July. Although other people are wearing stupid headgear they believe fit the party's "theme," Trudeau is the only one who darkened his skin. Even his hands are black. He was clearly the only one who took the "blackface optional" dress code seriously.
According to Zita Astravas, the media relations lead for the Liberal Party, Trudeau attended the school's annual dinner "dressed as a character from Aladdin." Is he referring to the Disney movie from 1992? If so, the Genie was more compelling and potentially less offensive. Aladdin himself isn't even "black." He's drawn to resemble a young Tom Cruise with a tan.
Justin Trudeau Addresses Brownface Photo: 'It Was Something Racist To Do' | NBC Newswww.youtube.com
Trudeau, who is running for re-election presumably on a non-blackface platform, apologized for the incident yesterday.
TRUDEAU: I shouldn't have done that. I should have known better and I didn't. I'm really sorry... Yes, [the photo was racist.] I didn't consider it racist at the time, but now we know better.
It's true what we consider racist has changed tremendously since "Friends" was on the air. "The One With All The Blackface" was a popular episode from 2001. Apparently, Trudeau and his private school teacher buddies innocently dressed up like "Arabians" for giggles. Trudeau wore blackface like a racist fool and never considered he'd have to answer for it in public life. He's probably right: When Jay-Z and Beyonce played in Vancouver last year, they might've doubled the black population. Still, this does hurt Trudeau's carefully created global image as the perfect liberal.
His political challenger, Conservative leader Andrew Scheer, is already trying to capitalize on the blackface boogaloo. Scheer condemned Trudeau's life choices and said the yearbook photo reveals "someone with a complete lack of judgment and integrity, and someone who is not fit to govern this country." Maybe. But no one at West Point Grey Academy complained. Many of the people attending the gala are still at the school. The culture that accommodates blackface and "culture as costume" parties is the true problem. And Scheer is likely just a much a product of that culture as Trudeau. Scheer has also praised Ted Cruz and Marco Rubio as "strong conservative voices," which doesn't say much for his own "judgment and integrity."
People are comparing Trudeau to Ralph Northam, the Virginia governor with a blackface yearbook photo. When Trudeau spoke to the press yesterday, he pulled a Northam and confessed to more blackface. Fortunately, his wife didn't have to stop him from moonwalking.
Trudeau said he wore blackface "makeup" in high school to sing "Day-O," a Jamaican folk song famously performed by African-American singer and civil rights activist Harry Belafonte. "I deeply regret that I did that," he said.
We're not sure why Time thinks it needs to explain what "Day-O" is as if we haven't seen Beetlejuice. By the way, the Tim Burton film came out when Trudeau was in high school. You'll notice that Canadian treasure Catherine O'Hara is perfectly capable of performing the Harry Belafonte song without wearing blackface. So is everyone else in the scene.
Beetlejuice - Day-o (Banana Boat Song)youtu.be
Not that blackface is ever appropriate, but we wonder if Trudeau has seen actual photos of Belafonte. The brother is butterscotch. You don't need burnt cork to perfect the look. We don't know why some white people think blackface has transformative properties. You didn't buy the makeup from some voodoo priestess on Bourbon Street. It won't make you sing like Belafonte or dance like Michael Jackson. You'll just look like an asshole.
Oh, and it turns out there's a third blackface photo of Trudeau. The guy's got a blackface habit. At least Northam just tapped out with two blackfaces.
[New York Times / Time]

Follow Stephen Robinson on Twitter.

Yr Wonkette is funded ENTIRELY BY YOU. If you come here often, please think about joining the ONE PERCENT (of donors). Thank you, we love you.
Stephen Robinson
Stephen Robinson is a writer and social kibbitzer based in Portland, Oregon. He writes make believe for Cafe Nordo, an immersive theatre space in Seattle. Once, he wrote a novel called "Mahogany Slade," which you should read or at least buy. He's also on the board of the Portland Playhouse theatre. His son describes him as a "play typer guy."