Kamala Harris Racking Up Endorsements Like The Sister's Running For President Or Something
News
April 15, 2019 02:06 PM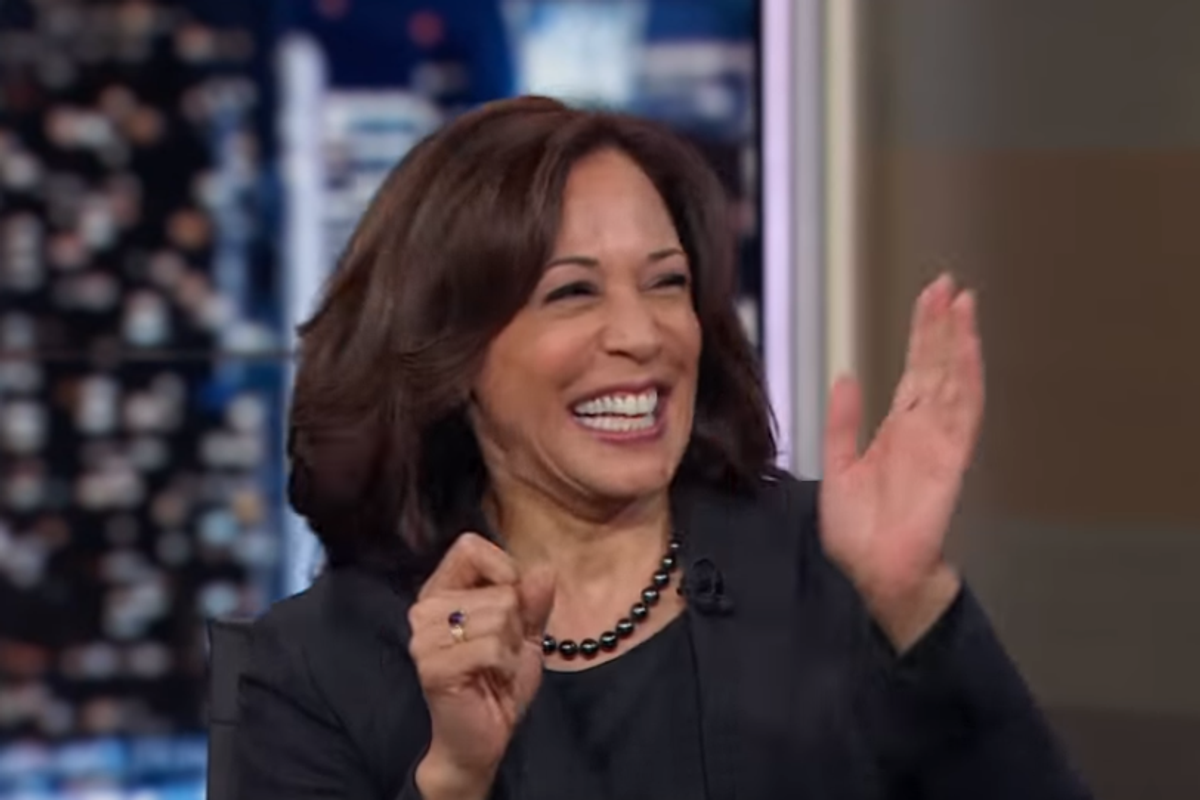 Kamala Harris just snagged the endorsement of former South Carolina state representative Bakari Sellers. Why do we care? The thousand-year period prior to when people start actually voting in primaries has two separate but equally important parts: First, there's the raising of campaign funds, and Harris has done very well so far. Then there's the banking of endorsements, the people who would conceivably help you get shit done if elected. Harris has also put in a lot of work there.
If Joe Biden runs, Harris has to win South Carolina. That was a key event for Barack Obama's 2008 campaign. It was the moment the black vote shifted from Hillary Clinton to Obama. Biden is still polling ahead with black voters, who haven't been fazed by his recent troubles. If Biden sweeps the early states, there'll be a sense of inevitability that's hard to overcome.
Sellers is from Denmark, South Carolina, which unlike the one in Europe is 85 percent black. He will announce his support for Harris at historically black South Carolina State University. He'll serve, along with state Sen. Darrell Jackson and Rep. JA Moore, as co-chair of her South Carolina campaign. This investment will activate a network of supporters who'll promote Harris in beauty parlors, barber shops, and at church.
Sealing the deal for Harris, reportedly, was her proposal to pay teachers enough to eat, as well as her focus on addressing the rising maternal mortality rates and contaminated water.
---
"These issues hit home for me, and Kamala has repeatedly offered clear solutions for each one, proving there is no problem or person too small to be heard," Sellers said. "Kamala has dedicated her life to fighting for everyday Americans, and I believe she will do the same for working-class families in South Carolina."
Sellers can help drive home the message that Harris isn't just some fancy-pants big city Californian. We like how he subtly reminds everyone that the "working class" is not exclusive to angry white men. Black people also live in rural communities like Denmark, and addressing their needs doesn't mean ditching "identity politics" and ragging on Hillary Clinton. He's 34 and can help steer the state's youth vote overall (but specifically among black voters) toward Harris.
After 2016, it's not unreasonable to assume that endorsements don't matter. Marco Rubio defeated Jeb! Bush in the race of endorsements, but that was the only presidential race he wound up winning. Rubio entered the 2016 South Carolina Republican primary with the endorsements of Nikki Haley, the state's governor, and Tim Scott, the state's least embarrassing senator. None of that mattered. Trump swept the state, taking all the delegates, and Rubio came in an embarrassing third. It probably didn't help that Haley boasted at a campaign event that "this new group of conservatives taking over America looks like a Benetton commercial." Read the room, lady. The folks voting in the South Carolina Republican primary weren't excited for a return to supply side economics. They were desperate to prevent what they saw as the gradual browning of America. This was yet another example of how completely out of sync the Republican elite was with its base.

The difference here is that Harris is gaining endorsements from candidates who do have a connection with the party's base of black voters. The media however prefers to chase after anyone who might possibly convince a devoted Trump supporter to take off the white hood and vote for a Democrat. That's a fool's errand, just like the belief from media conservatives like Bill Kristol or David Brooks that Rubio or Haley can make the Republican Party less overtly racist and less embarrassing for them at cocktail parties.
Black women will as a group determine the Democratic nominee. They were 4 out of 10 of the Democratic voters in 2016's South Carolina primary. After the predominately white Iowa and New Hampshire races, South Carolina is when black voters show up to the party. Harris has so far earned the endorsements of Rep. Pat Henegan ofMarlboro; Berkeley County Democratic Party Chair Melissa Watson, and former gubernatorial candidate Marguerite Willis of Florence. That's a lot of persuasive people who will spend the next year talking to voters in every community about Kamala Harris.
Follow Stephen Robinson on Twitter.
Yr Wonkette is supported by reader donations. Please send us money to keep the writers paid and the servers humming. Thank you, we love you.
Stephen Robinson
Stephen Robinson is a writer and social kibbitzer based in Portland, Oregon. He writes make believe for Cafe Nordo, an immersive theatre space in Seattle. Once, he wrote a novel called "Mahogany Slade," which you should read or at least buy. He's also on the board of the Portland Playhouse theatre. His son describes him as a "play typer guy."