Kelly Ayotte Thinks Obama Is A Pussy
News
October 06, 2014 11:14 AM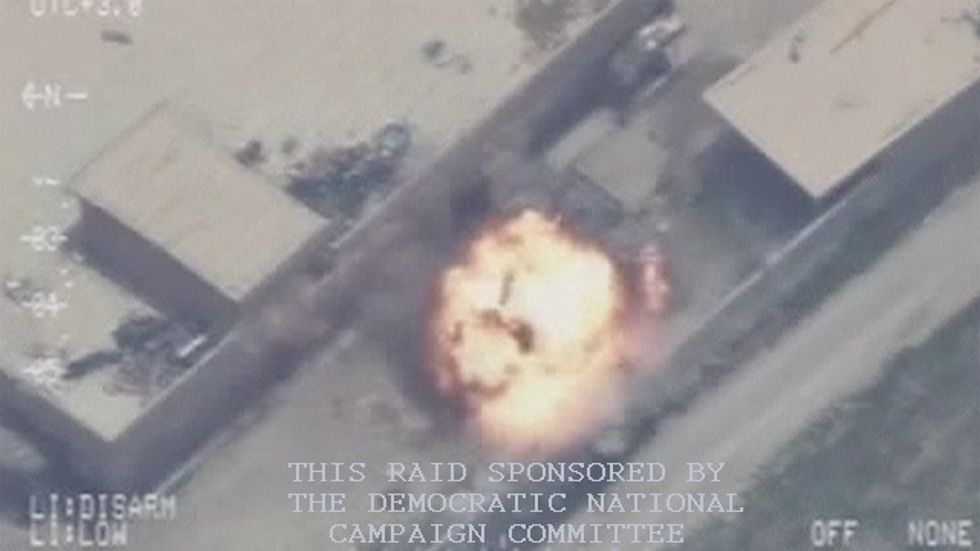 New Hampshire Sen. Kelly Ayotte, who along with John McCain and Lindsey Graham is one of the Three Amigos who are the Tuffest Republicans On Defense, explains that while Barack Obama may be dropping a lot of bombs on ISIS in Iraq and Syria, he doesn't really mean it because his motives aren't pure enough or something. Mostly, she's worried that Obama is only attacking ISIS in Iraq -- at that country's request -- and launching airstrikes into Syria, a sovereign country that we aren't actually at war with, because Obama wants to help Democrats win in the fall midterm elections. On Fox News Sunday, she said:
---
"I think we have a problem where the president's foreign policy is being trapped by his campaign rhetoric," she said.
"I'm very fearful as we look at the current military strategy that it is surrounding the November elections and he won't have the resolve to follow through with what needs to be done in a sustained effort to destroy ISIS, and we're about to repeat the same thing with Afghanistan."
Without noting that last week, the U.S. and Afghanistan agreed to a deployment of 10,000 U.S. troops there for basically forever, host Chris Wallace asked Ayotte if she thought that Obama would just take his massive military deployment in Iraq and go home after the November elections, and Ayotte said that yes indeedy, that worried her, because Obama's such a pussy, explaining that she's "very concerned about that and his resolve in that regard and I think that's something that we have to stay focused on."
Now, sure, Ayotte also acknowledges that the Big Wuss In Chief "has made clear this is going to take a sustained effort and he has to be prepared to have the resolve to engage in that sustained effort to destroy ISIS," but she remains worried that he's just running his pissflaps to look good for the election, after which he'll just go play golf with America's testicles, which he had surgically removed because he is no man at all.
An AP reporter on the Fox News panel said Ayotte's scenario of a post-election pullback seemed unlikely, given that Obama didn't want to go back to Iraq in the first place -- now that we're there, it would make little sense to just give up after November. The possibility that Ayotte might have been scaremongering to boost Republican candidates' prospects a month from now was not raised, because only a terrible cynic would accuse a great patriot like Kelly Ayotte of such base motives.
[RawStory]