Kentucky Midterm Madness: Lady Fighter Pilot Dukes It Out With Nice Old Man To Take On Trump Doucher!
Healthcare
April 10, 2018 01:59 PM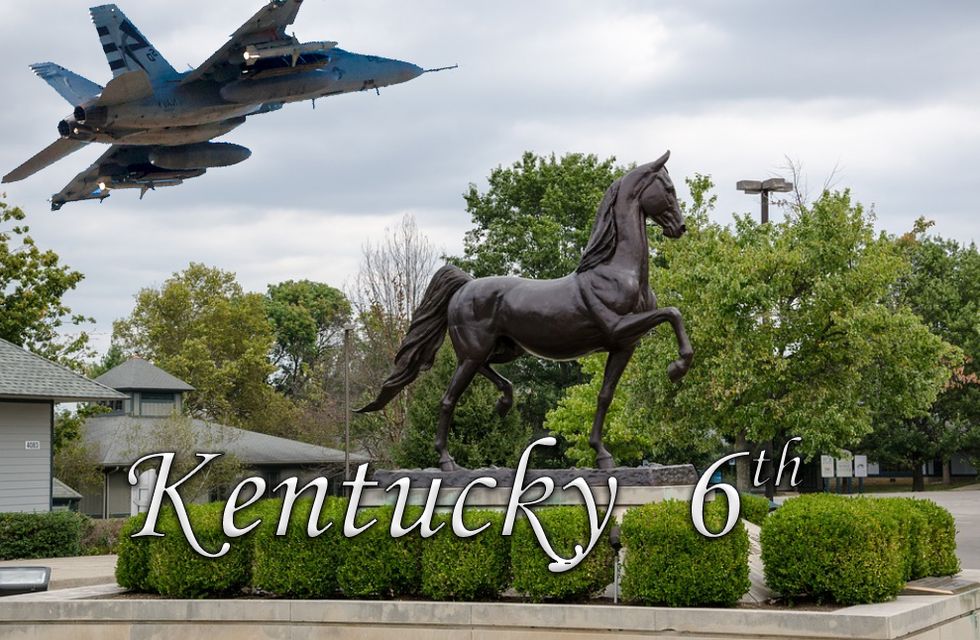 This week we're heading down to Bourbon country and taking a look at Kentucky's scenic Sixth District!
---
Encompassing a large swath of central Kentucky, the sixth includes the cities of Lexington, Richmond, and Frankfort. But this is Kentucky, so there's a whole hell lot of nothing between the urban centers. Lexington is a bit of an outlier; where the others are more like oversized small towns surrounded by farm country, much of the surrounding area of Lexington is suburban. Many of the people in the cities would remind you that they ain't from West Virginia (thankyouverymuch), while the rural areas are quite proud to be considered "Trump country." Bless their hearts.
A majority of the population doesn't have higher than a high school education, and most people make less than $50,000 a year. Many people are clustered around urban centers where there are jobs and schools, but a good number are working part-time food service gigs. While the district can't really be considered low-income, a large number of people in the Western rurals require government assistance. It should be noted that there are a high number of college students in Lexington that steer the wage gap down, but there's also a high number of hospitality workers keeping all the older folks alive, and a sizeable manufacturing and industrial sector. This makes all the economic data look kind of funky on its face.
One of the most important things to know (without going into the aristocratic weeds) is that there are a number of wealthy folks who really screw up the economic numbers. There's a lot of rich folks, "old money" and "new money," who create large discrepancies in the income and unemployment rates. Old money are prominent local families who've inherited their wealth through bootlegging, slavery, and horse racing, and new money are individuals who've only recently struck it rich in some way. Old money tends to buy horses and view everyone else as uncivilized, whereas new money tends to buy Hummers and criticize the poors. This isn't a Hatfields and McCoys thing, this is just rude, rich assholes in high-snobreity.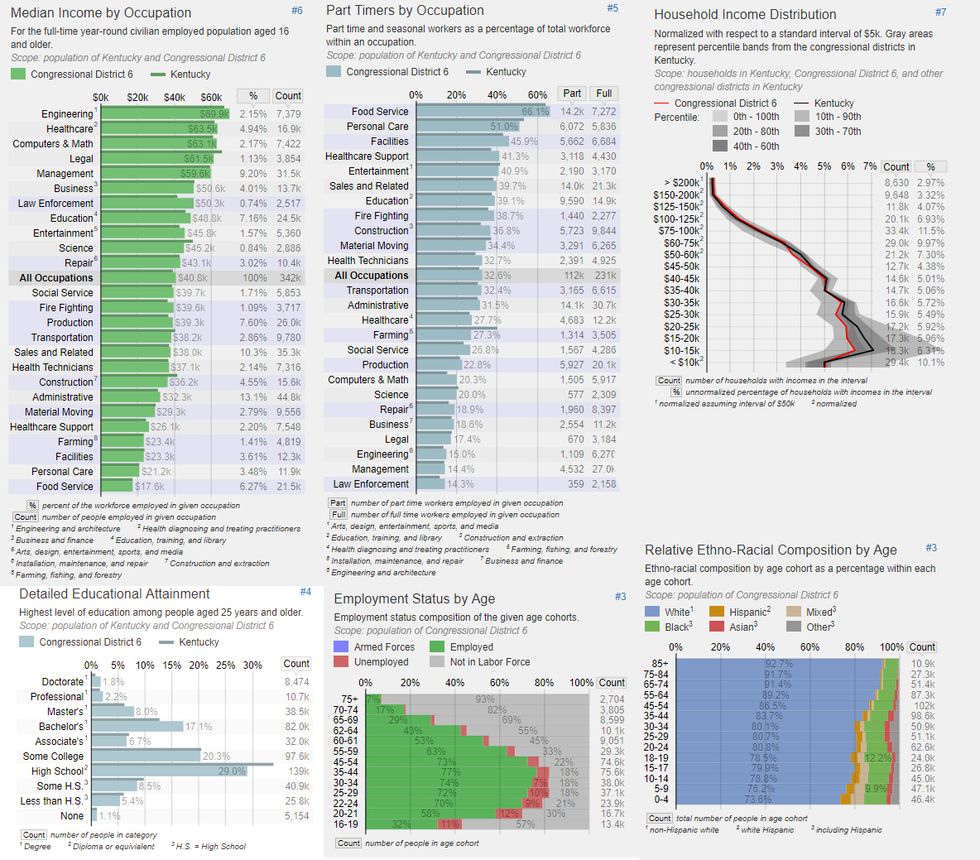 WALL OF CHARTS! This shows the disparity in income for much of the region. It's hard to understand the wealth gap in the 6th until you actually see it visualized in the income and unemployment charts. -- Charts via Stat.Atlas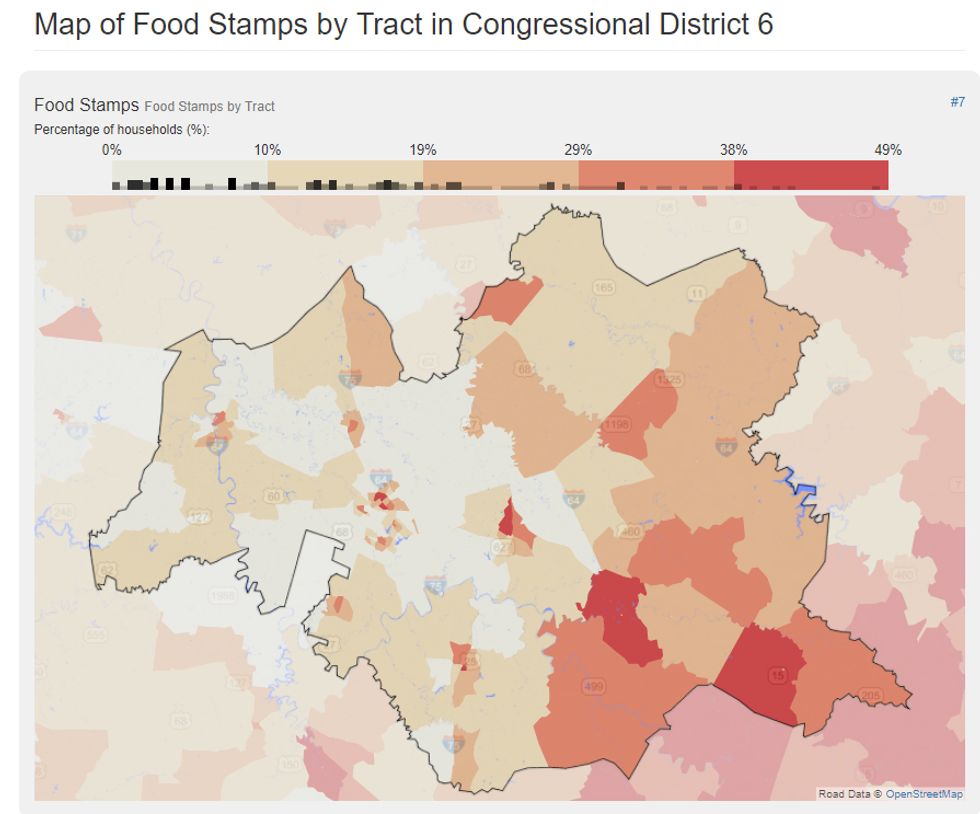 Map via Statistical Atlas
The Sixth is currently represented by Andy Barr, a hardcore Republican who is decidedly pro-Trump. Barr rode the second Tea Party wave to power back in 2012, and has been able to keep his seat by appealing to the unpopularity of Obama in the rurals. Barr easily won his last several races by 60 percent thanks to low voter turnout and a sizeable campaign war chest.
In typical conservative fashion, Barr has built much of his legislative career by leaning on the country club crowd and screwing over the poor. Barr loves to bash abortion, and never misses a chance to repeal the the Affordable Care Act, which as of late has caused him to shy away from coffee house town halls in favor of big rallies with Mike Pence.
To Barr's left are several Democratic contenders, the most prominent being long time Lexington Mayor Jim Gray and former Marine fighter pilot Amy McGrath. The fight to unseat Barr has proven serious enough that the Cook Political Report updated its ratings and shifted the race left to "Lean Republican." Even though the the race is not being targeted by the DCCC's "Red to Blue" program, it has quietly drawn considerable attention from some big players in national politics.
Jim Gray is a familiar face, having lost an admirable bid to unseat Sen. Rand Paul back in 2016. Gray is running a campaign clearly aimed at older voters, focusing on infrastructure, jobs, healthcare, and education. He's leaning in on the folksy schtick with some new campaign ads this week designed to make the old folks melt into nostalgia.
Amy McGrath is arguably the favorite to win as of right now. You may have already seen her badass campaign ad last fall where she talks about being one of the first female fighter pilots. McGrath is running on a wide range of reform issues, including sexual harassment, foreign policy, healthcare, money in politics, and climate change. Despite being relatively unknown, McGrath has been kicking ass over the last few months, and just this week she released a 32-page economic policy paper aimed at rural voters, then released her own cutesy ad targeting moms.
Interestingly enough, both Gray and McGrath are running not against traditional conservatives so much as they're running against the divisive Trumpian garbage. McGrath came out early, railing against big money politics brainwashing large swaths of rural America. While Gray was the early favorite, he officially entered the race late, giving McGrath months to build her own name recognition and war chest. She's largely shied away from big endorsements, like Emily's List, despite being openly pro-choice, allowing her to avoid accusations of puppetry. Last year, McGrath emphasized her badassery in an interview with Bloomberg:
I have been against everything that [Trump] has ever stood for. The selfishness, the lies, the mentality that women are just sex objects, the idea that character doesn't matter, the idea that integrity, and being truthful, is whenever it suits you -- those are all traits that I have spent my entire adult life fighting against as a military officer."
This is being called a race to watch by most political fortune tellers, not just because of the potential "Blue Wave," but because the district has a sizable lead in registered Democratic voters. Democrats currently have an advantage of 93,000 registered voters. Turnout in the last several elections has been abysmal; with only 47.5 percent in 2014, 33.4 percent in 2015, and 61 percent in 2016, Republicans have been able to rely on Democrats simply staying home in order to maintain power.
Both Gray and McGrath have their strengths in being able to court potential voters. Gray can certainly secure the reliable older folks due to his years in local politics, and McGrath can easily win over the young working class crowd. The most obvious problem in a race like this is reminding people to go vote November 6, 2018, but it might be worth considering how either Gray or McGrath could actually start collecting rural Republicans pissed off by Trump and his moronic bullshit, like making Kentucky bourbon more expensive.
The primary for Kentucky's 6th is May 22, 2018!
Here's some handy voter registration info!
Donate to Amy McGrath!
Donate to Jim Gray!
Don't donate to the Republican, what'shisbucket!
Are you a fairly regular Wonkette reader and have had a nagging little voice for some time saying "you should throw Wonkette a buck every month"? We surely would appreciate it!
[Kentucky Secretary of State / BallotPedia / ProPublica / GovTrack / Cook Political Report / 538 / Statistical Atlas / Southern Political Report / McClatchy / Lexington Herald Leader / Vox / Politico / ABC News / US News and World Report / Lexington Herald Leader]
Dominic Gwinn
Dominic is a broke journalist in Chicago. You can find him in a dirty bar talking to weirdos, or in a gutter taking photos.