Kiddie Porn Cop Says Lying Duggars Didn't Mention ALL The Kiddie Sex Crimes
Featured
May 27, 2015 04:13 PM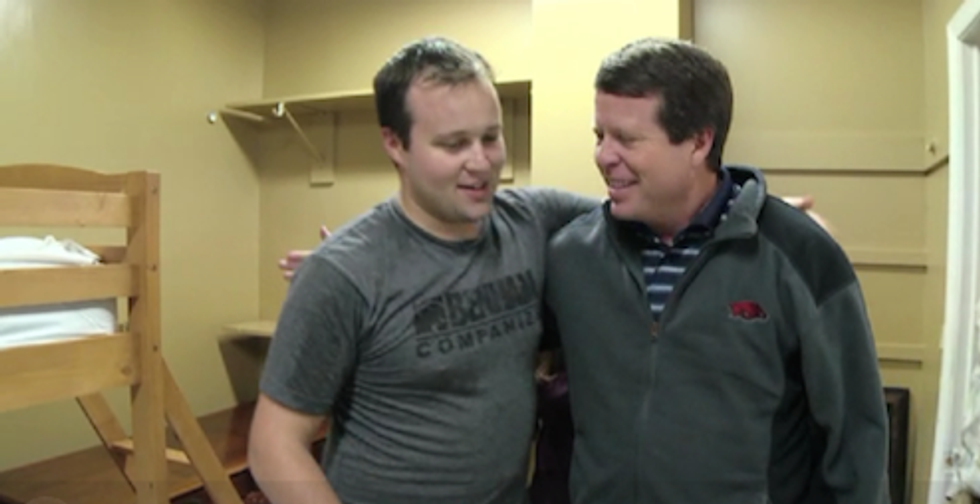 All of us who are not Family Values Republicans agree on this whole "Ewwwww, Duggars, you are DIS-gusting" thing, right? RIGHT. Josh molesting his kid sisters is gross and bad and wrong; his parents hush-hushing it because their God says those whores shouldn't have tempted Big Brother with their vaginas to begin with is EVEN MORE gross and bad and wrong; and the Arkansas state trooper friend of the family who gave Josh a "very stern talk" and then dropped the whole matter, thereby allowing the statute of limitations to expire before Josh could be investigated and charged and convicted and sent to prison, is also gross and bad and wrong, for letting Josh Duggar get away with it, but also because corrupt ex-trooper Corporal Joseph Hutchens is now doing 56 years in the pokey his own self for being a child pornography sex-crimer, and WHAT EVEN THE EFF is in the water in Arkansas?
---
But Officer Kiddie Porn says, from prison, it is not entirely his fault that Josh Duggar is a free man today. It is the fault of Duggar patriarch Jim Bob, because he is a big fat liar:
But Hutchens, in his only interview since the Duggar scandal has been uncovered, says that Jim Bob told him about only one incident of molestation and that, in part, is why he decided not to report Josh to the abuse hotline. [...]

He said the fact that it was a one-time incident influenced his decision not to report it. "I did what I thought was right and obviously it wasn't," he says. "If I had to do it over again, I would have told him immediately I am going to call the hotline and contacted the trooper that worked those cases and have a full report made. I thought I could handle it myself."
Oh, well, if it was just the one time that Josh molested a single child, sure, why not let the whole thing go? Everyone knows you get one freebie when it comes to molesting kids. And it's not as if pedophiles are known for being repeat offenders. Who among us hasn't shrugged it off when a friend tell us, "I caught my son diddling my daughter," because it was JUST THE ONE TIME?
If convicted sex-crimer Hutchens had known that non-convicted but admitted sex-crimer Josh Duggar was actually sex-criming a whole bunch of girls, repeatedly, that would have been an entirely different story, but NOOOOO, Jim Bob lied to him, that bastard. And who you gonna believe -- a sex-crimer or a sex-crimer accomplice? (The correct answer is FUCK ALL THESE PEOPLE, UGHHHHH!!!)
Could this story get any more DIS-gusting? Glad you asked. Of course it could. Here's convicted sex-crimer Hutchens explaining -- from prison, we feel compelled to mention again -- that he's sorry 'bout all that because:
I am a Christian myself and I worry that something else may have happened. I would be responsible for it, in my opinion, by not reporting it. The young girl should have been my first priority.
See? Sex-crimer Hutchens feels real bad that he was too busy doing his own sex crimes and being a real good friend to the Duggar family to do his job and stop Josh Duggar from diddling the rest of the Duggar clan. Because he's a good Christian, just like the Duggars, and that's what matters.
[contextly_sidebar id="YltbZojxUUNy8RysBc22xUvM13hWMlng"]