Kirsten Gillibrand Will HAVE YOUR FUCKING ASS. But Really Nicely. She Sounds Really Nice!
Guns
April 04, 2017 03:00 PM
By Jove, we like the cut of her jib.
---
In your Wonkette Required Reading for today, we direct you to Rebecca Traister's terrific profile of Senator Kirsten "Not Kristen" Gillibrand, the New York Democrat who Yr Wonkette -- like lots of folks -- got all wrong when she was appointed to do Senatoring after Hillary Clinton became Secretary of State in 2009. Back then, we called her a "harmless gun nut" and were amused that she mostly looked like a real Senator because Virginian transplant Harold Ford was doing such a dumb job of running against her in 2010, when she sought her first full term. Dude tried to insult her by calling her a "parakeet," if that even makes sense (it does not). But as time has gone on, Gillibrand has become much more of a progressive, and is now getting a lot of attention because she's voted against confirmation of more Trump appointees than any other Senate Democrat, including even Elizabeth Warren -- an achievement Traister points out she couldn't have accomplished if all those other Dems hadn't voted to confirm just a few Trump idiots.
Read along as we try not to blockquote ALL of Traister's story, as it's just that good and you will like it.
Gillibrand isn't exactly a novice at figuring out the mood of the electorate:
Gillibrand's Cabinet votes lined up with her principles: "I look at each nominee," she told me. "If they suck, I vote against them. If they're worthy, I vote for them." But her positioning was also savvy. One of her strengths, sometimes mistaken for a hollow willingness to shape-shift, is her nose for where her constituents, and the country, are headed. Through some combination of happenstance and remarkable political instincts, she often manages to show up there early.
So yes, there's some calculation there, but it also seems like pretty sincere calculation, if that's possible. And Gillibrand is our kind of liberal, a cursing-mommy liberal who realizes in the middle of the night that she hadn't followed through on a promise to help a friend's daughter meet her Girl Scout Cookie quota, which in some neighborhoods could end up with a Girl Scout kneecapping:
"Oh my God, I've got to fucking order those cookies. I'm terrible! I didn't respond properly! So at three in the morning I'm typing out this email," pretending to have a Girl Scout cookie emergency. "This little girl is doing what she's supposed to be doing, learning how to ask for the raise, and I totally dissed it!" Gillibrand says, noting that she is now getting nine additional boxes of Samoas and Tagalogs and that, yes, she understands that it's not really about the cookies.
The piece is full of terrific little bits like that, and you should go read the whole thing because we had to promise Yr Editrix we would not simply load up this piece with endless blockquotes. We find ourselves really liking this Kirsten Gillibrand, who we already liked just fine for her work on fighting sexual assault in the military. She's also sort of famous for mentioning in her memoir that a male senator grabbed her waist and "joked" that she shouldn't lose too much weight, since as he said, "I like my girls chubby!" -- a story a Politico reporter didn't believe because no Senator would behave like that, and which made us feel sad when it turned out the grabby male Senator was probably the late Daniel Inouye, before he was late.
But here's the best of the many good parts, which is deservedly getting all the attention. Kirsten Gillibrand's philosophy of why people should be in government and what they should do if they aren't in government for that reason. Speaking of her colleague Susan Collins, the Maine Republican who really may be one of two or three real moderate R's left in the party, Gillibrand says,
I know Susan's worldview is similar to my worldview [...] Which is that we're here to help people, and if we're not helping people, we should go the fuck home.
That could go on a crochet pillow, we think. Or a coffee mug. And Collins likes Gillibrand a whole lot, too, saying that she wouldn't be at all surprised if Gillibrand goes on to run for "higher office" someday, which if you're already in the Senate, leaves just one higher elective office:
She has enormous ability, she works extremely hard, she's engaging, she's young. And don't take that as an endorsement, or I'll be in even more trouble than I am now.
And of course Gillibrand insists she has no interest in following Hillary Clinton in that realm, at least for the moment, offering the completely routine reply of any senator who has a reelection race between now and the next presidential election: "I am running for the Senate in 2018." Which is probably about all that's needed for the formation of a Draft Gillibrand Committee, no?
As we say, this is a heck of a nice profile about a politician who's genuinely made some changes in her views -- becoming more progressive on guns and immigration after meeting people directly affected by both issues, and not just saying she evolved, but that she really didn't know what she needed to in order to understand how a Brooklyn family was affected when their teenaged daughter was killed by a stray bullet:
I was so upset that I hadn't heard their story. To know that I had not empathized with them, or not even understood the issue well enough to be a good advocate? I knew I was wrong. I knew I didn't know enough. I was just embarrassed that I hadn't taken the time to truly understand what that issue was about.
So Kirsten Gillibrand is not afraid to change her mind when she's convinced of something, and not afraid to drop the occasional f-bomb when it's called for, which is actually rather often, especially when remembering an unfulfilled promise to a Girl Scout at 3 a.m. (Which led Yr Editrix to ponder in the Chat Cave, "I think if Hillary had shown American her private foulmouthed angerbear side, more people would have liked her." Maybe!) Go read the whole thing, and let's talk about that Draft Gillibrand thing. And about this journamalistic quandary: Do we really admire Kirsten Gillibrand, or is our admiration really more a tribute to Rebecca Traister's skill as a writer of political profiles? How about "yes."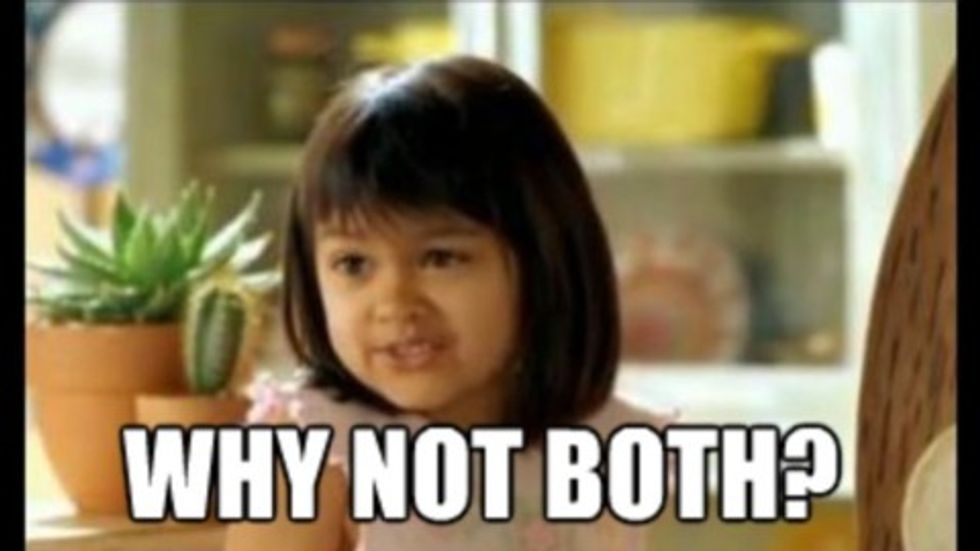 Yr Wonkette is supported by reader donations, and not afraid of a few discreet cusses now and then, either, as long as they're not vulgar. Click the fucking "Donate" button now, you.
[New York]