Klassy GOP Lady Real Sorry For Calling Obama Daughters Skanks
News
December 01, 2014 12:25 PM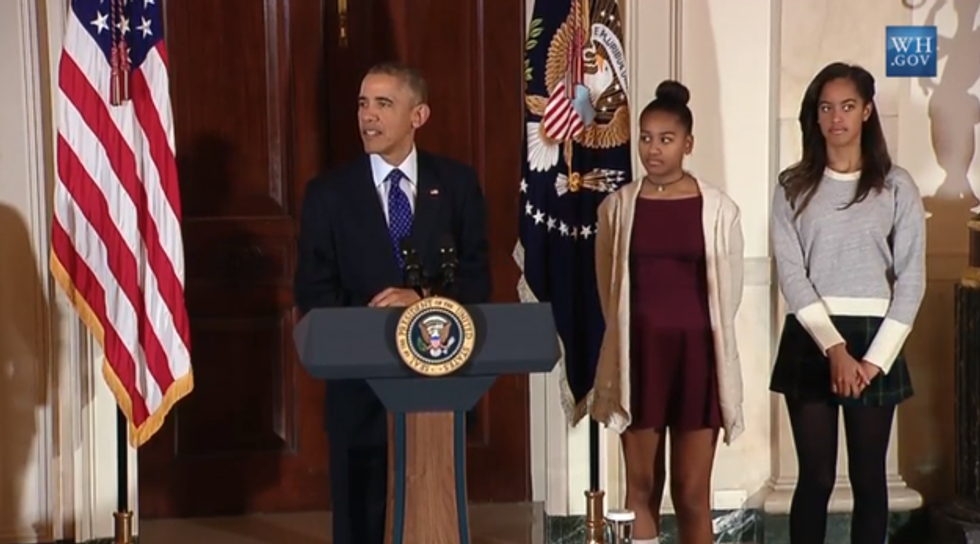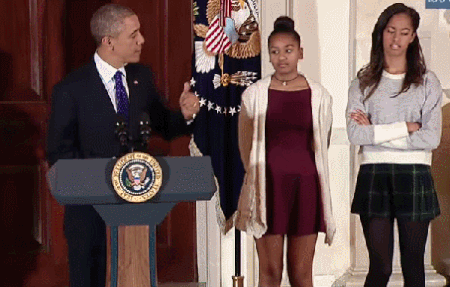 ---
You've probably heard by now about the bravest American in America, who bravely shamed first daughters Malia and Sasha Obama for disgracing themselves and America and mom and apple pie by being teenagers, standing around like a couple of teenagers, making bored teenage faces at their dad's lame dad jokes, like a couple of teenagers. Can you impeach the president's daughters? Or at least sue them or something? They're repeat offenders, even.
Super klassy GOP lady Elizabeth Lauten, the now-former communications director for Tennessee Rep. Stephen Fincher (R-Obviously), did not care for the first daughters undermining the sanctity of traditional teenage values and spoke derp to power by writing some words on her MyFacePlace:
Sasha and Malia, I get you're both in those awful teen years, but you're a part of the First Family, try showing a little class. At least respect the part you play. Then again your mother and father don't respect their positions very much, or the nation for that matter, so I'm guessing you're coming up a little short in the 'good role model' department. Nevertheless, stretch yourself. Rise to the occasion. Act like being in the White House matters to you. Dress like you deserve respect, not a spot at a bar. And certainly don't make faces during televised public events.
We are a little disappointed that Lauten did not offer specific examples of how truly klassy first daughters should behave when they haven't learned bad habits from their klassless parents. Like, say, the Bush twins, Jenna and Not Jenna, who always represented their country with the kind of dignity befitting the first family, and only got kicked out of South America for being sloppy drunken disgraces the one time.
Strangely enough, some America-haters on the interwebs did not much care for Lauten's friendly advice on how to show the proper amount of patriotic enthusiasm for the annual tradition of presidential turkey pardoning, and also how to not dress like a couple of bar-hopping whores. We don't understand why some people are so, like, "GRRRRRR, lady, what the ever-lovin' crap is your problem?" because it's obvious she was just trying to give some heartfelt advice to the Obama daughters on how to not suck like typical Obamas. She was definitely not trying to be a scum-sucking scum-sucker Republican who will use any opportunity to bash the first family, even the kids, because Republicans would never do such a thing. It's not as if Republicans have ever accused the president of disrespecting his office by, say, putting his feet on his desk, which no president had ever done before. Not to mention presidenting while black, which no president has ever done before either.
Fortunately, after a long talk with God and a review of her Twitter mentions, Lauten has seen the error of her ways.
"I reacted to an article and quickly judged the two young ladies in a way that I would never have wanted to be judged myself as a teenager," Lauten wrote. "After many hours of prayer, talking to my parents and re-reading my words online, I can see more clearly how hurtful my words were. Please know that these judgmental feelings truly have no place in my heart." [...]

"Furthermore, I'd like to apologize to all of those who I have hurt and offended with my words, and pledge to learn and grow (and I assure you I have) from this experience."
We will give Lauren the tiniest shred of credit for issuing an apology that does not include the words "out of context" or "if anyone was offended." But to make it extra-clear just how sorry she is, and just how much her behavior should definitely not be held against her boss, she is firing herself so she can spend more time growing and learning how to not be a typical Republican bile machine and to further reflect on how trash-talking the first daughters is maybe not the most bravest, most Americanest thing you can do, and really just makes you look like a giant asshole. Good luck with that, klassy lady! We wish you well in all your learning.
Here's a fun P.S. via The Smoking Gun:
Lauten ... was arrested in December 2000 for misdemeanor larceny, according to court records. Lauten, then 17, was collared for stealing from a Belk department store in her North Carolina hometown.

Because Lauten was a first-time offender, her case was handled via the District Court's deferred prosecution program, which resulted in the charge's eventual dismissal after the future scold stayed out of trouble for a prescribed period.
But at least she wanted to dress real classy-like with her stolen merchandise, probably, so it's totally different. She did not go bar-hopping, or get photographed with her father the POTUS looking like she some kind of criminal teenager, so no harm, no foul.
[HuffPo]