Lady Beaters, Fetus Shooters And Bar Fights: Your Florida Roundup (Is Extra Violent This Week)
Featured
July 12, 2015 10:30 AM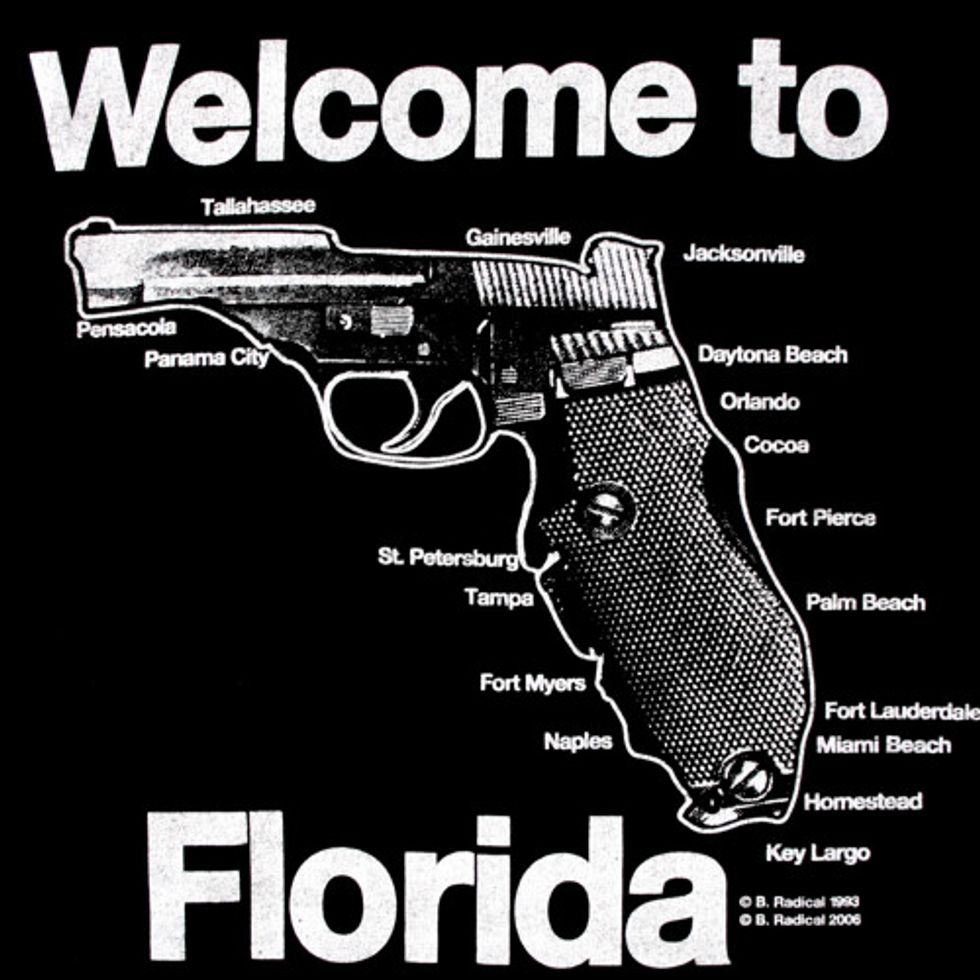 ---
Good morning/afternoon/whenever the Wonkette overlords click PUBLISH! This week's Roundup is brought to you from our couch, because it is way too fuckin' hot to go outside. (Bring on the Little Ice Age already.)
We are going to spend some time today talking at you about sportsball. Not just any sportsball, but sportsball in Florida, and particularly the student-athletes who play sportsball at major Florida universities and otherwise-unremarkable university towns that derive much of their status and revenue from sportsball.
You will be shocked to learn, then, that student-athletes at Florida universities — or at every university, but we're talking about Florida here, so deal — can basically do whatever they want whenever they want, and the cops are all ¯\_(ツ)_/¯ (cough Jameis Winston cough).
[contextly_sidebar id="5L8fzKBmqszcX2qf6OA0tGjTCffZ60w3"]
But available reports showed that [former University of Florida running back Chris] Rainey's alma mater, Florida, had the most athletes named as suspects -- 80 in more than 100 crimes at Florida. Yet the athletes never faced charges, had charges against them dropped or were not prosecuted 56 percent of the time. When Outside the Lines examined a comparison set of cases involving college-age males in Gainesville, 28 percent of the crimes ended either without a record of charges being filed or by charges eventually being dropped.

Florida State had the second-highest number of athletes named in criminal allegations: 66 men's basketball and football athletes. In 70 percent of those incidents, the athletes never faced charges, had charges against them dropped or were not prosecuted. By comparison, cases ended up without being prosecuted 50 percent of the time among a sample of crimes involving college-age males in Tallahassee.
Of course, these programs always adhere to the very highest moral standards, especially when their players', um, difficulties maintaining proper etiquette enter the public sphere. At Florida State University, former home of an overrated quarterback who is most certainly not a rapist, this seems to be happening more and more these days.
Another Florida State football player has been suspended from the team after an arrest warrant was issued for Dalvin Cook, the starting running back for university. He was being investigated for the assault of a 21-year-old woman outside of a bar in Tallahassee, Florida. Cook allegedly punched the woman several times in the face. The incident took place the night before former Seminoles quarterback De'Andre Johnson, who was dismissed from the team on Monday night, also punched a woman at a local bar.
Cook is now on indefinite suspension, at least until the season starts.
"It is important to me that our fans and the public be aware that I do not tolerate the type of behavior that was captured on video and that was most recently alleged," FSU coach Jimbo Fisher said in a statement released early Friday evening.
Which, in our heads, reads: "I will not tolerate behavior that is caught on camera."
Oh, and about De'Andre Johnson, the frosh QB who cold-cocked a lady in a bar, he had a perfectly good reason for doing that, it turns out:
Jose Baez, the attorney for former First Coast High quarterback De'Andre Johnson, told NBC News on Tuesday that the woman his client is accused of punching shouted racial slurs at Johnson and tried to strike him twice before he retaliated … Baez also said that Johnson, Florida's "Mr. Football" last year, is volunteering at a battered woman's shelter.
Oh, well, in that case.
(Jose Baez will be a familiar name to you Florida watchers. He represented acquitted alleged baby killer Casey Anthony and hasn't stopped going to lunch on that since.)
Here's Some More Head-Bashing, Because Florida
Because we love you and want you to be happy, here's a truncated video of a 12-minute melee at a Florida restaurant owned by wrestler-cum-sex-tape-suer Hulk Hogan.
And, this being Florida, no one was arrested, don't be silly, just a bar fight. At least until the video showed up on YouTube.
Tampa police officers are looking into a video showing a brawl at Hogan's Beach Tampa. The video was apparently taken at Hulk Hogan's bar and restaurant on July 4 and posted to YouTube. … The video shows a fight beginning in the eatery and bar. It's not clear what caused the fight to break out. Police said no one was arrested after the fight. One man was barred from entering Hogan's for the next year.
That sounds less like a punishment than a reward.
'Fetus shooters': Hot New Happy Hour Treat At The Abortionplex
Here's a fun Florida headline: Cops: Pregnant woman shot fetus as husband tried to wrestle gun away
A pregnant Palm Bay woman thought her husband's handgun was unloaded when she sat on their bed and pointed it at her stomach in early June, according to her arrest affidavit. Amanda Ruiz, 27, was 36 weeks pregnant at the time.
No Shredding, Dude
On the Fourth of July, some Florida cops, being Florida cops, did not see the irony in
arresting a man for playing a rendition of the National Anthem on his electric guitar
.
A 22-year-old musician was arrested and cited by police after playing the national anthem on a Neptune Beach sidewalk on the Fourth of July.

Lane Pittman said he was playing his electric guitar around 3 p.m. Saturday on 1st Street and Margaret Street, in front of his friend's home. He said a sergeant from the Neptune Beach Police Department came by and told him to move out of the street or he would go to jail. Pittman said he politely asked if he could play on the sidewalk instead, and the sergeant said he could. He moved to a nearby sidewalk and then played "The Star-Spangled Banner," drawing a crowd of about 200, who cheered him on and chanted his name. … A video of the performance has received more than 16,000 views on YouTube. Toward the end of the video, officers can be seen approaching Pittman and asking to speak with him. Pittman puts his guitar away and goes with the officers.

Pittman said what happened next took him completely by surprise. The officers handcuffed him and drove him to the police station. "He goes, 'Spread your legs. Put your hands behind your back,' and that was when I was like, 'Oh my gosh. Is he serious? I'm getting arrested for this after I was told I could do it?'" Pittman said.
The police chief says you should not believe your lying eyes: "They only show on YouTube what they want you to see," Sembach said.
While we're on the subject of Florida Man on Independence Day, we're just going to leave this right here:
Man Shoots off Firework From Top of His Head, Dies Instantly
Now, the incident happened in Maine, but guess which state our late friend had just moved from.
Staples and Hawley were from Maine and had lived in Orlando for about a year before recently moving back. Staples had worked at Disney World dressing up as characters like Gaston from "Beauty and the Beast."
In Other Cop-Related News …
No charges for police employee in fatal hit-and-run case due to new law
Due to a recent law enacted by the Florida Supreme Court, a Miami-Dade Police Department employee will not be charged in a fatal hit-and-run crash that killed a decorated Vietnam War veteran. … The state said they were unable to file charges against Socolov because, "Recently, the Florida Supreme Court in State v. Dorsett require the driver actually know a crash involving injury or death had occurred. In this case, while Socolov knew her vehicle had sustained damage, there is no evidence to prove beyond a reasonable doubt that she knew her vehicle struck Richard Flaherty."
Officer, I thought that homeless guy was just a deer, can I go home now?
(This excuse works better if you work for the cops.)
This Week In Racism
Maybe you saw that thing where South Carolina was like, you know what, everyone's thought we're a bunch of dumb, inbred racists long enough and we should take down the treason flag from our state Capitol. That was good for them. Really.
But because someone needs to claim that mantle of dumb, inbred rednecks, here's Marion County, Florida. Per our Wonksplaining:
[contextly_sidebar id="HvajzQIW2IN5zleykyJzMueMpJLiz2eM"]
Like good and decent and totally Not-Racist human beings, last week a Marion County administrator decided, um, you know that big old racist flag that has flown high above the county government building for the last few decades, ever since the gubmint made our kids go to school with The Negroes? Yeah, maybe we should take that down.
You know what happened next.
Marion County commissioners voted unanimously Tuesday to put the Confederate flag back up at the county's government complex.
In another of my state's many vast cultural wastelands — i.e., basically everything that isn't Miami, Tampa Bay or some pockets of Orlando — Lake County, a woman got in a wee bit of trouble with the law for threatening to lynch a black teenager's family … on camera … which in Lake County is marginally less socially acceptable than it was 50 years ago, especially when it's on camera:
Lisa Marie Elberson, 29, was arrested by deputies after a group of teens said she chased them down Goldenstar Court and swung a baseball bat after them Sunday night. A 16-year-old told authorities the woman spit on him and yelled racial slurs as she chased after him and his friends. … One of the teens recorded the incident and showed it to authorities. At one point in the video, she stated to a teen "I hang your family from my tree" and used a racial slur, the incident report said.
We Love the Second Amendment, Not the First
So here's a thing that happened in Duval County.
Last Wednesday, Chief Judge Mark Mahon issued an order that in part banned demonstrations or dissemination of materials on the courthouse grounds that "degrade or call into question the integrity of the court or any of its judges."
Ummmm, that's not okay.
"This is ridiculous," said Jim McGuire, a First Amendment and media attorney for Thomas and LoCicero in Tampa. "That's my legal opinion."

Under the rule, it appears someone could stand outside the courthouse and hold signs that advocate for a defendant to be put to death, McGuire said. But he said someone can't stand outside and call a judge dumb.

"I don't believe there's any precedent that would support the sort of draconian limitations he's placing on speech," McGuire said. "You can't speak if you think the judges are corrupt. If you want to say you think the judges are great, you're free to speak. You're being solely discriminated based on your viewpoint."
Alternative way for Florida judges to get people to not criticize them: Don't be stupid.
Finally, This Week in Fuck Rick Scott in His Fucking Skeletor Skull
Headline: UNDER RICK SCOTT, 85 PERCENT DROP IN ENFORCEMENT OF ENVIRONMENTAL LAWS
Despite campaign promises to go after environmental bad actors and polluters, Gov. Rick Scott's administration has done no such thing. That's the takeaway of a new report released Monday by the Florida chapter of the Public Employees for Environmental Responsibility (PEER). Each year, the group monitors the number of new environmental enforcement cases opened by the Department of Environmental Protection. Now, with the 2014 numbers in, the group has presented a comprehensive scorecard of the state's environmental police under Scott — and it's not pretty.

According to the data released by PEER — culled from public records requests — in 2014, 234 enforcement cases were opened by DEP. That's an uptick from the number the department posted in 2013 — 210 cases. But in 2010, before Scott settled into the governor's mansion, DEP logged 1,587 new enforcement cases. That means between 2010 and 2014 — the governor's first term in office — there's been an 85 percent drop-off in the number of environmental enforcement cases.
Rick Scott's Department of Environmental Protection says that there's been less enforcement because everyone's following the rules, hooray!
That's all for this week, Florida. Remember, it's not a crime if there's no camera watching you!