Celebrate Trump America With The Trump July Trump Fourth Trump Washington Trump DC Trump Golden Fireworks Trump Show!
Culture Wars
July 01, 2019 09:30 AM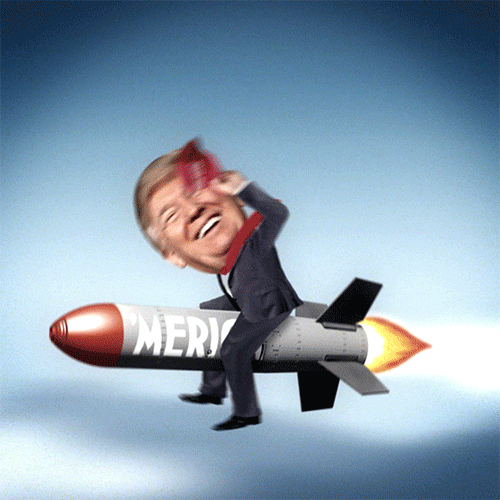 Happy Birthday, America! Please celebrate with even more Donald Trump! The president still owes the city of Washington DC $7 million from his inauguration two long long years ago, and now he'll be making America great again by placing himself front and center for Thursday's July 4 celebration. Oh, and he'd like to tear up the district's streets by dragging Abrams tanks across them to be stationed as glorious monuments to himself and America's forever wars. Because what's the bully pulpit for if not to grab up free publicity at federal and municipal expense in the run up to an election. USA! USA!
You will note the date on this tweet was February 24. And yet the crack teams at the White House and Interior Department don't seem to have started doing any real planning until June.
"It's still kind of an evolving event," US Park Police spokesman Sgt. Eduardo Delgado told the Washington Post last month.
---
What metro stops will be closed? Exactly when are they shutting down Reagan National to accommodate the 35-minute fireworks display and "flyovers by Air Force One, the Blue Angels and aircraft from all branches of the military"? Where are boats being shunted to, since Trump moved the fireworks display to accommodate his unwieldy ego? And why were workers setting up bleachers on Friday facing away from the Lincoln Memorial where Trump is presumably going to babble incoherently? Pipe down with your impertinent questions, peasants! The VIPs know where they'll be sitting, and that's the important part!
Yes, the Post reports that Trump will be building a wall -- or some kind of barrier -- to create "an area in front of the Lincoln Memorial reserved for dignitaries, family and friends" of the president. Because nothing says "Salute to America" like saving all the best seats for the king and his courtiers. The VIP section will stretch halfway across the reflecting pool, and no one seems to know how to get tickets, although the White House confirms they will be "free."
What counts as "free" in Trump's America is anyone's guess. Bloomberg reports that Bruce Zoldan, owner of Phantom Fireworks, had been negotiating the donation of a $750,000 pyrotechnics display to the festivities, which finally came together after meeting with Trump in May to discuss Chinese tariffs. Tariffs on Chinese imports would increase the price of fireworks, which are largely produced there. But Mr. Zoldan assured WTOP that he "did not specifically discuss fireworks or address the topic of fireworks and tariffs" with the president, although he knows "there will be some media that will play this out as political."
UH HUH.
Over at CREW, Senior Director Walter Shaub is prepared to file a complaint for Trump's inevitable Hatch Act violation at the formerly non-partisan event. The president is entitled to say any crazy shit he wants about Democratic candidates, but he can't use a federally funded platform to do it. Among the list of likely violations Shaub is watching for are mentions of Democrats, the election, his campaign slogan, or his poll numbers. And if anyone wants to wager that Donald Trump can stay on script and not shit talk his usual lies about Democrats, your Wonkette will take that bet. The presence of campaign staff onstage or in the VIP section might also be problematic.
Most of all, this event should pose a challenge for newly promoted White House spokeswoman Stephanie Grisham, who will inevitably be called upon to swear that the crowds for Donald Trump's super-maga-fireworks display dwarfed every July 4th ever, PERIOD. They didn't plan far enough in advance to bus the MAGATs in from the hinterlands, so it's down to deep blue DC residents to turn out -- or not.
And while we're taking bets, what are the odds that the Department of Interior claims the flyovers prevented anyone from getting an aerial shot to estimate crowd size? You can see that shit coming a mile away.
[WaPo / WaPo, again / WTOP / CREW]
Follow your FDF on Twitter!
Please click here to fund your Wonkette, who loves America, despite everything!
Liz Dye
Liz Dye lives in Baltimore with her wonderful husband and a houseful of teenagers. When she isn't being mad about a thing on the internet, she's hiding in plain sight in the carpool line. She's the one wearing yoga pants glaring at her phone.