Let's Do POLL PORN About President Loser Dick's Terrible, Horrible, No Good, Very Bad Year!
News
January 10, 2018 04:40 PM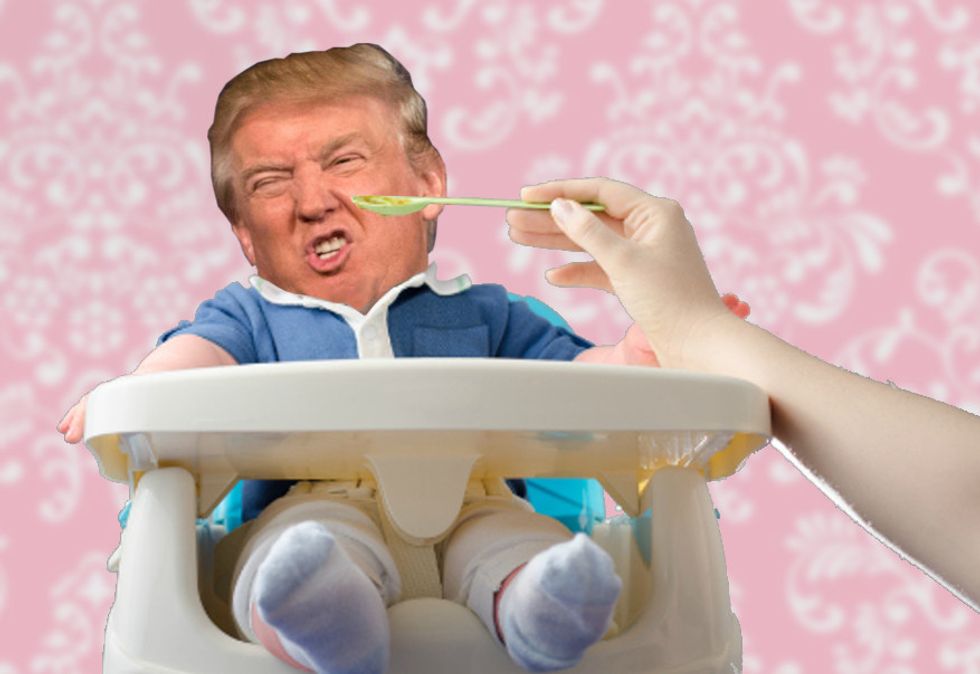 Presidential portrait
---
POLL TIME! POLL TIME! NSFW POLL TIME!
As we type you this, Donald The Trump has just concluded a press conference with the Norwegian prime minister where he dementia-splained (allegedly!) that everybody, even Democrats, says there was no collusion with Russia, everybody says it, it's a witch hunt, and also something about how Hillary Clinton loves windmills too much. It was the same exact press conference he's given one thousand times, with the same 100 words he's memorized, because Trump has the best words, and there are only 100 of them. (To be fair, he also said one of Norway's greatest assets is "a thing called water." GOOD JOB, DONALD!)
Instead of focusing on that, though, let's look at a new Quinnipiac poll that shows that, as Trump wraps up his first full year in office, Americans hate him more than ever and think he's stupider than ever. Folks are happy about the economy, though! But, SAD TROMBONE, they give Barack Obama all the credit for it, perhaps because Trump hasn't done shit for the economy besides make a bunch of empty promises and sign a piece of shit corporate tax giveaway that will probably fuck America for decades. Oh, and also his jobs numbers are weak and sad compared to those of Barry Bamz, Sexual President of our Hearts and also our Pants.
Let's look at some percentages:
APPROVAL RATING! 36%. This is about as shitty as it's ever been, and his "strongly approve" number is a weak and sad 26%. Meanwhile, his disapproval number is holding steady at 59%, with the "strongly disapprove" number at 53%. Pathetic.
SAY A WORD THAT DESCRIBES TRUMP'S FIRST YEAR! The winners, by far, are "disaster" and "chaotic."
GIVE TRUMP'S FIRST YEAR A GRADE! 39% say he gets an "F," and that number goes to 42% when it's asked of white college-educated people. Remember when the GOP owned that constituency? LOL. Another 17% give him a "D."
IS TRUMP A FUCKING LIAR? Or more accurately, "Is he honest?" Only 34% of people think Trump tells them the truth. The rest of Americans are well aware that President Pee Tape is, in fact, doing golden showers to their legs and telling them it's raining.
IS TRUMP "LEVEL-HEADED"? Hahahahaha, according to Americans, the answer is no. (28% say he is, so that's basically his shrinking base.)
WHAT ABOUT FIT TO BE PRESIDENT? IS HE THAT? A solid 57% of Americans say no. And hell, the first year of his presidency was before that Michael Wolff book brought Trump's mental fitness to the front page, so we'll watch that number after a full year of Americans gossiping about whether Trump's brain is literally leaking out his B-hole.
WHO MADE THIS GOOD ECONOMY? 49% say Obama, whereas only 40% say Trump. 40% of people are bad at "economy."
THINK TRUMP IS SMART? Well, a whopping 53% of Americans do. The rest of us know he's dumb as shit.
Now, it might alarm you to hear that 53% of Americans believe Trump has a very good brain, but worry not, dears! As Quinnipiac notes, that is his lowest number ever, and it's been dropping ever since he took office. So let's give it a couple more months, and let's let Trump fuck himself about a million more times, and we are sure a super-majority of Americans will come to agree the president's brain is broken.
Here's to another year of failure, Donald! Of course, if the constant failure really hurts your heart, you can always resign.
Do it for America, you big loser!
Follow Evan Hurst on Twitter RIGHT HERE.
Wonkette is fully paid for by YOU! Please click here to pay Wonkette's salary.
Evan Hurst
Evan Hurst is the managing editor of Wonkette, which means he is the boss of you, unless you are Rebecca, who is boss of him. His dog Lula is judging you right now.
Follow him on Twitter RIGHT HERE.