Let's Jizz All Over The Walmart: Your Florida Roundup
Featured
April 05, 2015 11:30 AM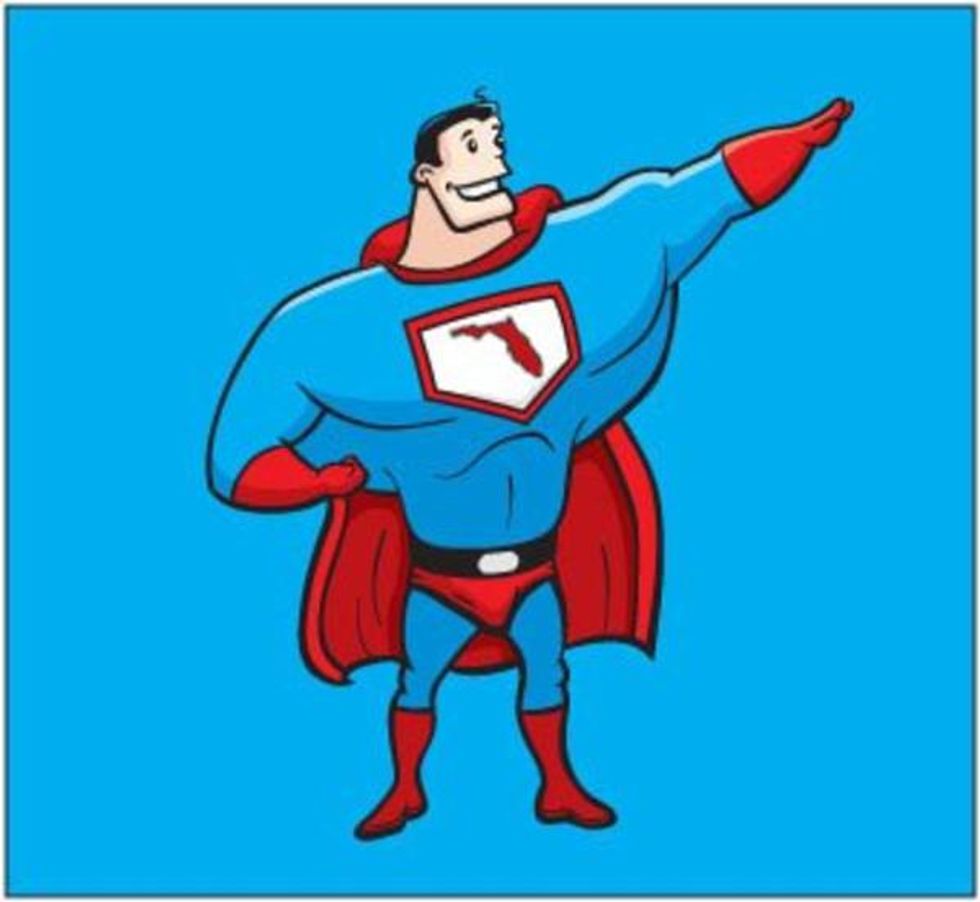 Lots of hot, fresh Florida Man action this week! Let's dive right in and see what trouble he's gotten himself into this time.
---
Cited For Inappropriate Usage Of Floridian Genitals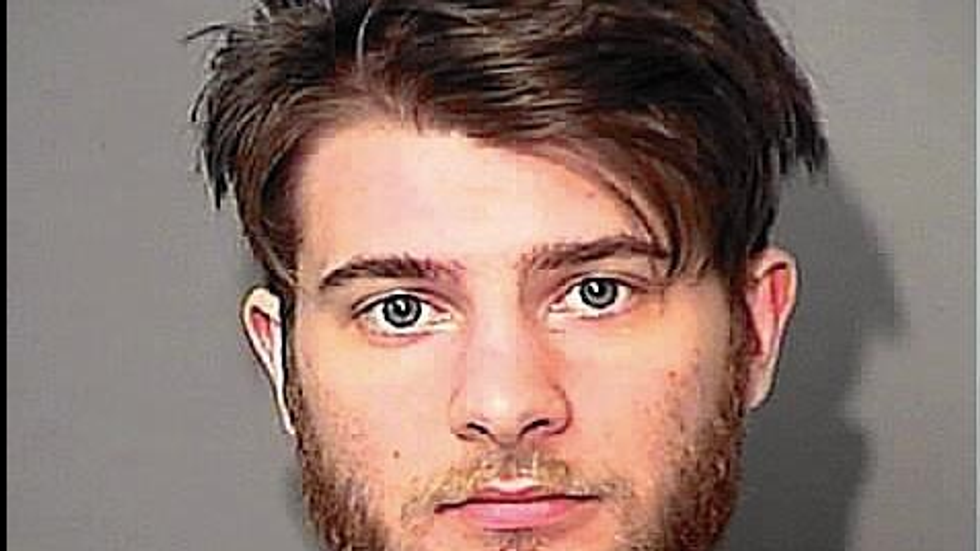 So … ever been at a Walmart, seen a purrrty lady walk by, and decided you needed to choke the chicken right fucking there? No? Meet 20-year-old jerker-offer Taylor Davis, who flogged the bishop and then wiped the, um, byproduct on a couple of Hefty trash bag boxes:
A Walmart security guard spotted Taylor Davis, 20, in the infants' department of the Walmart on Vineland Road Tuesday evening, listening to headphones and touching himself through a hole he cut inside his black hooded sweatshirt, records show.

Davis saw a woman he thought was attractive and started following her around, he later told a deputy sheriff.

The security guard saw Davis take his hands out of his sweatshirt and wipe bodily fluids onto three boxes of Hefty trash bags, records show.

The boxes had to be thrown away, and the security guard called the sheriff's office.
Gross, Florida Man! Speaking of public masturbators, and aren't we always, another nice, upstanding gent named Michael Glynn was arrested in Boca Raton this week for standing outside in his underwear (no big deal), yelling swears at his neighbor and the neighbor's too-young daughter (hey, it's Florida), and then doing this, which was Not Okay:
Glynn started throwing things at the man's boat, then began calling his daughter and wife derogatory names. He pulled down his underpants and started grabbing his genitals, according to the report, and then started gyrating in a sexual manner. He then flipped off the family and said they were wimps.

Glynn told the man he should come over and fight him, but the man called police instead.
He seems like a very nice Florida Man!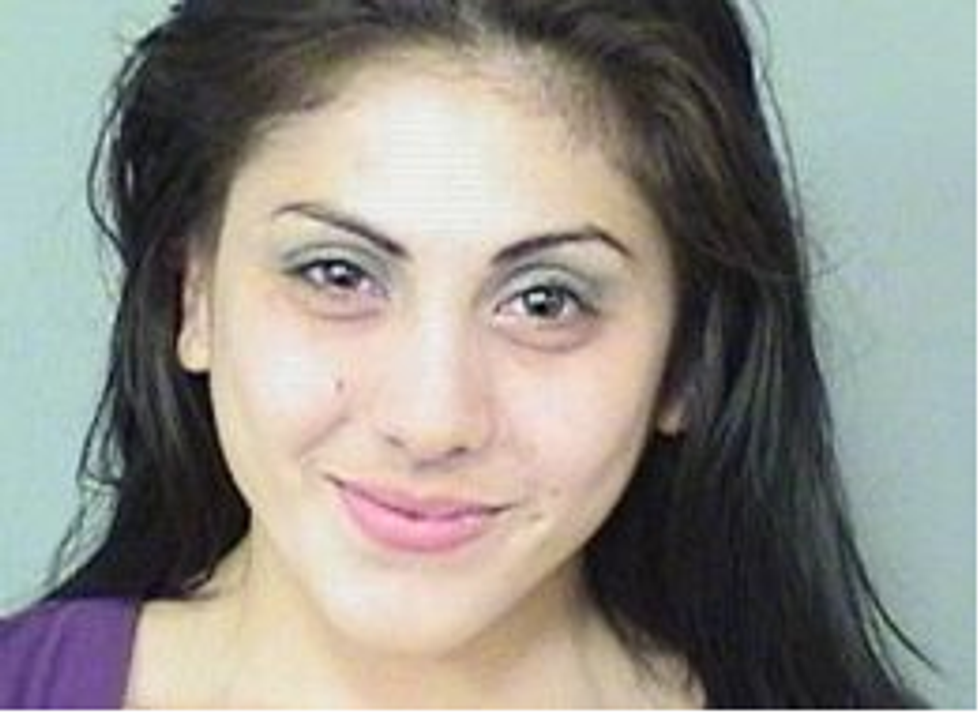 In a somewhat similar vein, here's the heartwarming story of a drunk Florida Woman (is there any other kind?) who kicked a Florida cop in the nuts, then kindly offered a beej to make it all better:
In a police report, deputies said [Beatrize] Carrion-Moore slipped out of handcuffs and knocked a deputy to the ground in a struggle. When he eventually restrained her and put her in the back of his patrol car, the deputy said she kicked him in the groin several times, then offered him oral sex.
Fellatio AND a smiling, come-hither mugshot? What's not to love?
And hey, you can't really blame her. Blowing cops has worked for criminal Florida ladies before.
These Guys Are Going to Have a Very Special Time in Jail
Let's say you're a Klansman — Florida still has a good many of those, by the way — and also a correctional officer at an area penitentiary … OK, before we begin, a little necessary context: Florida, like many states, puts its prisons in godforsaken places you'd never want to visit, in this case in the northern part of the state, which is basically South Ala-fucking-bama, a hotbed of idiocy and inbreeding and meth and racist losers who go to work for the gubmint.
So anyway, let's say you're a Klansman working at the jail. And let's say that one day you get into a fight with a black inmate — Florida has lots of those, too — and said black inmate kicks your fucking ass, or at least bites you "with the intent of giving [you] a fatal disease." What would you imagine the subject of your next Klan meeting would be?
Three current and former prison guards arrested in Florida on Thursday were also members of the Ku Klux Klan and allegedly used Klan meetings to plan the murder of a black inmate after his release.

Thomas Jordan Driver, 25, and David Elliot Moran, 47, were working as corrections officers when they were arrested. The third suspect brought in, Charles Thomas Newcomb, 42, had been fired as a prison guard in 2013. All three are members of the Traditionalist American Knights of the Ku Klux Klan (TAKKKK), according to court documents.
It was all fun, games and murder-planning until a mean FBI informant came onto the scene:
The murder plot came to the attention of law enforcement started at a Klan meeting in late 2014. [sic] That's where Moran and Newcomb introduced Driver to an FBI confidential informant posing as a KKK member, according to court documents. The purpose of that meeting, judging by the conversation that follows in the affidavit, was to arrange a killing. … According to the FBI's account of that initial meeting, Driver and Moran both "told the [informant] that they wanted [redacted] to end up "six feet under."
According to the Daily Beast, their KKK chapter's Grand Dragon Jamie Vincent Ward was also there, and that when he heard about it, he said they'd have to "have a sit down to discuss the [redacted] situation." Ward has not been charged, presumably because he at least wanted to sit down and talk things through before gettin' to the killin'.
And Now For Your Good Florida News: Shag Away, Sinners!
Florida is finally getting around to repealing the anachronistic statute — enacted in 1868, when the goddamn Yankees were running everything down here — that made it a misdemeanor to live together as an unmarried couple:
"Currently, over a half-million couples in Florida are breaking this law. The government should not intrude into the private lives of consenting adults," the South Florida Democrat, Eleanor Sobel, told the Senate Judiciary Committee yesterday. "The times have changed. ... Only three states are left with this outdated statute—Florida, Michigan, and Mississippi."
Of course, it's not a done deal yet. The state Senate will debate the bill next month, and boy howdy won't that be something.
Yes, We Have Fake Psychics Too
And now for something the Florida Correspondent had promised himself he would never, ever do: Linking to a thing from hellspawn Nancy Grace, because holy mother of fuck is she annoying. Do yourself a favor and, before you click, turn off the sound so you won't have to hear her voice:
A South Florida woman who authorities have called the matriarch of a family of "spiritual advisors" has been sentenced to 10 years in federal prison after being convicted of 14 counts relating to defrauding people who sought the family's help.

At her trial, prosecutors claimed that Rose Marks, 63, and eight other members of her family preyed on their clients, bilking them out of at least $17.8 million (although they believe the actual figure is probably closer to $25 million).
Filed Under: Creative Solutions
A Florida man, who also happens to be a Florida professional wrestler of some sort — we can't elaborate because we are not into that sort of thing — developed an innovative way to extract a loose tooth from his young son's mouth:
Professional wrestler Robert Abercrombie - known as Rob Venomous in the ring - took a different approach when he tied his son James's tooth to the back of his muscle car.

A video Mr Abercrombie posted online shows him revving up the engine of his red Chevrolet Camero [sic] before powering forward, pulling his son's front tooth clean out. … After the car stops, James, eight, can be seen running up to the camera with blood smudged across his other teeth, saying excitedly: 'It came out!'
What a special father-son bonding experience!
Filed Under: Drugs
Remember the scourge of bath salts and whatnot that turned Florida men into raging zombies and shit? Allow us to introduce you to your new best friend, Flakka, aka "$5 Insanity," the hot new drug craze tearing up the state:
Since January, flakka has given rise to a naked gunman on a Lake Worth rooftop, a man trying to kick in a glass door at the Fort Lauderdale police station, another who impaled himself when he attempted to scale a security fence at the Fort Lauderdale station because he was trying to escape murderers, and yet another who left a trail of blood after attacking an 82-year-old Riviera Beach woman in her home.
OK, fine, but is it FAIR to blame the drug for behaviors that happen in Florida all the time anyway? Personal responsibility, people.
And Finally, Here's the Part Where We Tell the Koch Brothers to Piss Off
So this is something you don't see everyday down in these parts: a hero Republican lawmaker telling the Koch Brothers to go fornicate with themselves, in public:
In a Senate committee hearing of her film incentive bill Thursday, Sen. Nancy Detert, R-Venice, took Koch brothers-backed, ultra-conservative political action committee Americans for Prosperity to task. … "I appreciate the mail-outs that you do against me on a monthly basis that say I give money to Hollywood moguls, which, of course, I don't have any money to give, and neither does the state of Florida give money to Hollywood moguls.

"You're all on the Koch brothers' payroll. Good for you. I'm glad you're all employed ... I hope you're getting paid a lot of money to show up to these meetings and say meaningless things.

"Obviously you're for prosperity for yourself and not anyone else ... You people serve absolutely no purpose."
Ah, but she's wrong. The Koch Brothers do serve a purpose: Hiring actors to protest water managers' plans to buy and preserve land from Big Sugar. It seems that the people at a big nice Tea Party protest what happened at the South Florida Water Management District were simply there because the Tea Party and the sugar industry had paid them to be there:
The district is currently considering buying land owned by U.S. Sugar, which it would use for the treatment and storage of lake flood water. Environmentalist believe that using the land in this way will allow them to divert more water into the Everglades without harming coastal estuaries. The water would not only help replenish the Everglades, it would also provide an emergency reserve drinking supply for South Florida.
And that is bad and un-American! Unfortunately Big Sugar couldn't find anybody who actually cared enough to protest it, so they bought some people.
[contextly_sidebar id="rlP4rOWVxA4RX7FZZ6gLQRvkZpGnWVRt"]
So  that's your Florida update for this week! We would ask all the various Florida Men to try to keep it in their pants, but they won't, so fuck it.