Let's Play The Blame Game! Your Wonkagenda: Thursday, November 10, 2016
Elections
November 10, 2016 08:41 AM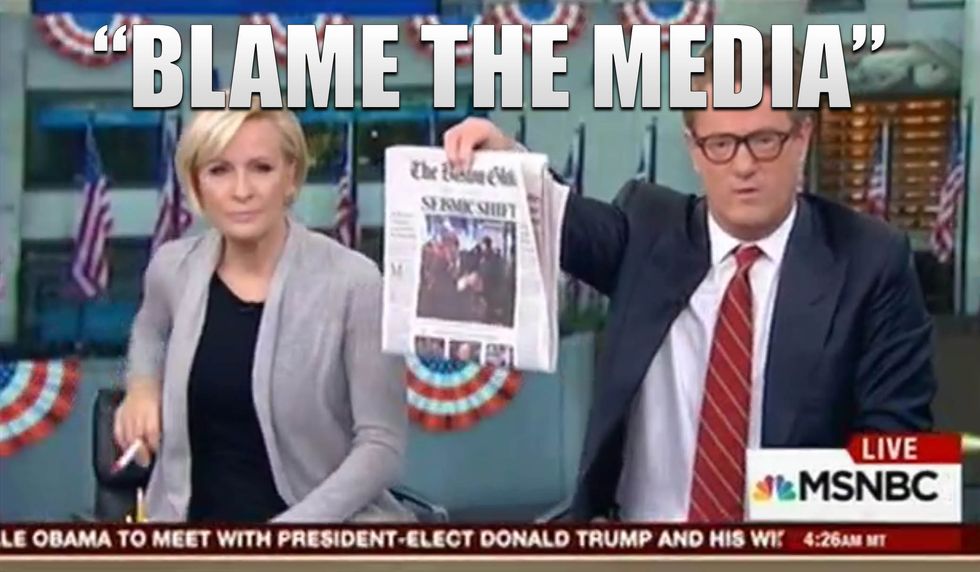 You know, people like Joe Scarborough, the white guy on the right.
---
Though votes are still being counted, North Carolina Governor Pat McCrory may have to find a new pot to piss in as it appears he was voted out of office in favor of Democrat Roy Cooper.
Democrats will hold the seat of outgoing Senator Harry Reid as Catherine Cortez Masto defeated Joe Heck for Nevada's open Senate seat, proving that the Democratic machine built by Reid is still churning.
Illinois Democrat Tammy Duckworth stomped all over Republican Senator Mark Kirk despite having lost both of her legs due to combat injuries in Iraq. Stomp stomp stomp!
Chris Van Hollen will succeed Barbara Mikulski for Maryland's open Senate seat, making it a pretty safe bet that Van Hollen will be sticking around for a while.
Congressional Republican John Mica lost control of Florida's 7th District seat to Democrat Stephanie Murphy due to Mica's lack of investment in campaigning.
Soda tax laws were passed in several cities across the country, like San Francisco, Oakland, Albany, California, and Boulder, Colorado, so you'll either have to learn to start drinking your booze neat, or on the rocks.
More Good News! California, Nevada, and Massachusetts voted to legalize recreational marijuana, with Maine leaning yes (though it's still real close), while Florida, North Dakota, Montana (hi!) and Arkansas legalized medicinal marijuana, but remember that sitting around baked out of your skull and waiting out the next few years isn't the right course of action.
India has banned all forms of large currency in an attempt to stave off corruption and the production of counterfeit money often used to support terrorists, prompting the people of India to make a mad dash for large cash around the country, overrunning A.T.M.s.
Mexico is saying that it STILL will not pay for that fucking wall, but it's open to working with Trump. Dios mío, este idiota.
200 countries are trying to find the silver, pollution-free lining in the clouds at the 22nd Conference of the Parties, a climate change summit in Marrakesh, Morocco, now that Donald Trump intends to stick a climate change denier at the head of the EPA.
Here's how Samantha Bee tried to put things in perspective last night because, as bad as they seem now, it's not the end.

And here's your morning Nice Time: a clouded leopard sanctuary in Thailand! because I think we could all use big, cute cats.
Dominic Gwinn
Dominic is a broke journalist in Chicago. You can find him in a dirty bar talking to weirdos, or in a gutter taking photos.