Let's Shoot Up A School Bus On Our Way To The Gun Show: Your Florida Roundup
Featured
May 17, 2015 12:31 PM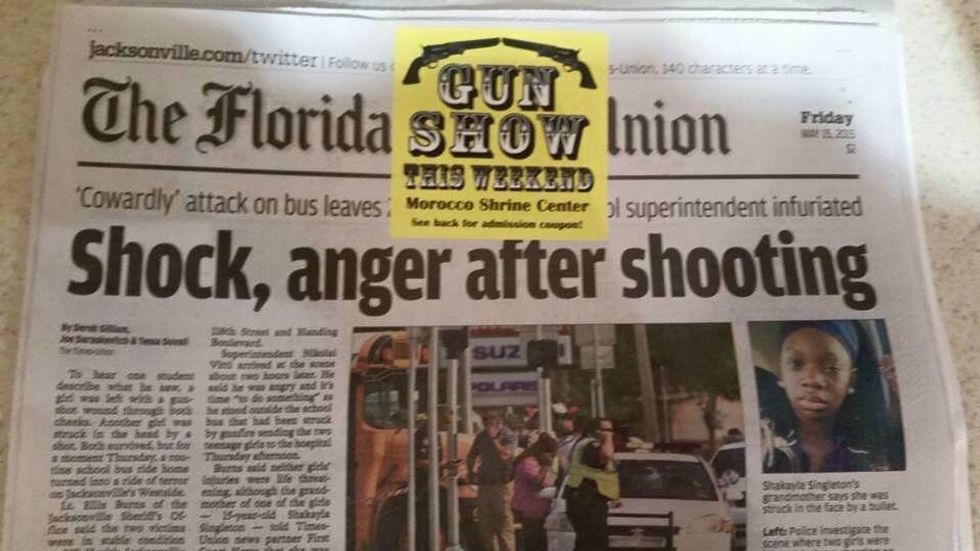 ---
Is there an image that better sums up Florida? No, there is not.
The story behind this is quite sad — two young girls were shot on a school bus; their injuries are thankfully not life-threatening — and not really the Times-Union's fault, even though its editorial page is a cauldron of right-wing nonsense much of the time. Perhaps someone on the production end should have seen this and thought something amiss. But this is Florida, so that didn't happen.
Kurt Caywood, the T-U's vice president of audience, which sounds like a made-up job title, told Romenesko:
The appearance of a gun-related front-page sticky note on the same day was an incredibly regrettable coincidence. It was born of the purposeful separation between our news and advertising departments, an approach we take because we value nothing more than the objectivity of our journalism. That said, this clearly was an oversight.
You don't say.
Anyway, if you want to know what Florida is really like, read the comments. Specifically, the comments on the T-U's Facebook post about this screw-up. A sampling:
You shouldn't have to apologize for anything. This advertisement was paid for probably weeks in advanced and there was nothing you could've done to change the events that UNEXPECTEDLY happened yesterday. Everyone needs to stop being so damn sensitive and realize that we live in Duval County Florida, we aren't exactly the nicest place in America.
I'm glad it's there. That means the people who can legally purchase a gun and start taking out these POS thugs that continue to plague society
Don't sweat it FTU. The professionally Aggrieved crowd is going to find something to whine about no matter what.
There is nothing I feel you need to apologize for. More citizens need to arm themselves to protect themselves from these criminals. It's just the way society has gone.
And so on.
Florida Man Gone Legit
This is the week Florida Man — actually the @_FloridaMan Twitter handle — finally got his due in the august pages of the New York Times, which is never late to the pop-culture party:
For decades, this cast of characters provided a diffuse, luckless counternarrative to the salt-and-sun-kissed Florida that tourists spy from their beach towels. But recently there arrived a digital-era prototype, @_FloridaMan, a composite of Florida's nuttiness unspooled, tweet by tweet, to the world at large. With pithy headlines and links to real news stories, @_FloridaMan offers up the "real-life stories of the world's worst super hero," as his Twitter bio proclaims.
Would you like to see some fine examples of this hero in action? Here you go.
How Could This Not Have Worked?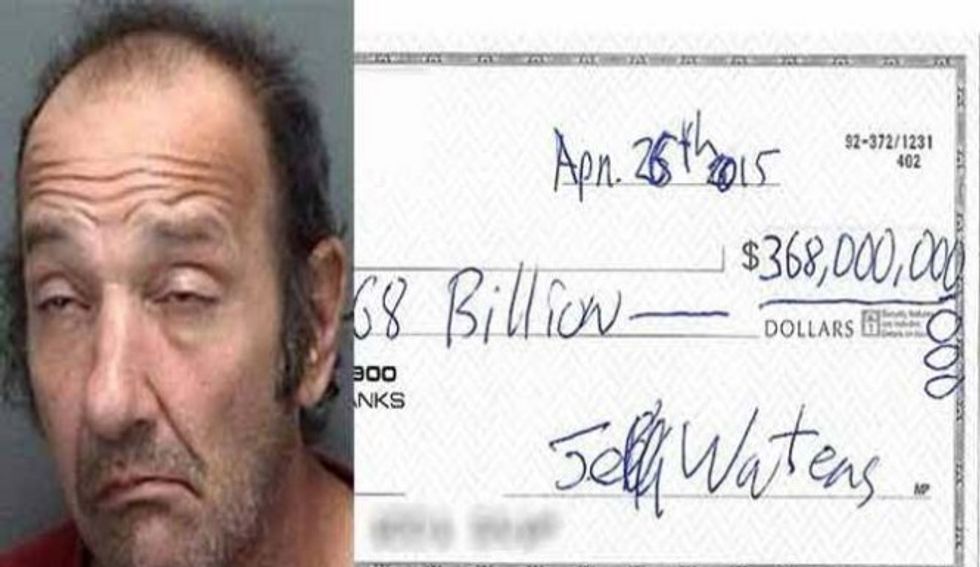 Jeff Waters is a nothing if not audacious. The Florida man apparently bought a blank check off a homeless dude, then decided to try to cash it at the local Bank of America.
Armed with his identification and fully expecting the check to be cashed, Waters was befuddled when he learned that the blank check that he bought from a homeless man called Tito was unusable.

When the tellers became suspicious, Waters explained that a homeless man by the name of Tito Watts had sold him the blank U.S. Bank of Idaho check (which was issued in the '90s) for 100 bucks a few months ago.

Tito, the "upstanding" guy that he is, told Waters that he can go ahead and cash the check for whatever amount his heart desires.

"Tito said the check was good for any amount I wanted to write it for. So blame Tito, not me. I'm as innocent as a schoolgirl," said the Florida native.
Florida Man Stands His Ground on Florida Man Stand-Your-Grounder
Florida's favorite son, George Zimmerman, was back in the news again — oh hey, weird! — as somebody took a shot at him. (And missed.)
[contextly_sidebar id="UB4dim7xPLIU2kdYK73KTidZLiPQOXO1"]
The shooter, a fellow named Matthew Apperson, has been arrested, because Zimmy is not a Young Black Thug who was attacking his shooter by being on the sidewalk:
Zimmerman's attorney said the former neighborhood watch volunteer was driving to a doctor's appointment Monday when Apperson intentionally fired his gun into Zimmerman's truck without provocation.

The passenger window of Zimmerman's pickup had a bullet hole in it, and Zimmerman suffered minor injuries from flying glass and debris.

Zimmerman and Apperson were involved in a road-rage episode last September.
A fair note of irony here, what with Zim's completely self-unaware lawyer complaining that his truck was shot at "without provocation."
Another note of irony: Apperson may use the Stand Your Ground defense, though legal theorists question whether it can be applied to white victims.
Lake Mary, Florida police confirmed Monday that the motorist is Matthew Apperson, the same man who called police last fall claiming that Zimmerman had threatened to kill him. While Apperson has not yet been arrested for the shooting, if he is charged, he could potentially claim that he was standing his ground.
What's that thing in the Jebus Book about reaping what you sow?
Florida Woman Gets in on the Action, Too
In Florida, this is what we call multitasking:
Authorities in Florida have arrested a 33-year-old woman after she allegedly breastfeed [sic] her 2-month-old baby while drunk driving.
Also from the Florida Woman Desk:
Do you remember flakka, that super-awesome drug that makes you hump trees, which is apparently all the rage in the Sunshine State.
[contextly_sidebar id="QHO3TVtXOAtwoDq904IaG3pGqsfT0DCZ"]
It has struck again.
A naked, blood-covered 17-year-old girl was arrested Saturday morning in Melbourne, Fla., after she allegedly jumped through the glass window of an unoccupied house, punched a stranger and a car, and then ran at police officers while repeatedly screaming "I'M SATAN!" and "I AM GOD."
Well, geez, kid, make up your mind.
She Seems Nice
So in Orlando — particularly the region of Orlando the locals call Touristan — there is a bar that caters to all of the British tourists, with their socks with sandals and funny talkin', the Orlando George & Dragon British Pub, owned by a woman named Kim Bruns, who allegedly has a teensy-weensy problem with The Blacks coming into her bar.
An International Drive pub owner was arrested last weekend after holding a young black couple at gunpoint and making racist comments while threatening to shoot them, Orlando police records show. […]

The incident happened shortly before 6:30 p.m. Saturday inside the pub next to the Wet 'n Wild Orlando water park, records state.

Davis and Elwin decided to stop at the pub after receiving an online discount for dinner.

In an interview Wednesday, Davis said the trouble began when she asked Bruns for a drink recommendation, as she had just turned 21 two months earlier. Bruns made her a Kamikaze cocktail, Davis said.

"As soon as she gave it to me, she said, 'I'm watching you, and you better not give any drinks to minors,'" Davis said. "It felt weird and racist a little bit."
The two young people of color decided to leave, because fuck that bitch, at which point Bruns, being a Florida woman, allegedly reacted suboptimally:
But the bar owner told other customers, "Don't let that [multiple profanities] leave," the arrest report states.

That's when Bruns is accused with stepping out of the barroom and returning with a large black revolver police later confiscated and identified as a .357-caliber Magnum Colt Python, according to the arrest report.

"Bruns pointed the firearm at her and stated, "I will shoot you [profanity]," according to the arrest report. "Bruns then picked up a drinking glass from the bar, throwing it at Davis. The glass missed and shattered against the wall."

After the glass-throwing incident, Elwin told police he offered to pay for the drink so they could leave, but Bruns started swearing at him.

"I'll shoot you too if I have to. It's legal," Bruns said, according to the arrest report. "Call Jesse Jackson, [profanity]."
Just a wild guess: You can sub in the N-word for all of those censored "profanities."
Anyway, Bruns says the whole thing is bogus, because wouldn't it be just like The Blacks to make that shit up? Also, she has black employees, so there.
"It's all false accusations," said Bruns, 51, when reached Wednesday afternoon. "I have black people who work for me. I have never used a racial slur."
Breaking: Florida Politics Are Still Awful
Rick Scott is continuing his unrepentant asshole streak:
Gov. Rick Scott told agency heads to prepare for the worst Thursday, asking them to list only the state's most critical needs in the event the Legislature can't reach an agreement on a budget that doesn't expand health care to the poor. […]

In writing the letter, Scott is further digging in his heels in his refusal to expand health care coverage to 800,000 Floridians, a move that could cost the state more than $1 billion in federal money to help hospitals treat the poor, which is called the low-income pool.
[contextly_sidebar id="QG8DmXY7eb55190Q7aCovZpyNuBK4Xax"]
And Rick Scott also continues to be bad at math, surprise!
The savviest number-crunchers in state government are shaking their heads again.
Gov. Rick Scott's office said Wednesday that Scott stands by his statement on Fox News Monday that the state would have a surplus of $8 billion if the Legislature adopts what he continues to call a "continuation budget" -- in other words, holding the line with no tax cuts and no increase in per-pupil funding for schools. […]

But no one -- no one -- in the legislative branch is suggesting that Florida has an $8 billion surplus. The most detailed and reliable revenue projections, detailed in a March financial outlook statement by state economists, suggest that the state could have $3.8 billion more general tax revenue to build next year's budget.
Oh, and about half of that $3.8 billion is unspent money from the current fiscal year, which we would rather call a "surplus" than spend on giving the poor health care.
And here's the kicker:
Scott's office declined requests by the Times/Herald to document how it arrived at a number that legislators consider outlandishly high.
In other Florida Polidick news: Jeb!™, our former governor, is running a presidential campaign FOR THE AGES, in which he endeavors to be the sane one in the sea of Ted Cruz crazy, which we're sure will work out great for him, because Republican primary voters are nothing if not completely sane. Except that he's having a little bit of trouble with the world's most obvious question:
Former Florida Gov. Jeb Bush (R) on Thursday offered yet another answer on the Iraq war saying that, given what he knows now, he would not have authorized an invasion of Iraq.

Those comments strongly contrast ones he made on Monday to Fox's Megyn Kelly when he said he would have authorized an invasion. A day later, he backtracked, saying he misheard the question and did not know what he would have done. On Wednesday, Bush said he refused to answer as it would be a disservice to American troops.

But at an event in Tempe, Arizona, on Thursday, Bush gave yet another answer.

"I would have not engaged. I would not have gone into Iraq," Bush said.
Suuuuuure, pal. We would love to believe you, except that your foreign policy team and Shrub's foreign policy team are basically the same thing.
[contextly_sidebar id="aYQWlEmrknVbkGlLjy2CkqkkAU9STzxI"]
And finally, our man Alan Grayson, he of the world's grossest divorce, is back at it, leading with his trademark wit:

That Adam Smith is the politics editor at the most influential daily paper in Florida, where Alan Grayson claims to be considering a run for the U.S. Senate. Alan Grayson, we are guessing, has never read How to Win Friends and Influence People, but then again, neither have we.
[contextly_sidebar id="2u4X6ncd3VliixrYlwOIUsDmyYAZj9Ca"]
That's all for this week, Florida. Keep shitting them robots!