Let's Talk About Kamala Harris's Awesome Rally Playlist, Some Other People's
Media/Entertainment
August 20, 2019 02:08 PM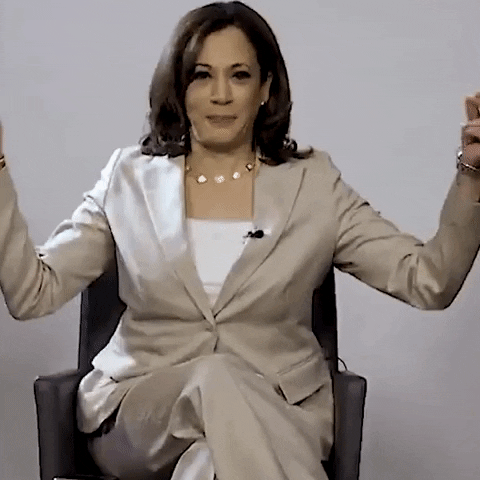 The New York Times has taken time from its busy schedule promoting racial discord to analyze the campaign rally playlists for the presidential candidates. It only bothers with the top 10 contenders and Donald Trump so we won't delve into the music preferences of the other Tim Ryans. We assume there's some Hootie & the Blowfish or Billy Ray Cyrus on there.
We like big finishes so we'll end with Kamala Harris's playlist, which is obviously the best. It's no contest. There's more competition for the worst slot. We almost gave it to Pete Buttigieg because he actually has Hootie on his playlist ("Learn to Live"). However, he saves it with a hit from Sir George Michael -- the Queen hasn't answered our letters but we assume it's a matter of time before she posthumously knights him. We would've chosen "Too Funky" or "Hard Day" instead of "Freedom! '90" but it's still enough to erase the lingering Hootie aftertaste. [Incorrect, Freedom '90 is the best George Michael unless Mayor Pete wanted to get his Father Figure on, SER is fired. -- Editrix]
---
You'd think we'd give it to Donald Trump, but the bastard's playlist has Betty Buckley ("Memory"). It's impossible for Ms. Buckley to be involved with the worst of anything. Trump's playlist is predominately white and male, which is not a shock, but it's also gayer than our prom dress. He's got two songs from the Village People -- "Macho Man," which he's not, and "Y.M.C.A.," where he's never been. There's even multiple tracks from Elton John and Queen. Thank God he didn't throw in some Bizarre Inc. or we'd show up at a rally just for the music.
---
No, the Mopy Dick Playlist Award goes to Joe Biden. He's got the same damn Darius Rucker song as Buttigieg but without "Everything She Wants" to salvage things. Diana Ross ("I'm Coming Out") is awesome but she can't rescue this playlist by herself -- hint, hint Stacey Abrams.
Tulsi Gabbard's playlist wasn't covered because music makes her do this:
Cylons are preparing to take over Earth. Tulsi Gabbard is a defective Number 8 copy. This video is evidence.. https://t.co/b1jnwa7ZgJ

— Brave Black Woman (@Brave Black Woman) 1566216289.0
Now on to the rest before we get to the best.

Kirsten Gillibrand's playlist contains 73 percent women artists. Awesome! But the Times makes sure to point out her one "misstep," which was the inclusion of "Scared of the Dark" (Lil Wayne) from the Spider-Man: Into the Spider-Verse soundtrack. The remix features XXXTentacion, and before his death last year, he was accused of assaulting his pregnant girlfriend. The campaign has removed the song but this obvious forced error is why Gillibrand isn't polling higher (we kid).

The New York Times
Cory Booker's playlist is relentlessly uplifting, but there's little fire or edge. Assholes like Tucker Carlson might think this makes the senator "less black" somehow, but even if his music taste puts us in a diabetic coma, our brother's no common Diamond and Silk. He's just the type of guy whose Kool & the Gang selection is "Celebration" and not "Jungle Boogie." He picks Ms. Lauryn Hill's "Doo Wop" (That Thing) -- great song -- instead of "Everything Is Everything" (greater song). He's the Will Smith "Gettin' Jiggy With It" candidate, which we would've loved a decade or so ago.
Beto O'Rourke and Bernie Sanders's playlists are both sausage fests. Sanders serves up three songs with "revolution" in the title (but not the one from The Beatles), along with the songs "Uprising" and "Taking It to the Streets." Fortunately, no one has notified the FBI.
Beto's playlist is pretty rock heavy, which we find too darn loud these days. But he shows love for Joan Jett, which personally moves us right now because our son is in a Joan Jett phase. You haven't lived until you've heard a 5-year-old sing along to "I Hate Myself for Loving You." And you haven't truly wished for death until you've heard a 5-year-old demand to hear it multiple times in a row. Beto shares a favorite Joan Jett tune with our kid.
We think the Times unfairly disses Julian Castro's playlist as "reflecting the studious dullness of someone who learns about new records from supermarket speakers." Ouch. Few of the songs excite us but the choices seem genuine. How can you knock someone who appreciates both Tracy Chapman ("The Times They Are a-Changin'") and Lenny Kravitz ("Let Love Rule")?
It doesn't surprise us that our two favorite playlists belong to our two favorite candidates. Elizabeth Warren hits it out of the park.

The New York Times
Wait, most of the songs on our playlists date from the 1990s and earlier. Either we're really old or Warren is an honorary Gen-Xer. Our vanity demands we go with the latter. Warren's "walk-up" song is Dolly Parton's "9 to 5" from the classic movie and the equally classic Broadway show (anything featuring Allison Janney is a classic).
Warren's playlist is thematically consistent. There's "Takin' Care of Business" (Bachman-Turner Overdrive), "Under Pressure"( Vanilla Ice David Bowie and Queen), and "We Take Care of Our Own" (Bruce Springsteen). It's like a concept album about a working-class hero -- despite not containing the John Lennon song "Working Class Hero."
Warren at least picks up the pace with "Vogue" (Madonna), "Respect" (Aretha Franklin), and "Get Down Tonight" (KC and the Sunshine Band). There's also "Walking on Sunshine" (Katrina and the Waves), which appeared prominently in The Secret of My Success with Michael J. Fox. It's an infectious and upbeat track. We doubt Warren was paying tribute to that paean to Reagan-era materialism.
But our lady Kamala Harris serves straight fire on her playlist. How could we not love it when there's literally no rock music?

Damn, right.The New York Times
Our interest in rock these days starts with Jesus Christ Superstar and ends with the Rocky Horror Show (Roxy Cast recording because Susan Sarandon has ruined the movie for us). Kamala's got a neighborhood cookout going on her playlist. There's James Brown ("Cold Sweat"), A Tribe Called Quest ("Check the Rime"), and Prince ("Kiss"). She's got Stevie Wonder ("Sir Duke") and Mary J. Blige ("Work That"). We wouldn't pester our wife to ditch the wedding reception if the DJ was spinning these tracks.
Go to a Kamala rally and she'll serve you up stripped-down funk, slinky soul, and baby-making jams. Whoever drops Funkadelic at a campaign rally deserves the keys to the White House.
Play us out, sister.
Follow Stephen Robinson on Twitter.
Yr Wonkette is supported by reader donations. Please send us money to keep the writers paid and the servers humming. Thank you, we love you.
Stephen Robinson
Stephen Robinson is a writer and social kibbitzer based in Portland, Oregon. He writes make believe for Cafe Nordo, an immersive theatre space in Seattle. Once, he wrote a novel called "Mahogany Slade," which you should read or at least buy. He's also on the board of the Portland Playhouse theatre. His son describes him as a "play typer guy."