Let's Watch Donald Trump And Mike Huckabee Jizz All Over America's Tallest Mountain
Featured
September 01, 2015 03:30 PM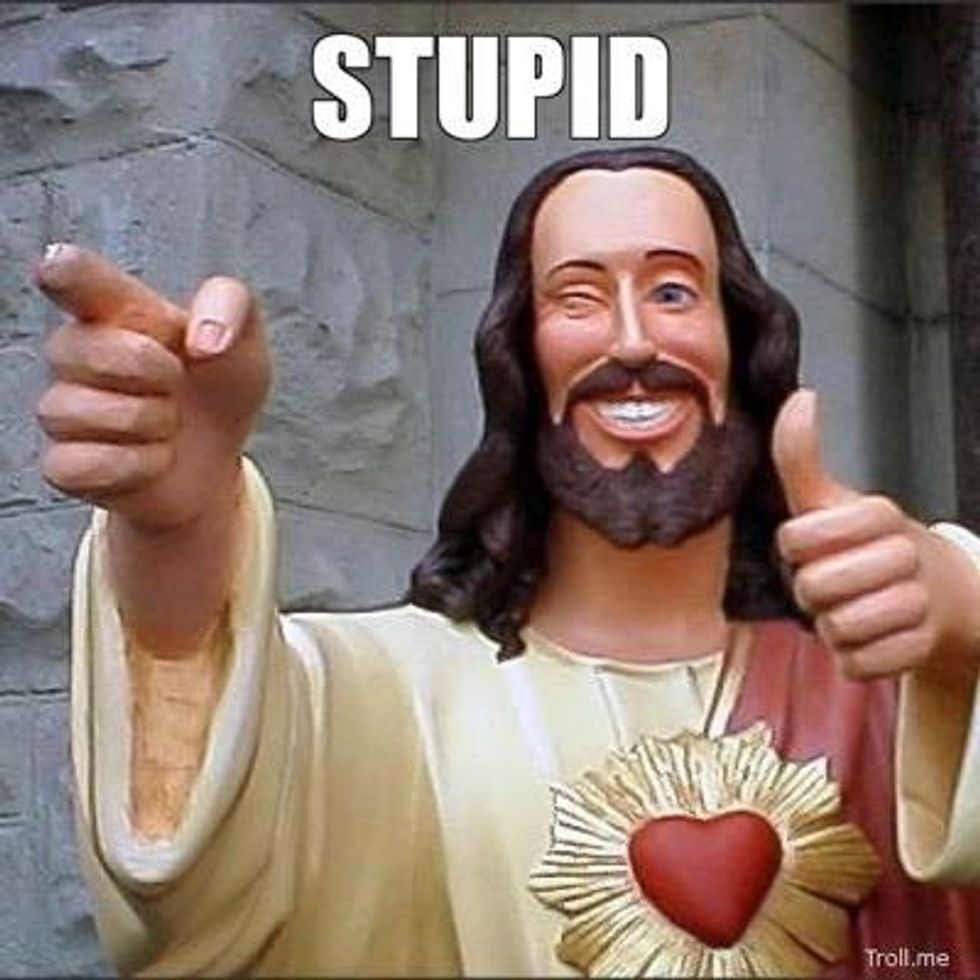 Jesus says Donald Trump and Mike Huckabee are equally stupid.
---
Oh look, it is Republican presidential candidates making a mountain out of ... oh, this time they are making a mountain out of a mountain! Except they shouldn't be making one fucking word about Obama restoring the name "Denali" to our nation's tallest peak, because they are stupid, and it's none of their fucking business what Alaskans want to call that big-ass mountain. ("Denali." They want to call it "Denali." Because that's what they've always called it.)
[contextly_sidebar id="wtBFnO4zNzjNp3xiZeArHaLu4Uu80fiN"]
At the moment, the two main participants in the jerk-off contest are Donald Trump and Mike Huckabee. We'll let you decide who wins, in the comments, which are not allowed.
Trump! Trump! Trump!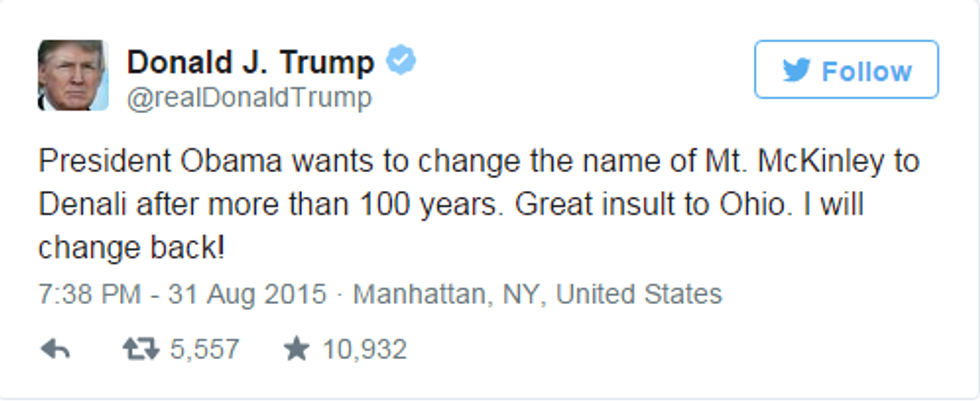 We keep coming up with theories about Donald Trump. Here's a new one! Whatever Trump's endgame is in this primary, we don't think it's the presidency, but Christ knows what the fuck it actually is. Because, like, if Trump were president (LOL) he would be president of both Ohio AND Alaska. Wouldn't it be a "great insult to Alaska" to change it back? Just saying.
Let's give Denali a "Trump" name: Yoooooooooge Mountain, By Donald Trump.
And in this corner, that pervy motherfucker Mike Huckabee
Well, jokester that he is, Mike Huckabee started off with a zinger!
"It's amazing to me that the President would rename the nation's tallest mountain after a GMC truck," Huckabee said. "That's pretty remarkable in it of itself."
HA HA HA, that is a very funny wingnut joke, because there is a GMC with the name "Denali" in it! But here's where it gets even better:
"Just kidding, of course, Steve, but the outrage is two fold: one that the President thinks he can do whatever he wants even renaming a national landmark," Huckabee said during the phone interview. "I'm wondering what's next. The renaming of the Washington monument to the Obama monument?"
HA HA HA again! Now, see what Huckabee did there? He didn't say, "Of course I'm kidding, the Alaskans have been calling it Denali since Jesus's mom found out she was pregnant and started flipping through the Nazareth phone book for the closest Planned Parenthood location." (HE WOULD NEVER SAY THAT, yr Wonkette is sorry.) But notice how he didn't include the History Facts? Wonder why! Oh probably just because he knows that the people who like and respect him are basically human genital warts, and genital warts ain't got no book larnin'.
He's leaving his people with the impression that yes, Barack Obama just cold fuckin' renamed a mountain, and that he might do it again! To understand how stupid Republican voters really are, first read this post Kaili wrote, and then consider the fact that Snopes actually had to write an article clarifying that "denali" is not actually the Kenyan language word for "black power." And then cry, because you're sharing breathing space with these horrible people.
Now let's give the mountain a Huckabee name:Transgender Sex Boobies Give Me Weenus Tickles Mountain.
[contextly_sidebar id="Mg4HiBICi4glooVt6NrBNDDtkHlOojxu"]
John Kasich said a thing right? He's running for president we think?
Yes, Kasich said a thing, and he is definitely "running for president." We covered that Monday, but to review:

He followed that with something about carnations being McKinley's "lucky flower," and then we hit the snooze button and decided to die of boredom.
Rep. Steve King isn't running for president, but he's dumber than a ramequin full of walrus smegma, what did he say?
A thing, he said a thing: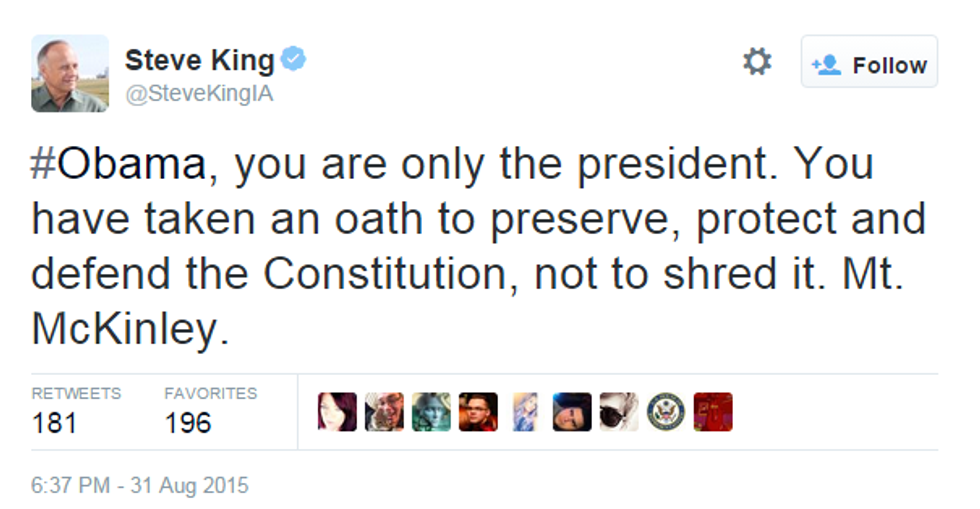 We're sure Rep. King will get around to telling us which part of the Constitution Obama is violating, just as soon as he gets his cock unstuck from the lawnmower he gay-married after the Supreme Court's marriage ruling. Gonna be waitin' a long-ass time.
Evan Hurst
Evan Hurst is the managing editor of Wonkette, which means he is the boss of you, unless you are Rebecca, who is boss of him. His dog Lula is judging you right now.
Follow him on Twitter RIGHT HERE.