Liveblogging Koch Employee Scott Walker's Prank Call Non-Apology
News
February 23, 2011 03:34 PM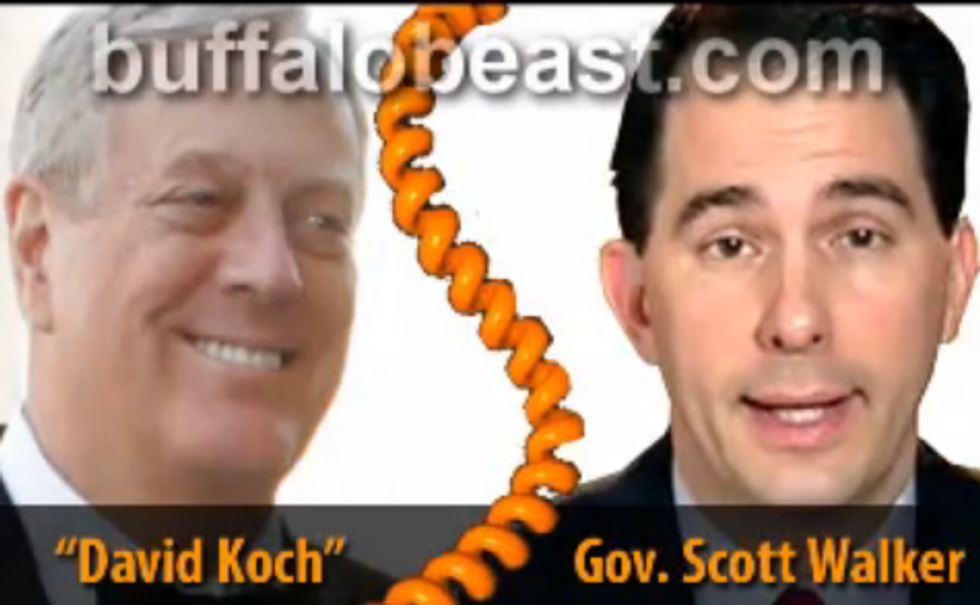 Turn on the teevee news! Wisconsin Governor Scott Walker is delivering a statement about hislong conversation with that guy he thought was David Koch. Interestingly, watchdog group Public Campaign Action Fund is calling for a probe into whether he committed ethics violations in saying what he said to the person he thought was the guy who signs his checks. (All his checks that aren't signed by the people of Wisconsin, that is.) So is Walker finally going to resign and/or let the workers of Wisconsin have their rights? No, he's going to endorse Mika Brzezinski's buttocks and taking a baseball bat to the face of homeless people or whatever, like he did in that prank call. And apologize to his boss David Koch for letting him down. LIVEBLOG!
---
3:34 PM — We've got CNN on. THE CAMERA IS ON A RED AND GOLD DOOR. BREAKING: HE HAS TAKEN ASYLUM IN RED CHINA.
3:37 PM — "Wiscahhhnnnnnson." He's good.
3:38 PM — Scott Walker thinks that's a microphone. It's not. It's a liberal blogger pretending to be a microphone. Ha!
3:38 PM — Walker is talking numbers. Cute. He has to hurt people's livelihoods because of math. There's nothing he can do. MATH!
3:39 PM — "Democrat governors." That Koch training paid off.
3:40 PM — This guy is dragging his feet. Tell us about the crank call! Or tell us why Palin won't respond to questions about why "Lou Sarah" was registered under her e-mail! Either one!
3:44 PM — This is boring and Wisconsiny so far. We're going to stare at this for a while.
3:46 PM — Hmm, didn't mention the prank call. Anybody have any questions?
3:47 PM — "I talk to a lot of people on the phone." Haha. But he's making the Kochs feel less special, so they will fire him.
3:48 PM — CNN already cut away. Well, this was one of the lamest liveblogs ever.
3:50 PM — Look, Scott Walker will talk to anybody on the phone. Anybody. Even prank callers. So he's saying all those protestors milling about should take out their phones and notify his office their refrigerator running? Sounds good. Answering prank calls is more important than governing. Uh, liveblog over? Sorry.
3:51 PM — Inevitable title change to "Non-Apology."