Liz Warren: BAD GRANDMA! Says Gun-Humping Garbage Person Dana Loesch
Feminininism
January 15, 2020 04:22 PM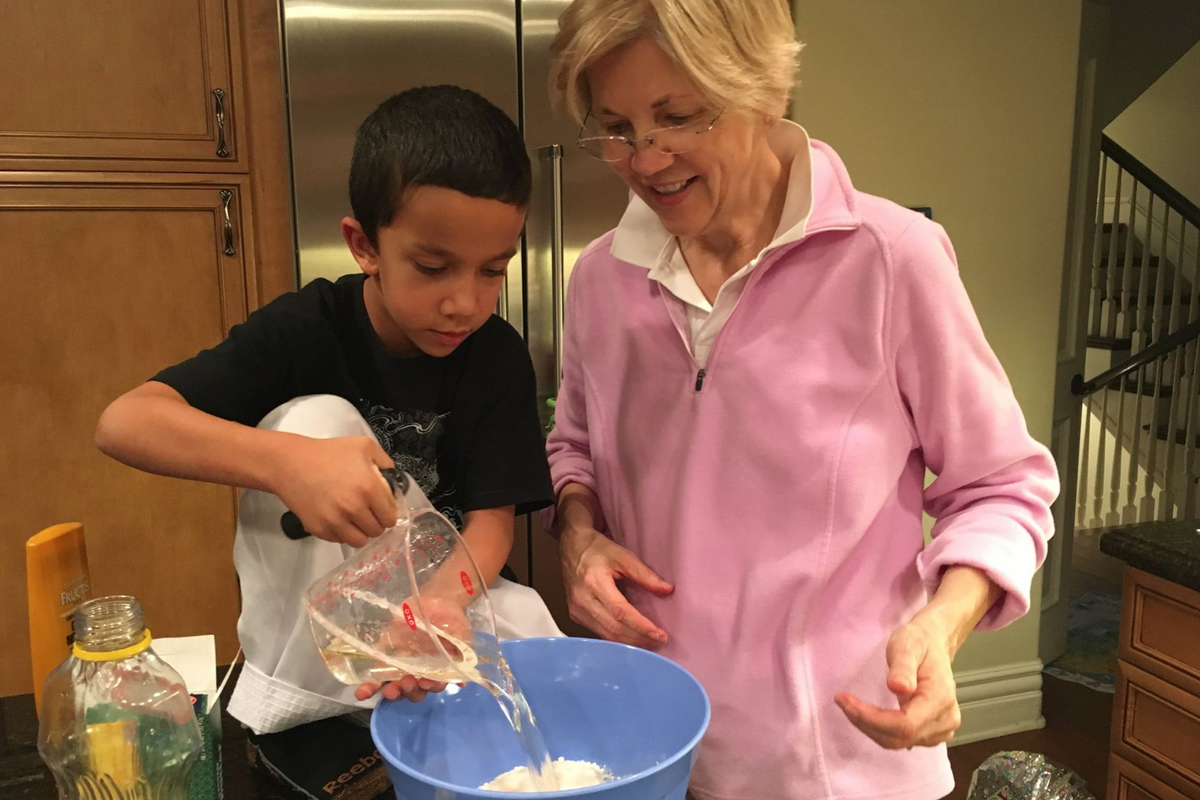 Dana Loesch, former NRA shill and former owner of a human soul, posted something awful on Twitter Tuesday. Decent people usually delete tweets this bad and claim their account was hacked. I saved a screenshot just in case, but this is Dana Loesch we're talking about so I'm probably being overly cautious.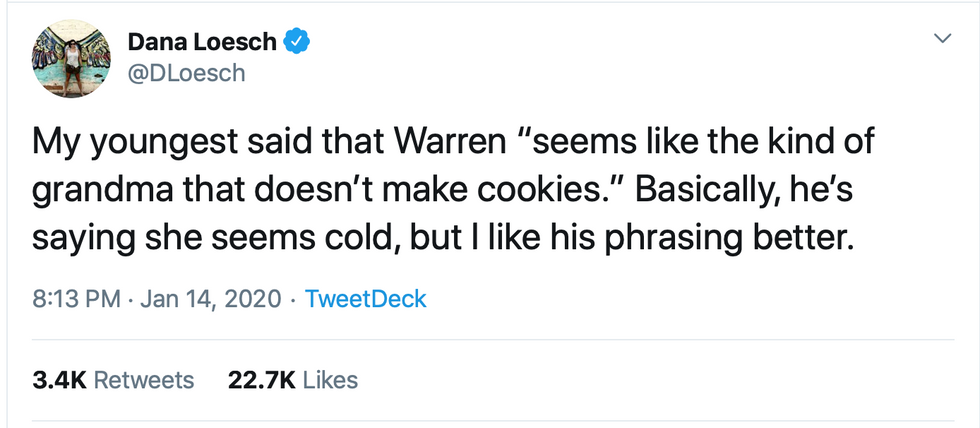 Middle finger extendedTwitter
Yeah, so uh ... screw you, lady. This is now your open thread.*
OK, fine, I should probably take the time to dissect this walking corpse of misogynistic sentiment. Loesch claims her youngest son looked at Elizabeth Warren, US senator and presidential candidate, and only saw a grandmother, and not just a grandmother, but a half-assed, child-hating one at at that. That's Loesch's interpretation, though. Children aren't known for making statements so complex you have to carefully explicate the text. It's not a comparative literature exam. It's possible the kid saw Warren on TV without an apron and because his own grandmother only makes cookies while wearing an apron, he concluded Warren wasn't dressed for successful cookie making. There's no reason she should be because she's not a contestant on "The Great British Bake-Off." She's running for president. No one on the debate stage last night looked prepared to whip up some snickerdoodles.
*This is not actually your open thread.
---
Loesch was in high school when Hillary Clinton was prosecuted for her insufficient baking skills during the 1992 presidential election. Americans were concerned that a woman with a career and a tight headband might not make the best Donna Reed-style first lady. The media declared her a "controversial" figure when she made a comment that seemed dismissive of small, flat raised cakes.
Hillary Clinton on "baking cookies" www.youtube.com
If you're only aware of today's more responsible media soberly examining the intricacies of Clinton's email server maintenance, it'll surprise you to know that the shit got so bad that Clinton ended up submitting a recipe for oatmeal chocolate chip cookies to Family Circle magazine. She conclusively proved she was human and the public never unfairly criticized her again.
It's almost 30 years later, and Warren, who's not even running for first lady, is getting cookie smeared. Loesch equating a willingness to bake with personal warmth is sexist garbage. There are perfectly decent women who don't make cookies. That's why Girl Scouts exist. There's no corresponding domestic task that Loesch's child could apply to a male candidate. Does Joe Biden "seem like the kind of granddad who doesn't curse in front of the TV when his team loses the big game"? Does Bernie Sanders "seem like the kind of granddad who doesn't give his adult grandchildren $10 in cash for their birthdays"? We'll never know because no one asks such silly questions.
Elizabeth Warren seems like an awesome grandmother, not that it's relevant to the job she's seeking. As long as she doesn't lure children to her gingerbread house, she has my vote over the rest of the Democratic field and certainly Donald Trump. Dana Loesch is hot garbage, and her sons deserve a better role model.
Follow Stephen Robinson on Twitter.
Yr Wonkette is supported entirely by reader donations, and this month we doubled our number of mouths to feed! Please click the clickie, if you are able!
Stephen Robinson
Stephen Robinson is a writer and social kibbitzer based in Portland, Oregon. He writes make believe for Cafe Nordo, an immersive theatre space in Seattle. Once, he wrote a novel called "Mahogany Slade," which you should read or at least buy. He's also on the board of the Portland Playhouse theatre. His son describes him as a "play typer guy."