Loopy Sharron Angle Will Take Harry Reid's Senate Seat With Anime Porn: Your Senate Sunday
Elections
June 12, 2016 12:03 PM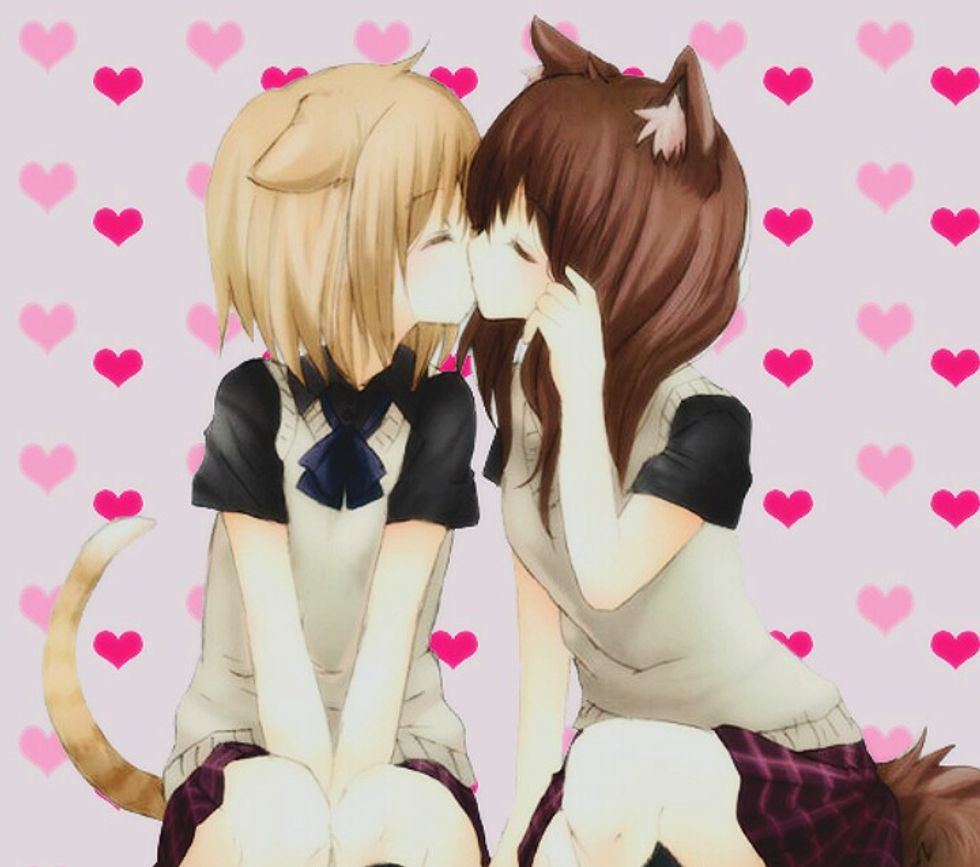 What, you'd rather see a photo of Sharron Angle?
---
Nevada may never be as crazy as Florida or Texas, but you have to admire how the Silver State keeps itself in the running with politicians like Michele Fiore and "colorful" seditionists like the Bundy family. To help keep the state's reputation for weirdness up, tea party nutbag Sharron Angle, out to lose a second bid for the U.S. Senate, has come through once again just before Tuesday's primaries. In an online newsletter (and a dead-trees version mailed to voters) last week, Angle's campaign accidentally listed the wrong website for the frontrunner, U.S. Rep Joe Heck. Instead of his real campaign website URL, drjoeheck.com, the newsletter encouraged voters to check out "joeheck.com," which immediately redirected browsers to an anime porn site. Oopsies! For the sake of journalistic thoroughness, we checked the URL, and today it redirects to plain old human-being porn. We can't help but feel a little cheated, if only for the sake of screenshots that might have been.
The Angle campaign quickly corrected the URL in the online version of the newsletter, but didn't do a second mailing. And in the best Party of Personal Responsibility fashion, the campaign blamed the opponent for the error:
"The campaign has absolutely nothing to do with this domain, and sincerely apologizes for this printing error, as the Heck campaign has changed their web address a number of times," the statement said. According to Heck's campaign manager Brian Baluta, past Heck campaigns have used only two domains: drjoeheck.com and heck4nevada.com.
"The Angle campaign has been spreading misinformation to voters and unfortunately this is only the latest, ridiculous, dirty trick," Baluta said in an email Thursday.

The beautiful thing is that with Sharron Angle, incompetence is every bit as credible an explanation as malice. This is, after all, the goofball who lost to Harry Reid in 2010 after suggesting "Second Amendment remedies" might be necessary if the Tea Party didn't save America through the ballot box. Even with Sen. Reid retiring this year, Angle isn't given much of a chance by political experts this time around, since Joe Heck is an actual congressman with national funding, a competent campaign staff, and party backing. Unlike in 2010, Angle's not running against a marginally more crazy person, Sue Lowden, who said we don't need Obamacare because in olden times people could barter a chicken for a doctor's visit. This time out, Angle's perceived as the wacko one.
On the Democratic side, former Nevada Attorney General Catherine Cortez Masto is virtually guaranteed to take the primary, although there are three other Democrats in the race as well. No one's paying any attention to them, honestly.
In addition to her praise of Second Amendment Remedies -- which she never actually explained or retracted; she just refused to answer questions about the comment -- Angle had several other fine moments during the 2010 campaign. Let's remember, shall we?
Since gladdening the dark cold hearts of political bloggers by announcing her 2016 campaign, Angle has also explained that she's exactly like George Washington and the biblical warrior Gideon rolled into one. She was confident that if "8000 warriors" bought signed paperback copies of her dumb self-published book at $125 a pop, she could easily match Rep. Heck's campaign. Sadly, that campaign page, designed to look a lot like a GoFundMe site, shows exactly two copies sold. Which is where it was back in March when she announced the bargain. After Tuesday, we might ask her if she'll take a buck and a quarter.
Angle's campaign newsletter, even with the corrected URL for Heck's website, is a dandy, including the claim that Obamacare mandates health insurance for pets (as best we can tell, that claim originated with Weekly World News, and not even Snopes has bothered debunking it). Angle considers it important enough to mention at least twice, in the text and in this charming if too-tiny to read cartoon: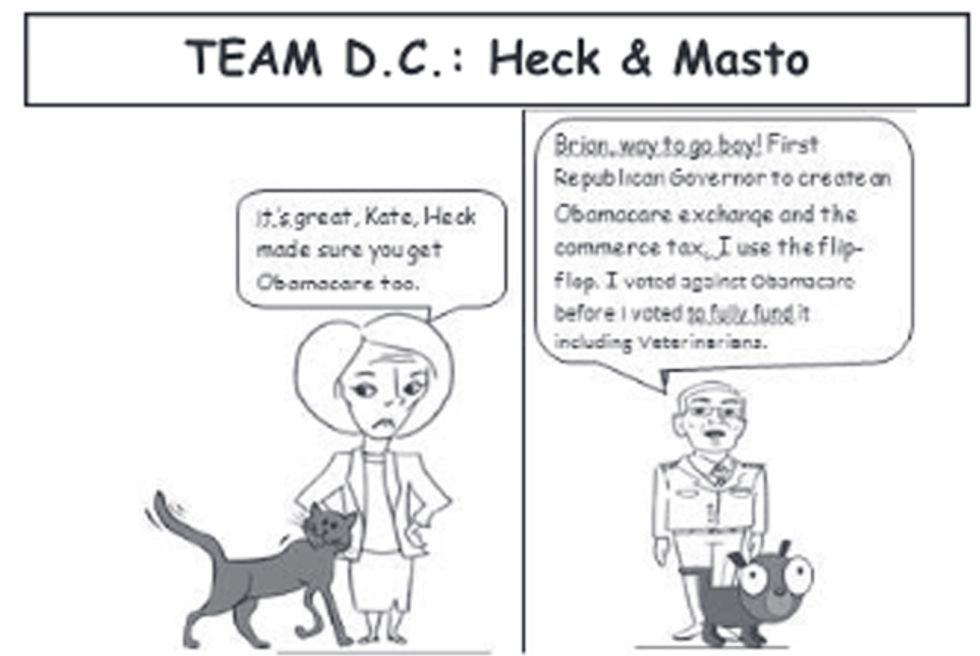 Bad caricature of Catherine Cortez Masto: It's great, Kate, Heck made sure you get Obamacare too. Bad caricature of Joe Heck: Brian [Sandoval], way to go boy! First Republican Governor to create an Obamacare exchange and the commerce tax. I use the flip-flop. I voted against Obamacare before I voted to fully fund it including veterinarians.

We sure hope Angle paid the 8th-grader who did that a fair market rate. Also, in what looks like an attempt to revive the excitement of the people in chicken costumes who dogged Sue Lowden in 2010, Angle has hired a couple of people to follow her around in parrot costumes, because the mainstream Republicans and Democrats simply parrot each other, that is SO FUNNY!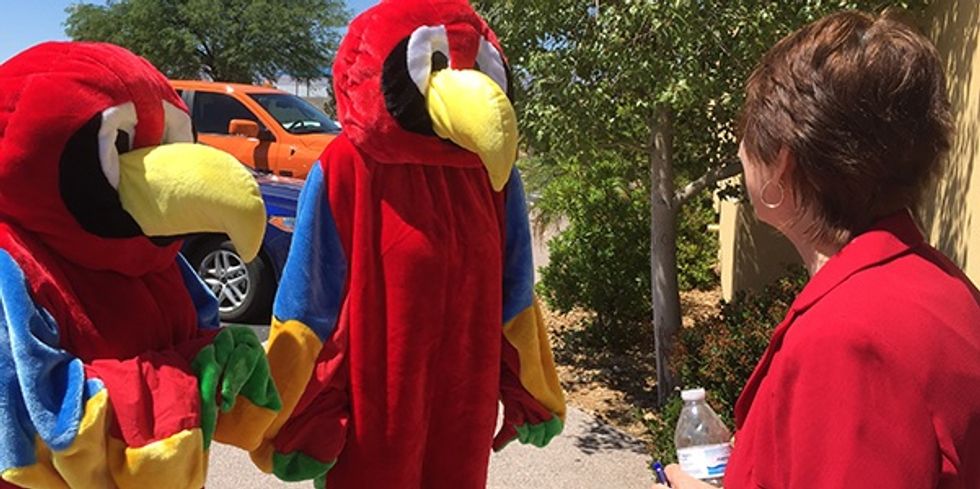 As for Joe Heck, he's your bog-standard Republican conservative, with the small government and the cutting regulations and the strong national defense. He's a brigadier general in the Army Reserve, which is why the bad cartoon above has him in a uniform. He appears to have had such an unremarkable career in the House that Wonkette only noticed him that one time when his son sent a whole bunch of homophobic, racist Tweets, and the congressman appropriately condemned them, so good on him there. He will also never live down the time he called Social Security a "pyramid scheme," no matter how many clarifications he issues. Nevadans, tell us more about this guy in the comments, which we do not allow.
The leading Democrat, Catherine Cortez Masto, could become the first Latina elected to the Senate, so Nevada has a chance to make some history this year, or elect another white guy. Cortez Masto is running a mainstream liberal campaign, calling for an increase in the minimum wage, pay equity for women, overturning the Citizen's United decision, access to reproductive healthcare, and, in case you're wondering today, universal background checks for gun purchases. Like any purple-state Democrat, she emphasizes that she and her husband are both gun owners while also advocating for steps to decrease gun violence, which gets her a "C" rating from the NRA She's also been targeted by the Koch Brothers and by a radical anti-abortion Super-PAC that accuses her of trying to abort all the Hispanic babies, which means she must be doing something right.
Jon Ralston -- Nevada Journalism God or mainstream hack, depending on which side of the Nevada Democratic Convention clusterfuck you come down on -- rated the race a tossup last year, but that was well before the Republicans had chosen a presidential candidate. That could make a YOOGE difference. With Donald Trump at the top of the Republican ticket, Cortez Masto stands to benefit from some very engaged and enraged Hispanic voters, a vital voting bloc in Nevada. If she's really lucky, Trump might even decide to say something nasty about her.
Nevada's going to be close. Want to help Catherine Cortez Masto flip the Senate back to a Democratic majority? Here's her ActBlue donation page! Want to help Yr Wonkette drink our way through the remaining 20 weeks and 20 Senate races in 2016? You can help us out here!
[Las Vegas Review-Journal / Sharon Angle for U.S. Senate / Ralston Reports / USA Today / ThinkProgress]