These Louisiana State Troopers Even More Violently Racist Than You Might Expect, Allegedly!
Cops
March 15, 2021 11:00 AM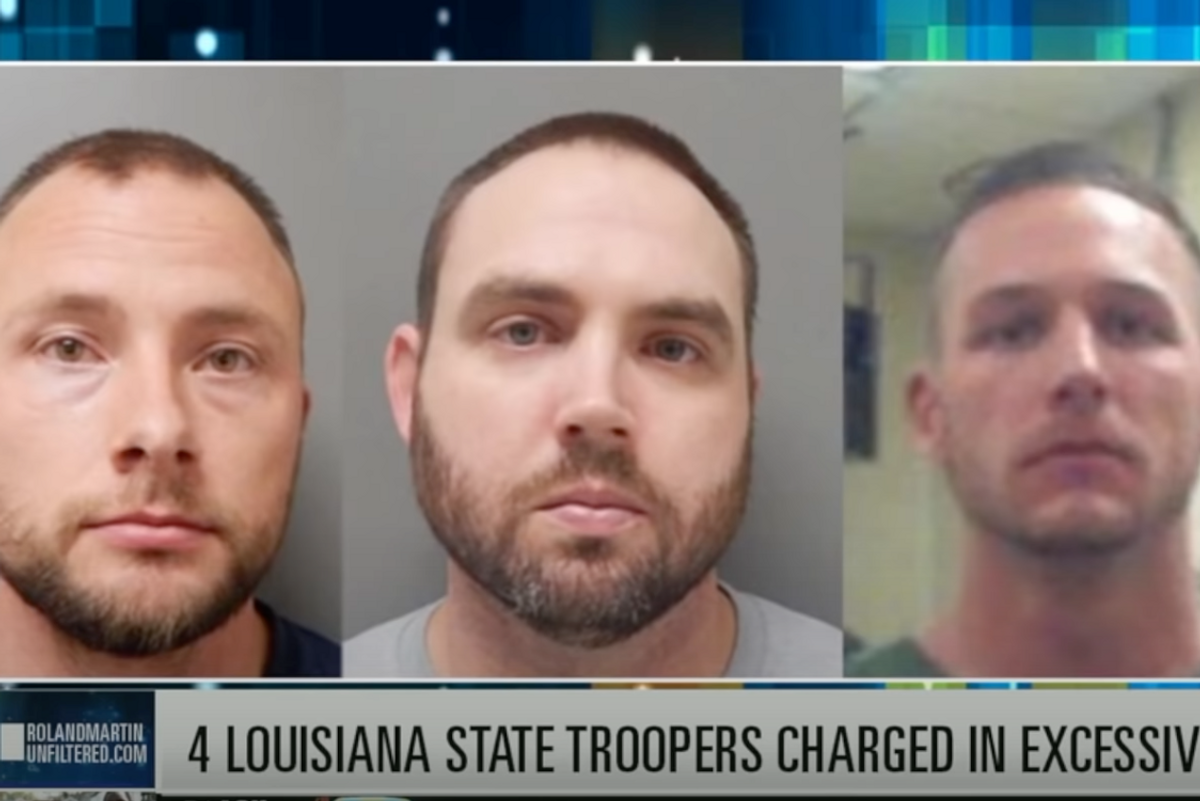 Last year, four Louisiana State Police troopers brutally beat a Black man named Antonio Harris who'd surrendered after a high-speed chase. Court filings released last month reveal that the F Troop Troop F officers bragged about the beatdown in a group text like gangsters who don't mind incriminating themselves over the phone.
"He gonna be sore tomorrow for sure," trooper Jacob Brown group-texted his colleagues in May, the filings allege.

"He's gonna have nightmares for a long time," trooper Dakota DeMoss allegedly said of what unfolded in Franklin Parish, La.

"Warms my heart knowing we could educate that young man," Brown replied.
Yeah, these guys sound like psychopaths. The four white officers — Jacob Brown, Dakota DeMoss, George Harper and Randall Dickerson — were arrested and charged with excessive force, lying about multiple arrests, and turning off their body cameras. Brown and Dickerson are separately charged for a 2019 traffic stop in Ouachita Parish where they handcuffed a driver they suspected was in possession of drugs. They switched off their body cams and went to work on him. They later claimed the driver resisted arrest, which was a lie.
---
Brown was also charged with beating another Black man senseless during a traffic stop. Brown's body camera, which he kept on this time, showed him striking Aaron Bowman in the head with his flashlight. Brown struck Bowman 18 times in about 24 seconds. Bowman's attorney Donecia Banks-Miley claimed he "suffered from ten stitches, fractured bones, broken ribs, fractured arm and was taken to the hospital where he was left." Bowman was arrested days later for charges of improper lane usage and resisting arrest, which sounds like bullshit to us!
All these arrests for assaulting citizens finally caught up with Brown, who resigned Wednesday. God forbid the police ever proactively terminate an employee.
Here's what happened on May 23, 2020, just a few days before George Floyd was killed in Minneapolis: According to court records, Antonio Harris was drifting between lanes on Interstate-20 in Richland Parish, Louisiana, around 5:30 p.m. Brown pulled him over and discovered Harris was driving with a suspended license and multiple warrants for firearm violations. Let's assume Brown isn't lying. Harris fled the scene, which led to a 29-mile chase that lasted 14 minutes. Speeds reportedly reached 150 mph. Harris was driving a Hyundai Sonata, so I find that claim suspicious.
Police used a "tire deflation device" to drive Harris off the road. As soon as he left his souped-up Hyundai, Harris surrendered and "laid face down (prone) on the ground and extended his arms away from his body and his legs spread apart." There was no need for violence. They could just arrest him. But the officers weren't interested. They were pissed off.
Records show that DeMoss "delivered a knee strike" and slapped Harris in the face. Next up, Harper pummeled Harris several times in the head with a flashlight (according to police speak, this was a closed-fist punch "reinforced" by a flashlight). DeMoss and Harris had both obstructed their body cameras.
When Brown showed up, he switched off his body camera's audio, before allegedly kneeling down and pulling Harris by his hair.
"I am going to punish you," Harper said to Harris in an expletive-laden tirade, according to court records.
No, it's "serve and protect," not "punish and enslave." Punishment is what happens after conviction in a trial with a jury. Harper is shaky on the specific role he plays in the criminal justice system.
Harris was arrested for multiple seemingly legitimate charges, but the troopers manufactured a resisting arrest charge to justify their own criminal assault. An internal investigation determined that "at no time did Mr. Harris resist arrest."
The group texts where the troopers brag about beating another human being are horrific. It's gang culture.
According to the records, Brown laughed and DeMoss suggested that Harris was "still digesting that 'a-- whoopin.' "

"BET he won't run from a full grown bear again," Brown texted.

DeMoss went one step further: "Bet he don't even cross into LA anymore."

"He gonna spread the word," Harper responded.
The troopers sound like they're from the Jim Crow era, but they're all under 35. If this is the next generation of law enforcement, Black people have every reason to continue kneeling in protest.
Follow Stephen Robinson on Twitter.
Yr Wonkette is 100 percent ad free and supported entirely by reader donations. Please click the clickie, if you are able!
Stephen Robinson
Stephen Robinson is a writer and social kibbitzer based in Portland, Oregon. He writes make believe for Cafe Nordo, an immersive theatre space in Seattle. Once, he wrote a novel called "Mahogany Slade," which you should read or at least buy. He's also on the board of the Portland Playhouse theatre. His son describes him as a "play typer guy."