Lucky Japan Tapped To Pick Up Trump Campaign Finance Tab
Everywhere Else News
October 15, 2018 08:23 AM
Hey remember that fun time last year when Donald Trump mauled Japanese Prime Minister Shinzo Abe in the Oval Office? After Commander Cultural Sensitivity bear-hugged Abe in greeting -- TWICE -- Trump pulled that stupid handshake shit that he thinks makes him look dominant.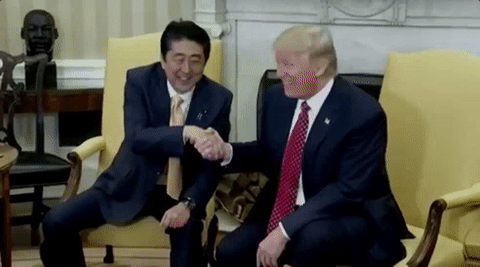 media0.giphy.com
And then they all headed down to Mar-a-Lago to discuss top secret business on the lanai. (Did these people never watch Fletch?)

---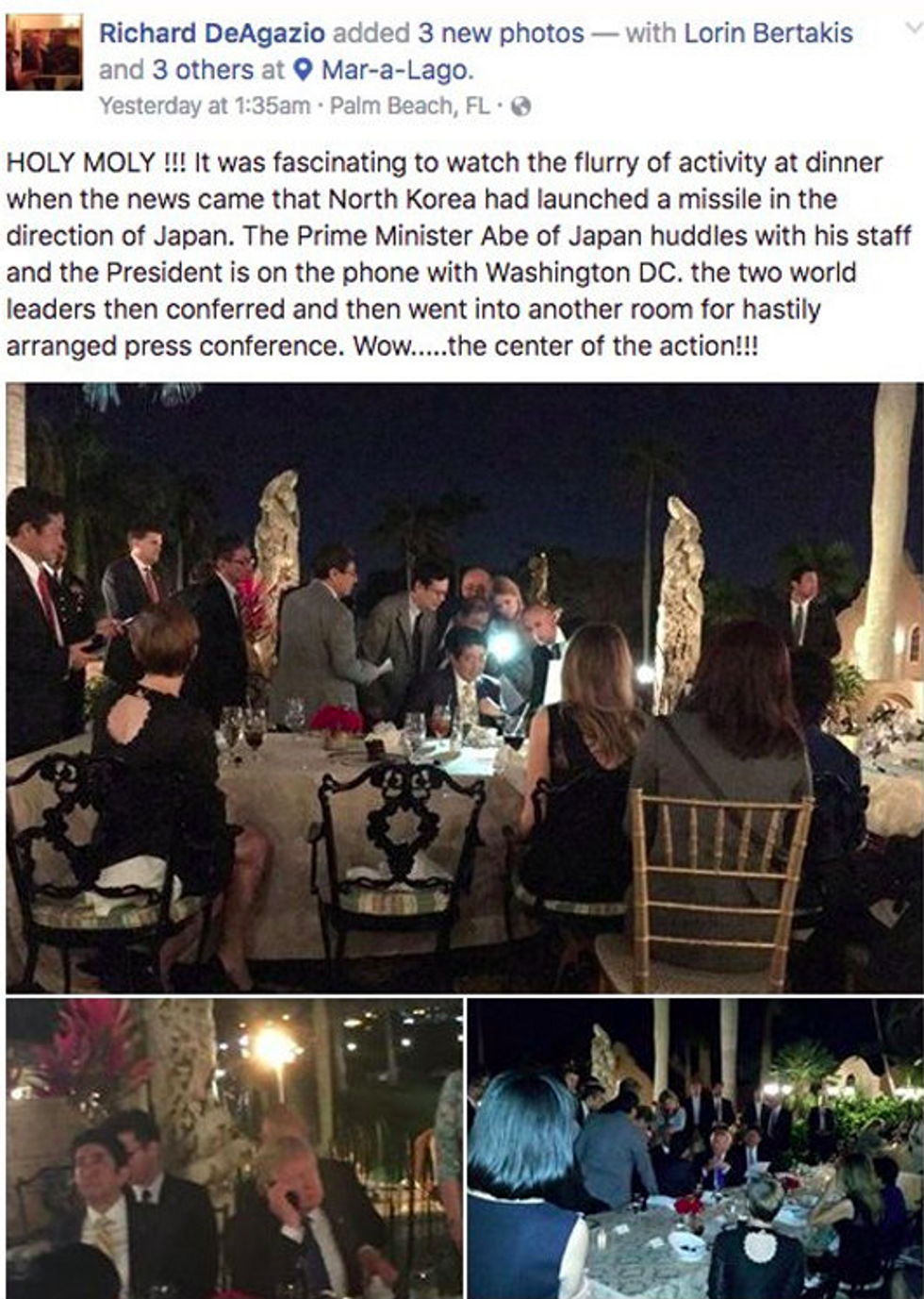 Oh, God, the humiliation! BUT WAIT, THERE'S MORE!
Because ProPublica and WNYC are out with yet more horrible shit from Abe's visit to Trumpland. Apparently, Donald Trump hit up the Japanese prime minister to grant a massively lucrative casino license to GOP mega-donor Sheldon Adelson's Las Vegas Sands Corporation. Which seems only fitting, since Adelson did Trump a solid and forked over $20 million to get Trump elected and then another $5 million for the best attended inauguration ever, period.
Last year, Japan's Diet ditched its longstanding prohibition on legal gambling and made plans to grant three companies the exclusive right to operate casinos in the country. Each concession is potentially worth $25 billion per year, and Sheldon Adelson has referred to them as "the holy grail." Lucky for Adelson, he's got craven whores in high places. ProPublica reports,
Adelson had a potent ally in his quest: the new president of the United States. Following the business breakfast [with Adelson and other casino magnates], Abe had a meeting with Trump before boarding Air Force One for a weekend at Mar-a-Lago. The two heads of state dined with Patriots owner Bob Kraft and golfed at Trump National Jupiter Golf Club with the South African golfer Ernie Els. During a meeting at Mar-a-Lago that weekend, Trump raised Adelson's casino bid to Abe, according to two people briefed on the meeting. The Japanese side was surprised.

"It was totally brought up out of the blue," according to one of the people briefed on the exchange. "They were a little incredulous that he would be so brazen." After Trump told Abe he should strongly consider Las Vegas Sands for a license, "Abe didn't really respond, and said thank you for the information," this person said.
And surprise, surprise, Trump's none-too-subtle nudge seems to have paid off! Abe returned home and hustled the casino bill through the Diet. And Adelson got ready to reap the rewards of his investment in Donald Trump. The $1.2 billion windfall from the GOP tax scam was just an appetizer. Sands shareholders were about to get a ticket to a never-ending buffet.
Adelson has told his shareholders to expect good news. On a recent earnings call, Adelson cited unnamed insiders as saying Sands' efforts to win a place in the Japanese market will pay off. "The estimates by people who know, say they know, whom we believe they know, say that we're in the No. 1 pole position," he said.
That's nice. So, let's just do a little back of the envelope math here, shall we? Let's say that Adelson spent about $200 million to support Republican fuckery since 2016, between the $85 million spent on candidates last cycle, $5 million for the inauguration, and possibly another $100 million in 2018. He's already gotten a billion in tax benefits, and he's about to get a concession that generates $25 billion EVERY SINGLE YEAR. So in year one, that works out to a 13,000 percent return on investment. Not too shabby!
Forget the construction costs. He'll write all that off anyway. For that kind of money, the GOP will let him write the tax bill himself.
SWAMPY SUMBITCHES!
Follow your FDF on Twitter!
So much fuckery, and it's only Monday! Click here to keep your Wonkette snarking all week long!
Liz Dye
Liz Dye lives in Baltimore with her wonderful husband and a houseful of teenagers. When she isn't being mad about a thing on the internet, she's hiding in plain sight in the carpool line. She's the one wearing yoga pants glaring at her phone.