Madison Cawthorn Allegedly Overwhelmed By Washington Cocaine And Orgy Invites
Congress
March 28, 2022 12:07 PM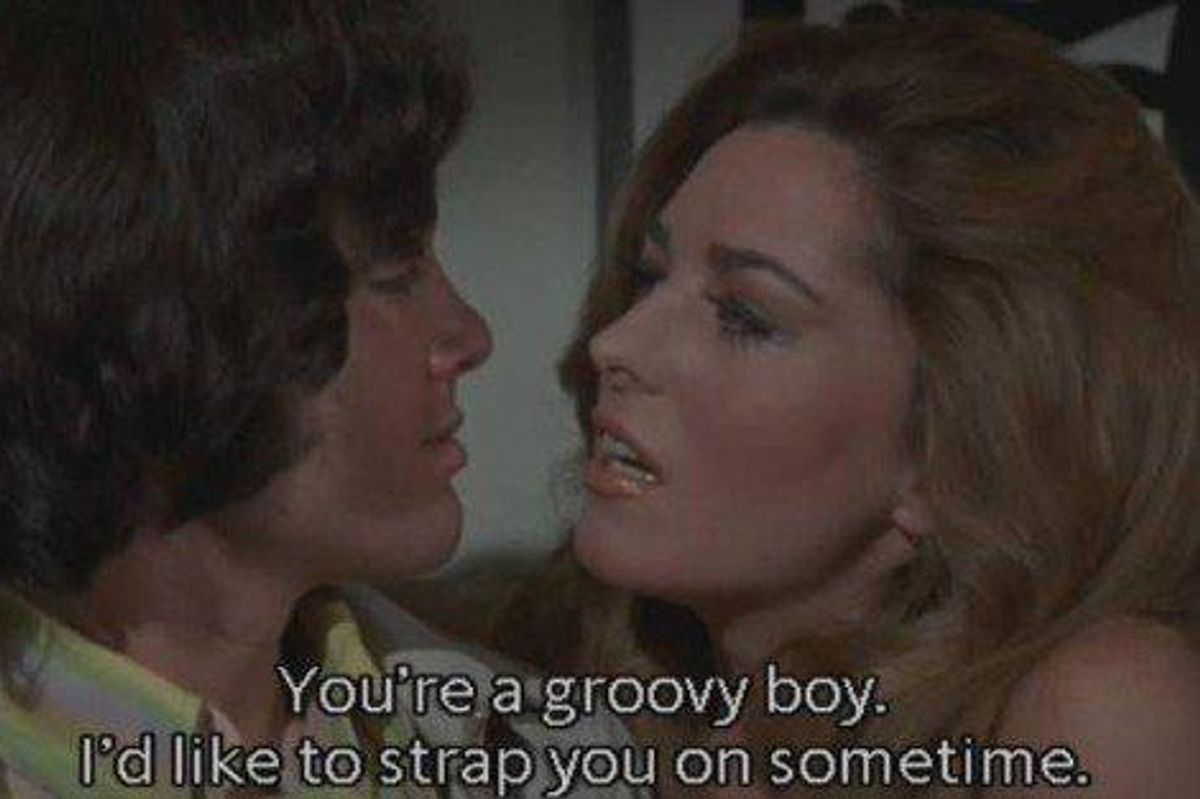 Beyond The Valley Of The Dolls
In a recent interview with something called the "Warrior Poet Society" podcast, GOP Rep. Madison Cawthorn shared some of his thoughts and experiences on his first year in office. These experiences included, he claims, seeing people he'd previously admired doing key bumps of cocaine and inviting him to orgies.
When asked by host John Lovell if it it made him think "House Of Cards" was particularly fictitious or "more like a documentary," Cawthorn responded by quoting "someone who was president in the 1990s" as having said, "The only thing that isn't accurate about that show is that you could never get a piece of legislation about education passed that quickly."
That president, by the way, was Bill Clinton. Weird how he didn't mention that.
---
"The sexual perversion that goes on in Washington ... being kind of a young guy in Washington where the average age is probably 60 or 70, I look at all these people, a lot of them that I've looked up to through my life, I've always paid attention to politics," Cawthorn said. "Then all of the sudden you get invited to, 'Well hey, we're going to have kind of a sexual get-together at one of our homes, you should come.'"
For what it's worth, that seems like a terrible and awkward way to invite someone to an orgy. "Kind of a sexual get-together?" Really?
"I'm like, 'What did you just ask me to come to?'" Cawthorn added. "And then you realize they are asking you to come to an orgy."
He then noted that some of the people who are "leading on the movement to try to remove addiction in our country, you watch 'em do a key bump of cocaine in front of you."
Shocking!
Cawthorn also told Lovell that working in Washington was the worst job, saying, "I never want to go to that close to the Mason-Dixon line."
It seems worth noting that the man complaining about all of this "sexual perversion" in DC has been accused of sexual harassment and/or assault, according to an extensive BuzzFeed News investigation, by a number of women who attended Patrick Henry College with him. It is also worth noting that Patrick Henry College is in Virginia, which is below the Mason-Dixon line. It's almost as if this is not an issue of geography.
Cawthorn's naivete really came through later in the interview, however, when he noted that Republicans had wanted to repeal Obamacare without saying what they wanted to replace it with. Of course they didn't, because the whole point was that they wanted to go back to the way things were before. The only plan the right has ever offered for healthcare that wasn't "Why change anything?" was mandates. It was Obamacare. If you go back to Ted Kennedy and Richard Nixon, Kennedy wanted single-payer and Nixon wanted mandates (for employers, and for those not eligible for insurance through their employers to be able to buy into Medicaid). In the 1990s, when the Clintons were pushing for single payer, conservative groups like the Heritage Foundation offered mandates as an "alternative." Then Barack Obama came around and said "Okay, fine, you like mandates? We'll do mandates! Isn't that great? After all these years, you win, we'll do it your way! Let's celebrate this lovely compromise together!" Naturally, the entire right flipped out and claimed to have never heard of this crazy "mandate" thing.
It says something that Cawthorn thinks that there was gonna be any alternative. Obamacare was just going to go away and we'd go back to the previous system where kids lost their parents' insurance as soon as they left school instead of at 26, and insurance companies could refuse to cover pre-existing conditions.
The grand irony with Cawthorn is that he truly does not seem to fully comprehend what it is Republicans are about, at all, for any reason. He's surprised that they're doing cocaine while being publicly anti-drug, without understanding that they never meant for those rules to apply to them in the first place. They were never supposed to. It was always just a convenient way of throwing poor people, particularly poor people of color, in prisons. We can assume that the people he admires who have (allegedly) invited him to these orgies are outspoken against LGBTQ+ people, sex education in schools, and insurance that covers birth control. Meanwhile, they probably love a good purity ball. Because he probably wouldn't admire those who didn't.
Cawthorn calls them RINOs, but they're not RINOs. Quite frankly, you don't get more Republican than that.
Do your Amazon shopping through this link, because reasons.
Wonkette is independent and fully funded by readers like you. Click below to tip us!
Robyn Pennacchia
Robyn Pennacchia is a brilliant, fabulously talented and visually stunning angel of a human being, who shrugged off what she is pretty sure would have been a Tony Award-winning career in musical theater in order to write about stuff on the internet. Follow her on Twitter at @RobynElyse