Marco Rubio Condemning Chechnya's Torture Of Gay Men Is Actually Really Fucking Impressive
Russia
April 25, 2017 04:40 PM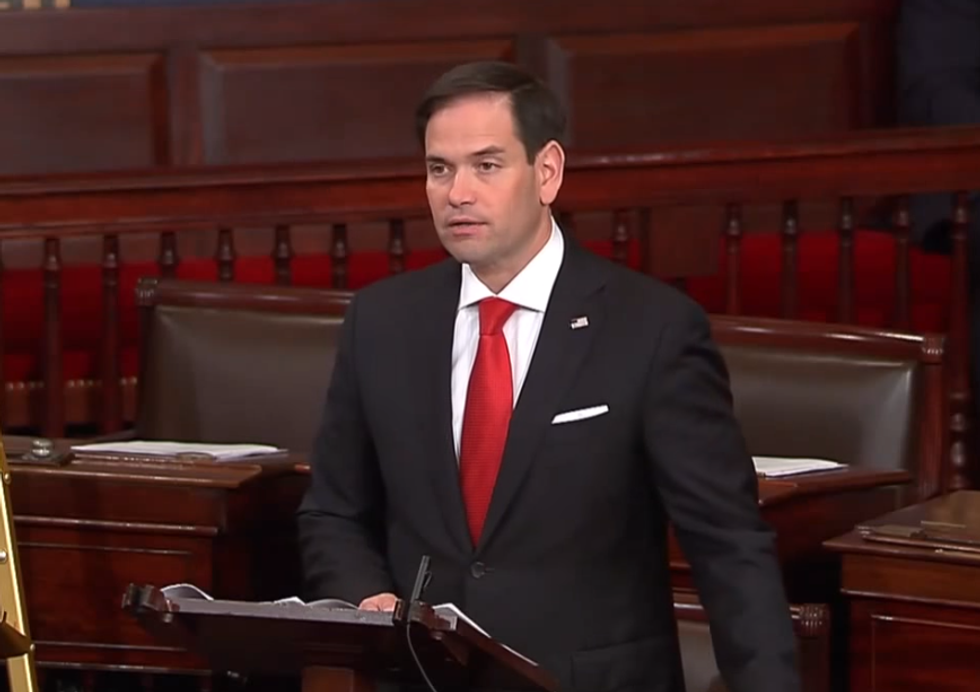 right about a thing!
---
At Wonkette, we like to be fair and balanced, and we like to say something when usually-bad people do actual good things. So today, we have Senator Marco Rubio, standing on the Senate floor, going all in condemning Chechnya for its brutal campaign against gay men. It's been reported that the Chechnyan government has detained over 100 men upon suspicion of being gay, "beaten and tortured" many of them, and reportedly killed four. Even worse, Chechnya's leader Ramzan Kadyrov reportedly wants to "eliminate" the gay community by the beginning of Ramadan (Friday, May 26). However, the Independent in the UK reports that the Chechen government, which is BFFs with Vladimir Putin, denies everything, with its interior minister saying those reports are an "April Fool's Joke" (HA! HA!) and one of Kadyrov's spokes-goons pulled a Mahmoud Ahmadinejad, saying his country doesn't even HAVE gross gays:
"If there were such people in Chechnya, law enforcement agencies wouldn't need to have anything to do with them because their relatives would send them somewhere from which there is no returning," Alvi Karimov said.
Honor killings! HA HA! As the Independent notes, Putin's government is going along with the Chechen government denying that any of this is taking place, because Putin's government is full of lying, amoral pieces of shit.
Anyway, let's watch Marco Rubio's floor speech! Some might complain that he's only doing this because WARHAWKS! patriots in the United States are pissed at Russia for ALLEGEDLY! actually fucking around in our 2016 American election, and you know what? We don't care why he's saying it, we care that he is saying it.
We will transcribe it for you, because A) We are service-y like that and B) Rubio provides a lot of detail about what's really going on:
The Chechen government's brutal campaign against #LGBT people and others over the last several weeks is horrific. #expressionNOToppressionpic.twitter.com/u4egfhUMWp

— Senator Rubio Press (@SenRubioPress) April 25, 2017
... I would like to highlight the horrific reports on the pro-Russian Chechen government's brutal campaign against LGBT people and others over the last several weeks. Human Rights Watch recently reported, "law enforcement and security agency officials, under the control of the ruthless head of the Chechen Republic, Ramzan Kadyrov, have rounded up dozens of men on suspicion of being gay, torturing and humiliating the victims." There are quotes that at least 100 men have been arrested, at least three men have been reportedly been killed since the campaign began. Chechen LGBT individuals, as well as those just suspected of being gay, have been taken to unofficial secret detention facilities, where they have endured heinous abuses.

They also face the danger of honor killings committed by their own relatives.
Rubio then quoted the thing we pasted above, with the Chechen spokes-ass saying his government doesn't even have to worry about all the gays, because their families will just honor-murder them anyway.
Rubio continued:
Unfortunately this is not a new reality for those living under the brutal tyranny of the Chechen leader, who by the way happens to be a loyal ally of Vladimir Putin. There have been reports in the past of similar abuses, although these reports seem to be the most brutal and should provoke anger in all of us. We should never, ever tolerate human rights violations against any person for their political views, their religious beliefs, their sexual orientation.

According to reports today, the Russian foreign minister [Sergey] Lavrov said that Russian officials have not seen information to confirm the reports. Additionally, Putin's spokesman said, "We have no reason not to trust the head of the republic" -- talking about the Chechen Republic -- "until there are actual complaints in this regard. Not abstract, anonymous, but actual complaints."

Well, the actual complaints are all around us. They have been well documented in publications throughout the world, but instead, Vladimir Putin is choosing to prop up Kadyrov, the Chechen brutal dictator, and prop up his brutal regime instead of holding them accountable.

The United States and other responsible nations should do more to ensure that all people are protected, and those who harm them are held responsible. We should use our voice on the global stage to call attention to these horrifying acts and to ensure that they are condemned in an appropriate way, and ultimately in the hopes that they will be stopped.
MARCO RUBIO IS RIGHT ABOUT A THING, YOU GUYS. And he said the words "gay" and "LGBT" and "sexual orientation" and everything! What's gotten into him?
It should be noted that UN Ambassador Nikki Haley has also condemned what's going on in Chechnya in no uncertain terms, using specific phrases like "sexual orientation," and she doesn't seem to give a fuck if it chaps Vladimir Putin's puckered A-hole. (Or Donald Trump's, for that matter.)
So ... huh! We guess we're just glad things have moved far enough in the direction of full equality for gays and BLTs in America that Republicans are standing up for what's right in Chechnya. And like we said, we're just not sure we care if they're doing it for the wrong reasons, because if they manage to save lives, it's worth it.
Also, fuck Putin and his Chechnyan government bigot pals in their asses with a tightly rolled up copy of the U.S. Constitution.
Wonkette is funded by readers like you! If you like us, click below, to fund us!
[Independent / Towleroad]
Evan Hurst
Evan Hurst is the managing editor of Wonkette, which means he is the boss of you, unless you are Rebecca, who is boss of him. His dog Lula is judging you right now.
Follow him on Twitter RIGHT HERE.