Marco Rubio Is Total Loser, Should Definitely Be Republican Nominee
Elections
February 11, 2016 01:00 PM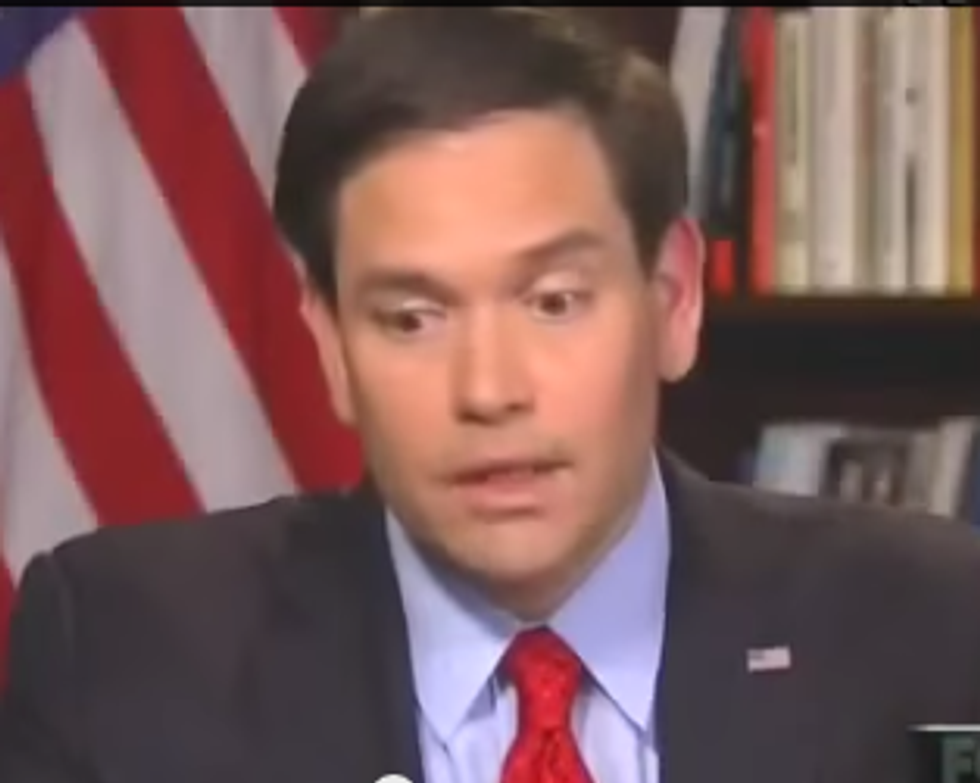 Uh ...
---
Marco Rubio is not very good at running for president. His impressive third-place win (that was sarcasm, by the way) in Iowa gave him the momentum to sweep fifth place in New Hampshire (more sarcasm), just behind Jeb "World's Saddest Loser" Bush, which doesn't make Rubio a strong contender for the Republican nomination, but does put him in the running for "World's Saddest Loser." (Not sarcasm.) As long as he keeps up that impressive streak, why, he just might be ... yet another loser who has to drop out of the race.
Or maybe the Republican Party could just, like, make him the nominee anyway please?
The best hope of the Republican establishment just a week ago, Marco Rubio suddenly faces a path to his party's presidential nomination that could require a brokered national convention.

That's according to Rubio's campaign manager, Terry Sullivan, who told The Associated Press that this week's disappointing performance in New Hampshire will extend the Republican nomination fight for another three months, if not longer. [...]

"We very easily could be looking at May — or the convention," Sullivan said aboard Rubio's charter jet from New Hampshire to South Carolina on Wednesday. "I would be surprised if it's not May or the convention."
Um ... yeah. That's not actually how it works. Even if the Republicans do end up with a brokered convention -- and please, baby Jesus, make it so, for our liberal media poops and guffaws -- you'd expect the powers that be to decide between candidates who've actually won some states. And not in that head-smacking eye-rolling "third is the new first" way. Like, actual literal first place. Which, according to our math, is just this side of NOT GONNA HAPPEN. We double-checked our math on the interwebs and everything.
But hey, if you can't beat 'em, well, guess you just hope they decide to let you win anyway? Since the party's current top picks are Donald J. Trump and Ted That Fucking A-Hole Cruz, Rubio's plan is to just keep saying that one line he's rehearsed and then pray The Establishment swoops in and coronates him as their best lesser of evils option.
Obviously, we love this plan. We think it is a very good plan. We encourage Rubio to keep getting bitch-slapped during debates, although someone else will have to step up to do it, since Chris Christie dropped out to spend more time with his nachos. We encourage Rubio to keep not winning states and to keep apologizing to his supporters for sucking. And we definitely encourage the party elite to do that whole brokered convention thing and cram Rubio down the Republicans' throats, for their own good.
Plus, we'd really love to watch Rubio sweat and stutter all over himself in a general election debate, and we figure any candidate -- Hillz, Uncle Bernie, heck even Jim Webb -- could make that happen.
Do that, Republican Party, please? Make Rubio your nominee, the will of the voters be damned. Real democracy is for dumb libtards anyway.
[AP]