Matt Lauer MAYBE Even More Of Gross, Rapist Assh*le Than We Thought, MAYBE
Media/Entertainment
October 09, 2019 12:01 PM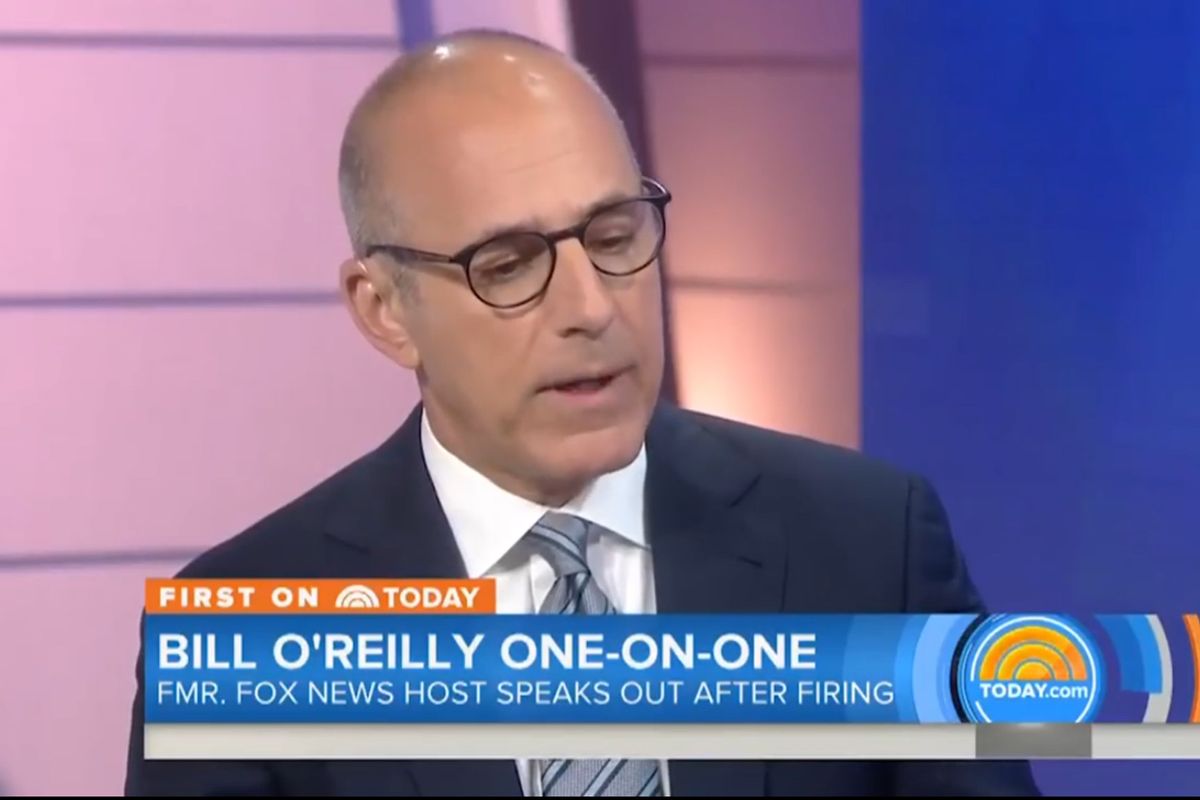 Matt Lauer was fired from the "Today" show in 2017 for what most believed was standard, gross sexual harassment. It wasn't an isolated incident or a misunderstanding but instead a pattern of perversion. NBC News chairman Andy Lack stated in a memo that the former morning anchor's "inappropriate sexual behavior" was a "clear violation of company standards." It turns out this was a tepid description of sexual assault, which violates more than just the "standards" of a network that aired "Abby." It's a goddamn crime.
Ronan Farrow's new book "Catch and Kill" features an interview with former NBC News employee Brooke Nevils. Her identity was kept private at the time, but it was her accusations that led to Lauer's swift dismissal. The full details weren't revealed until now and they're horrifying. Nevils claims that Lauer raped her in his hotel room during NBC's coverage of the 2014 Sochi Olympics.
Nevils used to work for former "Today" co-host Meredith Vieira, who Lauer also treated like crap. Lauer joined them while they were having drinks at a hotel bar. Nevils reportedly went back to Lauer's hotel room to retrieve her press credentials, which Lauer had taken from her as a "joke" (oh, that pervy prankster!). When he invited her back a second time, he got physically aggressive, kissing her and asking if she "liked anal sex." She turned him down multiple times, but he still forced himself on her sexually and you don't need a copy of Humanity for Dummies to understand that's rape.
---
This is Lauer's sorry-ass statement:
"In a new book, it is alleged that an extramarital, but consensual, sexual encounter I have previously admitted having, was in fact an assault. It is categorically false, ignores the facts, and defies common sense."
There are likely multiple witnesses who saw Lauer with Nevils on the night in question, so Lauer wants to hide behind the claim that it was a "consensual affair." You need to get out of the sex business completely if women are leaving their encounters with you believing they've been raped. Those are some fucking awful Yelp reviews.
I don't know why it "defies common sense" to believe Matt Lauer raped someone. A colleague claims he gave her a sex toy with an "explicit" note about how he planned to use it on her. Another woman accused him of summoning her to his office, dropping his pants, and exposing his dick to her like they were on the D train at 2 a.m. He also kept his office in a "secluded place" and had a creepy-ass, Bond-villain device installed on his desk so he could lock the door without getting up. Bearded men who drive unmarked vans are less repulsive.
TODAY Show Reacts to New Rape Allegations against Matt Lauer- 10-9-19www.youtube.com
Lauer better hope he never has to face his accuser in court, because her account is more believable and enraging than his callous dismissal. From Variety:

According to Nevils, she "was in the midst of telling [Lauer] she wasn't interested again when he 'just did it,'" Farrow writes. "Lauer, she said, didn't use lubricant. The encounter was excruciatingly painful. 'It hurt so bad. I remember thinking, Is this normal?' She told me she stopped saying no, but wept silently into a pillow." Lauer then asked her if she liked it. She tells him yes. She claims that "she bled for days," Farrow writes.

Nevils tells Farrow: "It was nonconsensual in the sense that I was too drunk to consent," she says. "It was nonconsensual in that I said, multiple times, that I didn't want to have anal sex."
The woman weeping silently from pain and shock might tell her assailant she "liked" what happened because she'll do whatever she thinks will make it end. That's hardly enthusiastic consent. Nevils was so terrified for her career that she continued a relationship of sorts with Lauer but that isn't exonerating. As she says, it was "transactional."
No longer hosting the "Today" show is a mild slap on the wrist for sexual assault.Wonkette knocked NBC in 2017 for not ending Lauer's reign of terror until he was literally accused of a violent felony. But overall, the media coverage of Lauer conflated sexual harassment with sexual assault. This happens way too often. Check out this ETOnline article from the distant past of yesterday.
Matt Lauer is having fun with his 16-year-old daughter, Romy.

The 61-year-old former Today show co-anchor has remained largely out of the public eye since getting fired from the NBC morning show in November 2017 for inappropriate workplace behavior, but recently made playful appearances in Romy's TikTok videos.
Lauer spent the past few years holed up in his massive Hamptons house. He's whined about his wife taking half "his" money in their divorce (good for her). He's even deluded himself about a possible return to television.
"Matt is furious he is essentially handing over half of his net worth to Annette," a source told Us Weekly when the news initially broke. "He could fight for a better deal in court but that would only result in dragging this out longer and negative headlines. He is ready to move on with his life and truly believes that a television comeback is possible."
Don't call it a comeback! He should be in jail for years. Part of NBC's severance apparently involved keeping quiet about Lauer's alleged criminal actions. The power Lauer wielded at NBC made it possible for him to exploit and abuse his victims. All the on-air apologies and statements about "workplace culture" doesn't change the fact that NBC has as much to answer for as Lauer. And I fear neither will ever truly be held accountable.
Follow Stephen Robinson on Twitter.
Yr Wonkette is funded ENTIRELY BY YOU. If you come here often, please think about joining the ONE PERCENT (of donors). Thank you, we love you. Payroll's due.
Stephen Robinson
Stephen Robinson is a writer and social kibbitzer based in Portland, Oregon. He writes make believe for Cafe Nordo, an immersive theatre space in Seattle. Once, he wrote a novel called "Mahogany Slade," which you should read or at least buy. He's also on the board of the Portland Playhouse theatre. His son describes him as a "play typer guy."