McDonald's Determines Blind Man Does Not Deserve Fries With That
Everywhere Else News
June 04, 2016 12:38 PM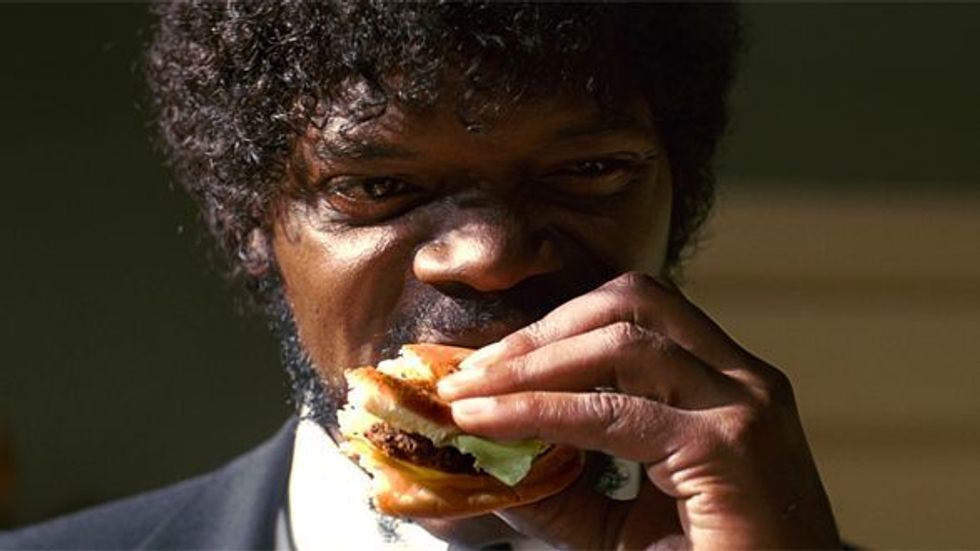 Remember that time the old lady spilled McDonald's insanely hot coffee in her lap and was awarded a multi-million dollar judgment? Then everyone freaked the hell out because who cares if the coffee was as hot as a thousand suns and she needed a bunch of skin grafts? Coffee is supposed to be hot and good Americans don't sue McDonald's. Then everyone got into Smashing Pumpkins and tort reform. Meanwhile, the poor woman settled on appeal for much less than millions.
---
Now a young blind man named Scott Magee is suing the Happy Meal purveyors because he refused to assimilate to drive thru culture and tried to use his legs to walk up to the unintelligible ordering speaker. McDonald's denied him his god-given right as an American to gorge on greasy trans-fats and experience overwhelming morning-after regret. Magee is suing McDonald's for a violation of the American With Disabilities Act.
The 35-year-old filed a class-action lawsuit Thursday in Chicago's federal court, alleging that Oak-Brook based McDonald's has no "concern whatsoever for the accessibility of the late-night drive-thrus to the disabled."
Typical. Isn't it just like a blind guy to attempt to take the "drive" out of drive thru? First SJWs want to let transgender people use the appropriate bathroom and now some blind pedestrian wants to inhale our exhaust while waiting behind us at McDonalds? Do people have any idea how distracting this will be?
McDonald's has yet to comment on the matter though I'm sure it will be couched in a whole bunch of nonsense about premises liability and how some maniac will come barreling into the drive thru line so he can beat the 1 a.m. curfew and crush some poor drunk sap whose lapse of food judgement appropriately surpasses his need to drive while intoxicated for the sake of convenience. Be careful what you wish for, pedestrians.
In an interesting twist, the Golden Arches is likely familiar with Mr. Magee's family.
Magee's brother Emmett, who is also represented by [attorney Roberto] Costales, last year sued Coca-Cola in Louisiana in a similar case about ["Freestyle"] soda machines [which allow customers to mix their own cocktails of soda flavors using a touch screen]. Though that case was thrown out, it is now being appealed.
Welp. The family that sues together, chews together.
Uber the latest morally corrupt (corporate) person to have Saudi sugar daddy
Seeking to diversify its portfolio, terrible Oil State "ally" Saudi Arabia just invested $3.5 billion in Uber. The Saudi Public Investment Fund's stake is reportedly the largest investment ever made in a private company. The amount might seem odd considering the Corporate Person insists it's just a regular old App and, in its words: Uber is not a transportation provider. No need to tip.
How cuddly! No wonder everyone loves them. Speaking of cuddly things people love, the Saudis are pumped to play a part in a key Uber priority - Middle East saturation.
Uber, which has viewed the Middle East as an important area in its expansion, said the investment further aligned the company with Saudi Arabia as the kingdom planned to transform its economy, reducing its dependence on oil and improving employment.
Be careful with the use of the word "employment," folks. Oh it's Saudi Arabia, so no big deal. And while Uber public relations corpsplained its intentions to foster social change in the conservative country, let's not go overboard.
"Of course we think women should be allowed to drive," said Jill Hazelbaker, an Uber spokeswoman. "In the absence of that, we have been able to provide extraordinary mobility that didn't exist before — and we're incredibly proud of that."

Still, Uber did not say that it planned to hire women drivers in the country, unlike in most other regions where the company operates.
Good job, good effort. In the end, sounds like navigating a little Sharia law is much preferable to dealing with American labor protections.
This Week In #Brands - dumb name here to save newspaper industry but not really
Tribune Publishing Company includes the Los Angeles Times and Chicago Tribune and it has been a rough few years for the crotchety corporate person. But never fear, venture capitalist tech bro Michael Ferro came to the rescue in February, becoming the company's largest shareholder. And as a venture capitalist tech bro, he has no need for a 100+ year old name that's fairly established in the world of newspapers. And luckily for Tribune, the company's new name doesn't seem to have anything to do with newspaper publishing. Clean slate!
Tronc, or Tribune online content, "is a content curation and monetization company focused on creating and distributing premium, verified content across all channels," the company says.
I'm so tronc-ing intrigued. Tell us more about our new Fourth Estate!
Ferro states, "Our transformation strategy – which has attracted over $114 million in growth capital – is focused on leveraging artificial intelligence and machine learning to improve the user experience and better monetize our world-class content in order to deliver personalized content to our 60 million monthly users and drive value for all of our stakeholders."
Anyone who reads the Chicago Tribune's editorial board is unlikely to confuse it with "world-class content," so maybe artificial intelligence is the way to go. Shoot, we're actually warming up to it. So any VC rainmaker looking to toss money around should get behind "wonc" - a dick joke curation and monetization commune focused on premium dick jokes and personalized deleted comments for our shareholders.