Mean Judge Sentences Pretty Blonde Lady to Prison for Bridgegate, UNFAIR!!!
News
March 30, 2017 01:43 PM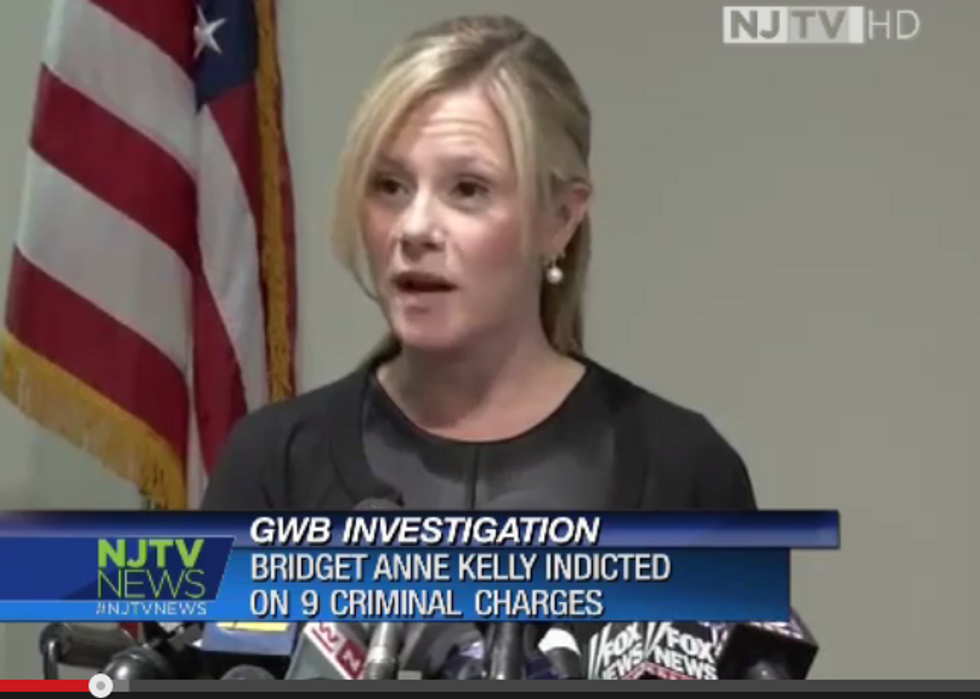 Listen up, Heathen Libruls! The Party of Personal Responsibility has some important lessons to teach you about Record Retention, Personal Grooming, and The Movement of Fecal Matter on an Incline. Get your money ready for those tolls, because it's time for a field trip to NEWARK, NEW JERSEY! Yayyyyyy!!!!
---
Former aide to Chris Christie Bridget Kelly and former Port Authority employee Bill Baroni were sentenced yesterday for their roles in the 2013 Bridgegate scandal. The two were convicted in November of conspiring to shut down entrance lanes to the George Washington Bridge as retribution for Fort Lee Mayor Mike Sokolich's refusal to endorse Christie in his second gubernatorial campaign.
Kelly has consistently maintained her innocence, despite having emailed her colleague David Wildstein at Port Authority, "time for some traffic problems in Fort Lee," right before the lane closures.
Let's just revisit the sheer callous nastiness of stranding thousands of people in their cars for hours simply to send a message to a political opponent.
That way the mayor would "fully understand that life would be more difficult for him in the second Christie term than it had been in the first," [former Port Authority employee] Wildstein said. [...]

The closures were timed to coincide with the first week of school in September, severely delaying school buses, commuters and emergency vehicles over four mornings.
She seems nice! And the whole Christie team gets a gold star for official record retention.
During six weeks of testimony, prosecutors and defense lawyers described how the Christie administration showered Democratic officials with treats from the Port Authority "goody bag" to court endorsements to burnish the governor's bi-partisan bona fides. Inducements included private tours of the World Trade Center construction site, agency grants and contracts, and pieces of burnt steel and flags from Ground Zero. Staffers kept a spreadsheet of the favors so they could remind officials how generous the administration had been.
Christie himself appears unlikely to face prosecution, although the scandal probably cost him a spot in the Trump administration. Sad! In the courtroom, however, he was more or less discussed as an unindicted coconspirator.
"Mr. Baroni, I do believe you lost your focus," Newark federal Judge Susan Wigenton told him before sentencing him to two years in the slammer.

"You allowed the vision of others you perceived as more powerful than you to cloud your judgment."

Wigenton later slapped Kelly with 18 months, saying she "got caught up in a culture and an environment that lost its way," and adding that "the environment in Trenton created a culture of: you are either with us or you are against us."
Perhaps the Court's sense that Kelly and Baroni were taking the fall for Christie accounts for the relatively short sentences, which are less than half the time suggested in the federal sentencing guidelines. Both have vowed to appeal the verdict. After the hearing, Kelly told reporters, "This fight is far from over. I will not allow my[self] to be the scapegoat in this case."
Okay, Girl. Let's just take a giant step back here and CHECK OUR PRIVILEGE. State legislatures across the country are debating laws making it a felony to block traffic during a civil protest. North Dakota is debating whether it should be legal to run over a protestor in the road. You deliberately tie up traffic for days on end as part of a political vendetta, and you're crying that you didn't get home detention?
As she stood for sentencing, Kelly, in black pants and top, held back tears as she asked the judge for leniency so she could "reconnect" with her four children. The single mother also offered an apology for her involvement in the lane closures.
As the owner of many twinsets myself, I think it's important to acknowledge that THIS OFFER IS NOT AVAILABLE IN BROWN. If  Black Lives Matters shut down traffic like this, it would be branded a terrorist organization and prosecutors would seek life sentences. You are a pretty blonde lady who just got a slap on the wrist for a serious abuse of power.
SIT DOWN, BRIDGET KELLY! AND YOU, TOO, BILL BARONI! It really sucks that Christie gets to roam free kissing Donald Trump's ass while his underlings may wind up in a minimum security prison. But as your Republican brethren are always saying, don't do the crime if you can't do the time.
Party of Personal Responsibility MY ASS!
[ USA Today / NYPost / NJ1015 / Reuters ]
Wanna throw us a couple bucks for the ad-free privilege check? Click click click!
Liz Dye
Liz Dye lives in Baltimore with her wonderful husband and a houseful of teenagers. When she isn't being mad about a thing on the internet, she's hiding in plain sight in the carpool line. She's the one wearing yoga pants glaring at her phone.