Michele Bachmann Bravely Collects Salary For Not Doing Her Job
News
July 26, 2011 11:24 AM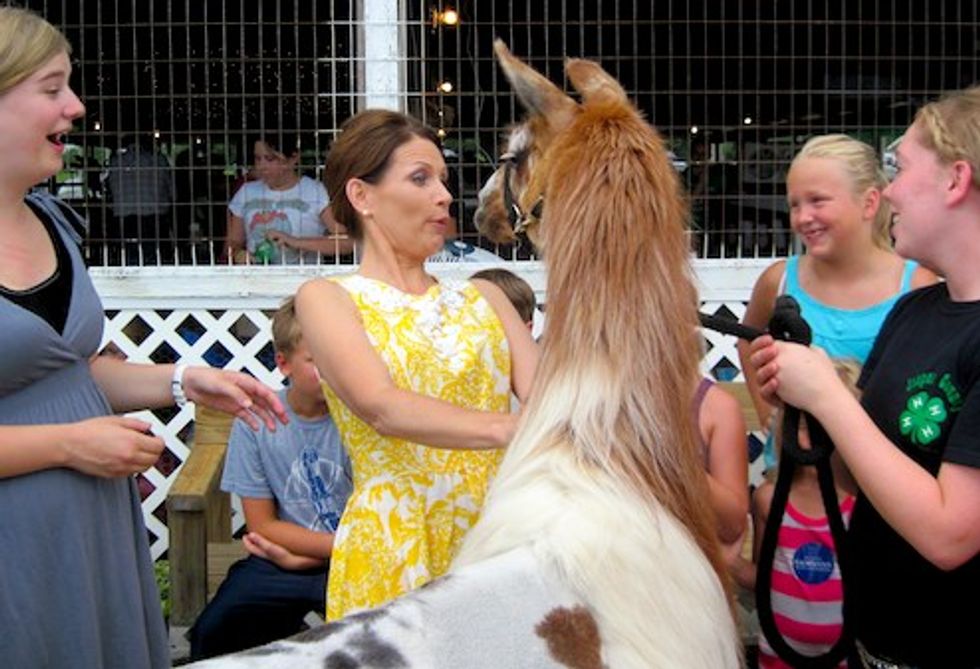 Why is Michele Bachmann trying to hypnotize this llama? Llamas are not television cameras, Michele. The llama looks a lot more calm than we would feel with Michele Bachmann right in front of our face like that. Here is a fun fact: Michele is more engaged in creeping out this llama than she is with her elected, salaried job of representing her constituents in Washington. Bachmann hasmissed nearly 40% of House votes since she began her campaign!
---
We bet any number of Americans would like this nice gig -- a six-figure salary, solid health benefits, ample free time to pursue your personal projects. Getting paid for not working, though? That kind of sounds like... oh, what's the word again...eh, nevermind.
From The Hill:
Bachmann, the chairwoman of the House Tea Party Caucus who has surged toward the top of the Republican presidential field, has missed 50 of 135 votes since formally announcing her candidacy on June 27 in Waterloo, Iowa.

Bachmann is one of three House members seeking the Republican presidential nomination. Both GOP Reps. Ron Paul (Texas) and Thaddeus McCotter (Mich.) are waging long-shot bids for the party nod.

Paul has missed 25 of 307 votes — about 8 percent — since entering the race May 13. McCotter has missed almost 10 percent: 13 of 135 votes since starting his campaign at the beginning of this month.
It's also possible that Michele just likes campaigning better than her actual job, since the only bills she has passed to date include a bill to recognize the 150th anniversary of the state of Minnesota three weeks after the fact and a bill recognizing September as "National Hydrocephalus Awareness Month." Besides that, Minneapolis alt-weekly City Pagesnotes that she mostly sticks to writing bills no one else will cosponsor, because she is a loon ball:
Despite Bachmann's early success in the presidential polls, her congressional record is composed almost entirely of confusion and failure. She's authored bills that not a single other lawmaker will cosponsor; she's sponsored the exact same failing bills over and over again; she's entered bills on obscure or trivial topics.
Oh well, at least as long as she is on the campaign trail she isn't filling up everyone else's desks with Xerox copies of her pointless legislation scribbled in the margins of Billy Graham Bible study guides. [The Hill/ City Pages]