Michele Bachmann's Marriage Vow Will Destroy Porn & Sharia Forever
News
July 08, 2011 12:20 PM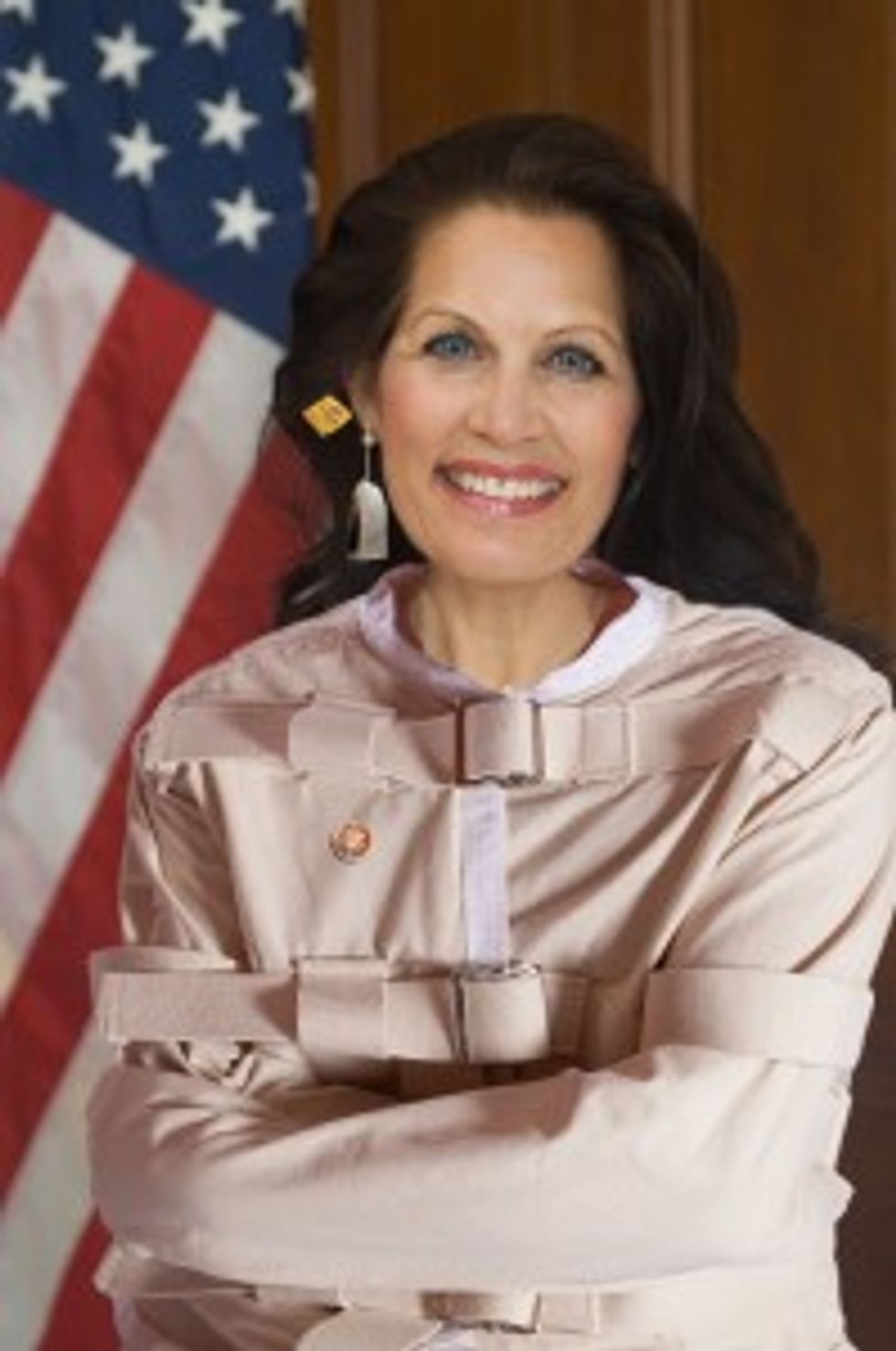 Put away your filthy magazines andGlee soundtrack! Because "culture war news" never gets old, America's future Screaming Banshee-in Chief signed another one of those dumb pledge things, this one called "The Marriage Vow," where she promises never to sex her husband and hate Islam and farm babies, and uh, what's that old favorite? Oh yeah, she'll ban porn, because the meth lab fun house that is her brain is having a seizure about the naked movies again. Wasn't this one of those 2010 things that Christine O'Donnell invented, about how she wanted to kill all the porn? Maybe you were lucky enough to have almost forgotten her, and now you have buried your face into your hands and begun to wail, because we have reminded you of her existence.
---
Michele Bachmann is now the first presidential candidate to sign this thing, created by The Family Leader and it's Chief Executive Officer of Funny-Sounding Names, Bob Vander Plaats.
U.S. Rep. Michele Bachmann, R-Minnesota, quickly signed the pledge Thursday, while an aide to to former Utah Gov. Jon Huntsman said he never signs any pledges. A spokesman for U.S. Rep. Ron Paul, R-Texas, said the congressman has reservations, while a representative of President Barack Obama's Democratic campaign committee declined comment.

Former Minnesota Gov. Tim Pawlenty, a Republican, is reviewing the pledge, a spokesman said Thursday night. Several other GOP presidential candidates didn't respond to requests for comment, including former Michigan Gov. Mitt Romney, former House Speaker Newt Gingrich, former Pennsylvania Sen. Rick Santorum, and retired Georgia businessman Herman Cain.
Newt Gingrich obviously cannot sign this pledge, even if he wants to, because it might be retroactive, and then Jesus would come down from the Heavens and eat him alive. Herman Cain is also ineligible for The Marriage Vow, because a relationship between a man and his pizza is not sacred in the eyes of the Creator.
Presidential candidates who sign the pledge must agree to personal fidelity to his or her spouse, the appointment of "faithful constitutionalists" as judges, opposition to any redefinition of marriage, and prompt reform of uneconomic and anti-marriage aspects of welfare policy, tax policy and divorce law.

The Marriage Vow also outlines support for the legal advocacy for the federal Defense of Marriage Act, humane efforts to protect women and children, rejection of Sharia Islam, safeguards for all married and unmarried U.S. military service members, and commitment to downsizing government and the burden upon American families.

In addition, candidates are asked to recognize that "robust childrearing and reproduction is beneficial to U.S. demographic, economic, strategic and actuarial health and security."
Okay ladies, put your hijabs away and start pooping out all the babies you can fit inside you, for America. Here is Michele Bachmann in her new campaign ad, telling you how she wants to steal your voice and hide it in the White House, so that she can take this country back from whoever ran away with it.
[youtube http://www.youtube.com/watch?v=ixs27-xUSRA&feature=pyv expand=1]