Michele Fiore At War With Pussy Nevada Cops Who Lack The Balls To Let Her Shoot Them
Elections
May 27, 2016 02:55 PM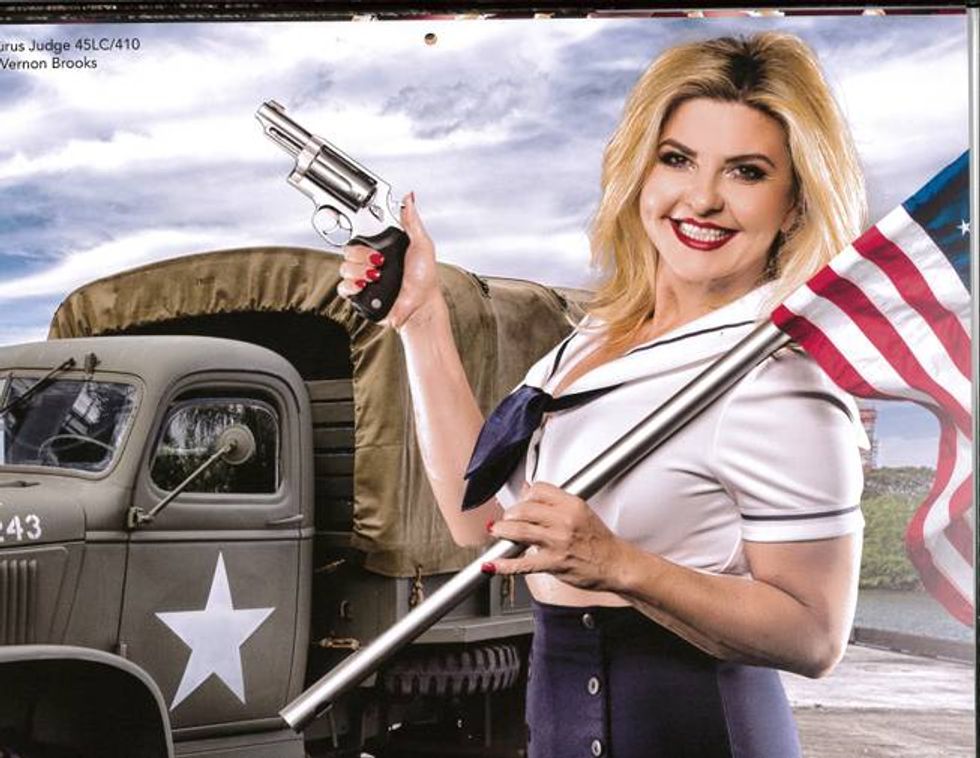 Freedumb fighter
---
Nevada Assemblywoman Michele Fiore is sick and tired of people misunderstanding her important thoughts about the need to shoot federal agents who aren't really cops. A while back, she did a teevee interview in which she said it's perfectly OK to point guns at "law enforcement officers" if they point their gun at you, because self defense. Then, because a whole bunch of stupid liberals thought she'd said it was OK to point guns at cops, she did a follow-up interview where she explained she only meant it was OK to point guns at federal "law enforcement officers," who aren't really law enforcement officers according to her very special Cliven Bundy Constitution, and didn't you hear her sarcastic quotation marks? She also said she'll never have to worry about real cops pointing their guns at her, because she's fucking a cop, so instead they'd point their dicks at her. Sadly, it appears Nevada law enforcement is full of liberal pussies who haven't been seduced by Michele Fiore at all, because a law enforcement association has gone and condemned her statements, even going so far as to call her an "embarrassment" to Nevada. Stupid, stupid cop people!
The Nevada Association of Public Safety Officers, which represents 21 Nevada law enforcement agencies, sent Fiore a letter Thursday saying her comments disqualify her as a candidate for Congress:
Ms. Fiore, we no longer see you as a passionate advocate for your Second Amendment rights, which we support. Rather, these comments were utterly irresponsible, an embarrassment to your District and our State, and they continue to demonstrate why you are unqualified to hold the position of United States Congresswoman.
NAPSO Executive director Rick McCann told the Las Vegas Sun,
I was appalled ... Michele, what are you thinking to even suggest in any way, shape or form, to even imply that it would be a valid course of conduct for a citizen to point a weapon at a law enforcement officer?
you'll recall,
were:
I would never, ever point my firearm at anyone, including an officer of the law. Unless they pointed their firearm at me. Now, once you point your firearm at me, I'm sorry, then it becomes self-defense. So whether you're a stranger, a bad guy, or an officer, and you point your gun at me and you're gonna shoot me and I have to decide whether it's my life or your life, I choose my life.
But damn it, Fiore already clarified that she meant fake federal cops, who she doesn't think are cops, just glorified bureaucrats with guns who have no real authority. She's now gunning for McCann and his stupid-ass letter, metaphorically (for now):
"If their leaders want to take a personal jab at me politically, bring it, and bring it all day long," she said [...]

"They can take the paper they printed it on, and he can use it in his restroom," she said.
Fiore continued her counterattack in comments to the Las Vegas Review-Journal:
"They don't have the balls to call me and sit down and talk to me face to face," she said. "… Sending out a letter without a call to me — shame on them."
Jesus, what is with these scaredy-cat cops who are afraid of an Armed Citizen calling on American Patriots to exercise their God-given right to defend themselves against tyranny? They'd better not push her, because she knows her rights, which include the right to decide which law enforcement officers are real and which aren't. That's right there in the Constitution, Article Potato, section PewPewPew!
McCann didn't seem especially bothered by Fiore's aspersions on his law-enforcing nutsack. He said he had already received a voicemail from Fiore, and explained the decision to send the letter was not his alone, but a decision by NAPSO's board. Also, he pointed out that some people don't see the fine distinction Fiore does between evil federal cops and good local cops:
He noted that a couple who visited the Bundy standoff site in 2014 later killed two Las Vegas cops.

"Yet Michele continues to want to be that gun-toting momma who wants to stand up and be heard on the issue," he said. "Enough with the bravado. In this day and age, bravado gets you hurt."
shot those cops in Vegas,
but that was a false flag incident by the Feds anyway. So if McCann is threatened, obviously, that's another false flag, or maybe it's Patriot Justice, depending on whether it helps Michele Fiore in the polls.
used her campaign funds
to fly up to Oregon to
play crisis negotiator
at the end of the Great Bundy Dildo Standoff at the Malheur Federal Wildlife Refuge. Pretty sure using campaign funds for her own personal obsession is EXCELLENT preparation for a career in Congress, where she can take grifting to a whole new level.