Michelle Obama Is Pregnant (According To Twitter)
News
January 03, 2011 03:00 PM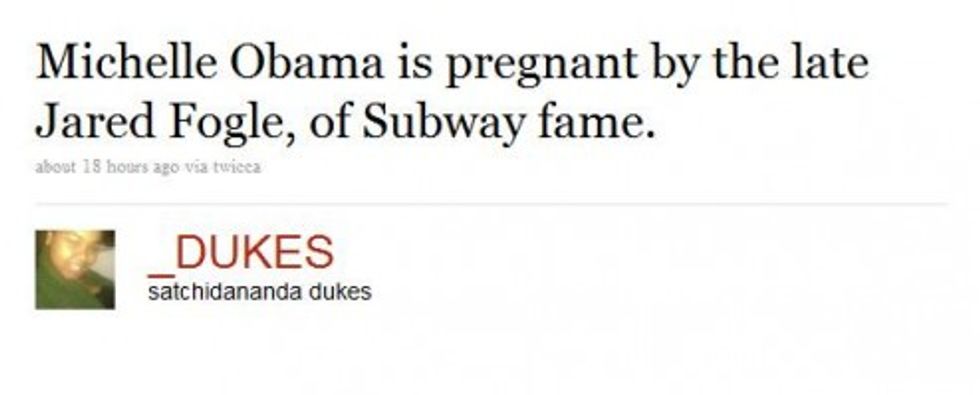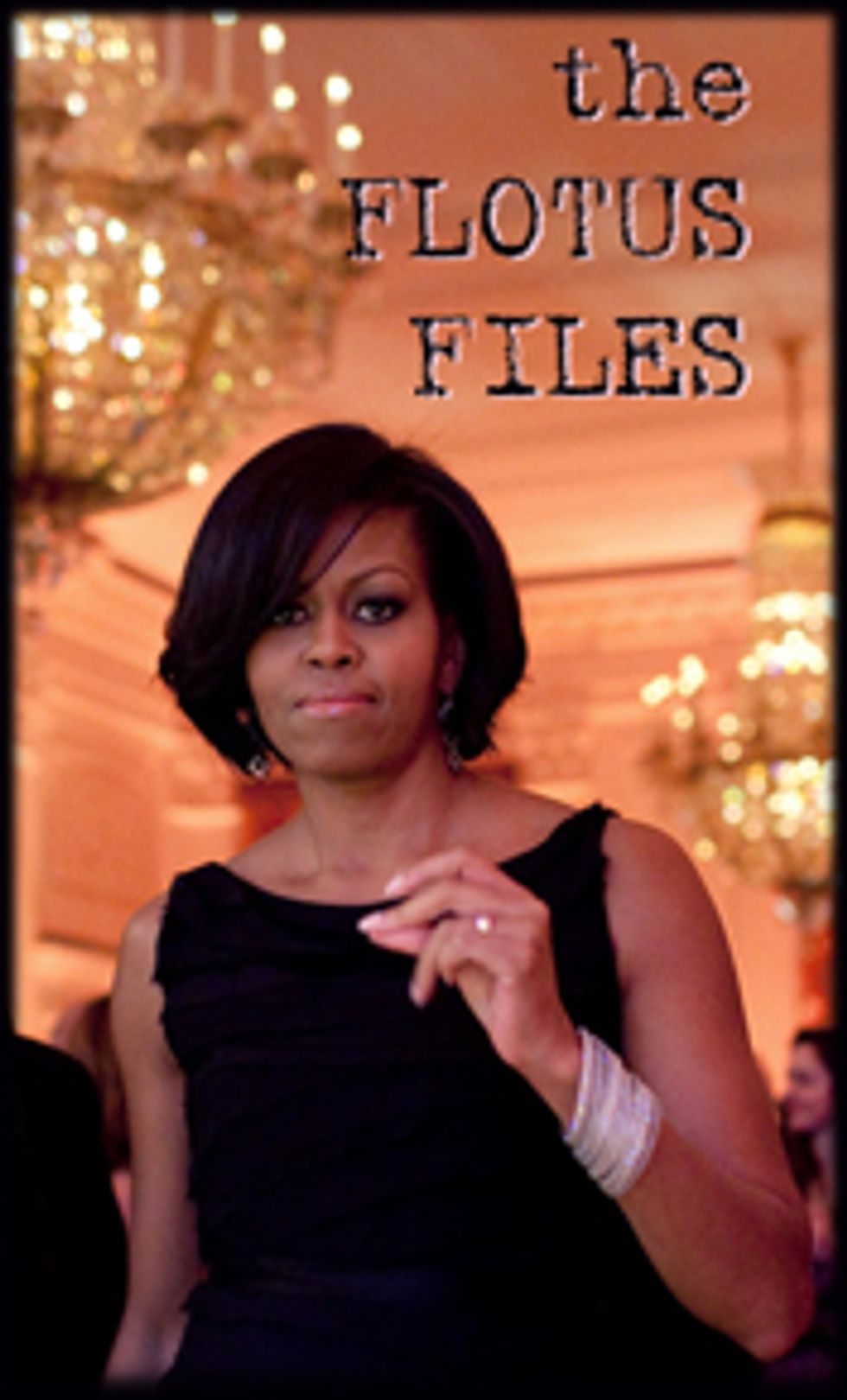 Between conquering Spain, vanquishing obesity and dancing around India, our beloved FLOTUS had some good times in 2010. What will 2011 bring for our First Lady, we wonder? A workout DVD, co-starring Bo the Fitness Dog? Girl Scouts, led by Jamie Lee Curtis, going door to door to sell easy-to-digest yogurt? More likely, we can expect the same brand of stupidity that last year had to offer, like "Cool Mom" Sarah Palin helping kids stay fat, for Freedom, and Michelle Obama getting pregnant, by Twitter.
---
On Sunday, while a few Americans were at the gym, reading the Bible or "being more patient," so they could cross these things off their January to-do lists and go back to being slobs, most True Patriots were already back in business, wandering the Internets for stimulation. Luckily for these web-savvy Americans, between stories about the "All Donut Diet" and "Panda Cow," the World's Only Reliable News Source broke the exciting news that Michelle Obama is expecting a baby. And, like any news story, it was confirmed by the great minds of Twitter.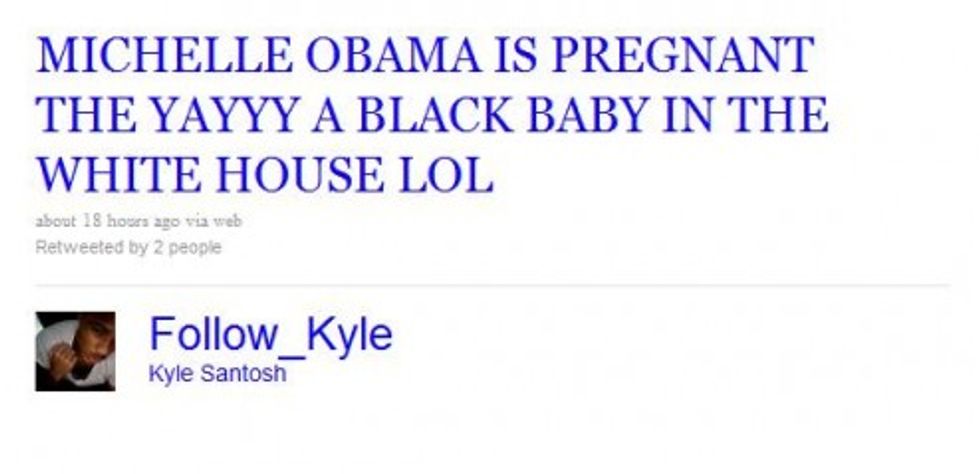 At first, reactions ranged from curiosity to elation. Then, the confusion came.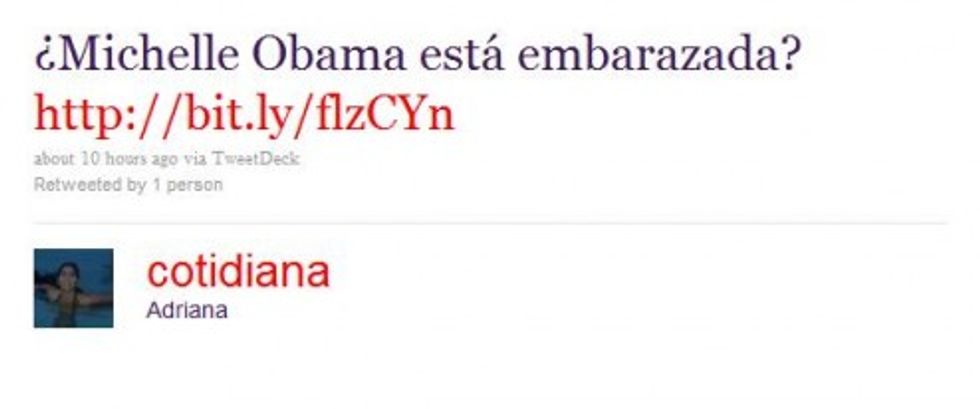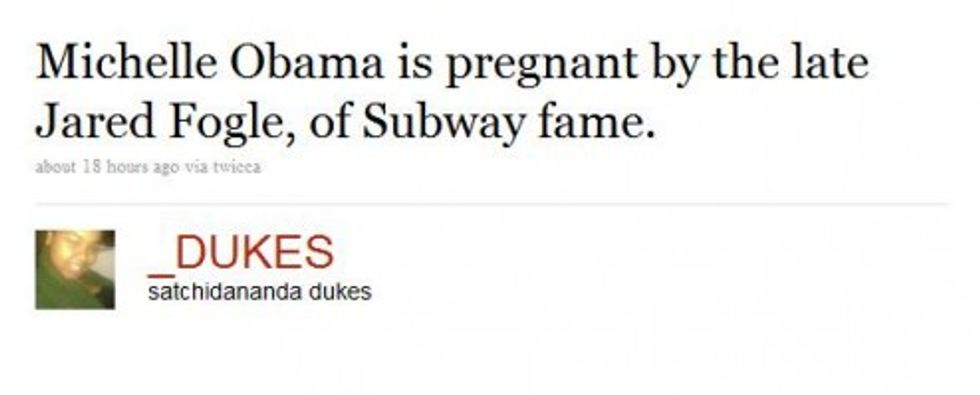 The announcement from the collective Fake Robert Gibbs was obviously believable, so perhaps the red flags were drawn following the apparent death of that Jared person, from Subway, who is very much alive. Thankfully, one Twitter user explained that reliable sources are unnecessary when a search engine can easily confirm or deny the validity of any piece of information: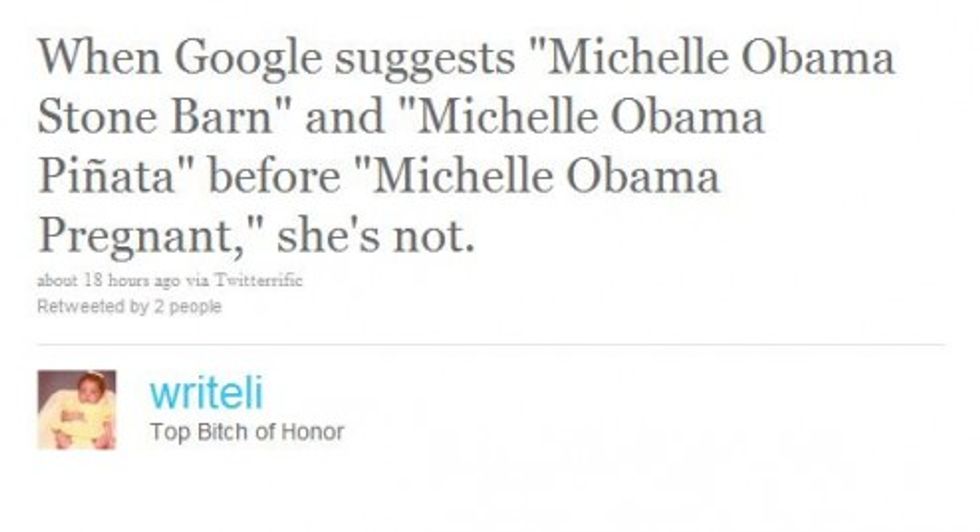 By day's end, Twitter was overcome with sadness and rage, as someone realized, despite the well-sourced Twitter evidence to the contrary, that Michelle Obama is not pregnant, to anyone's real, correct knowledge. However, according to some Internet mom and a psychic named Nikki, Michelle Obama will probably have a baby at some point this year, to lighten the national mood, or something. It worked for Bristol and those girls on MTV! [Twitter]
Blair Burke (blairelinor@gmail.com) obsessively follows Michelle Obama's every move for "The FLOTUS Files," which appears every Monday here at your Wonkette.