Michelle Obama Gets Her Hands All Over Everyone's Muffins
News
December 07, 2010 11:43 AM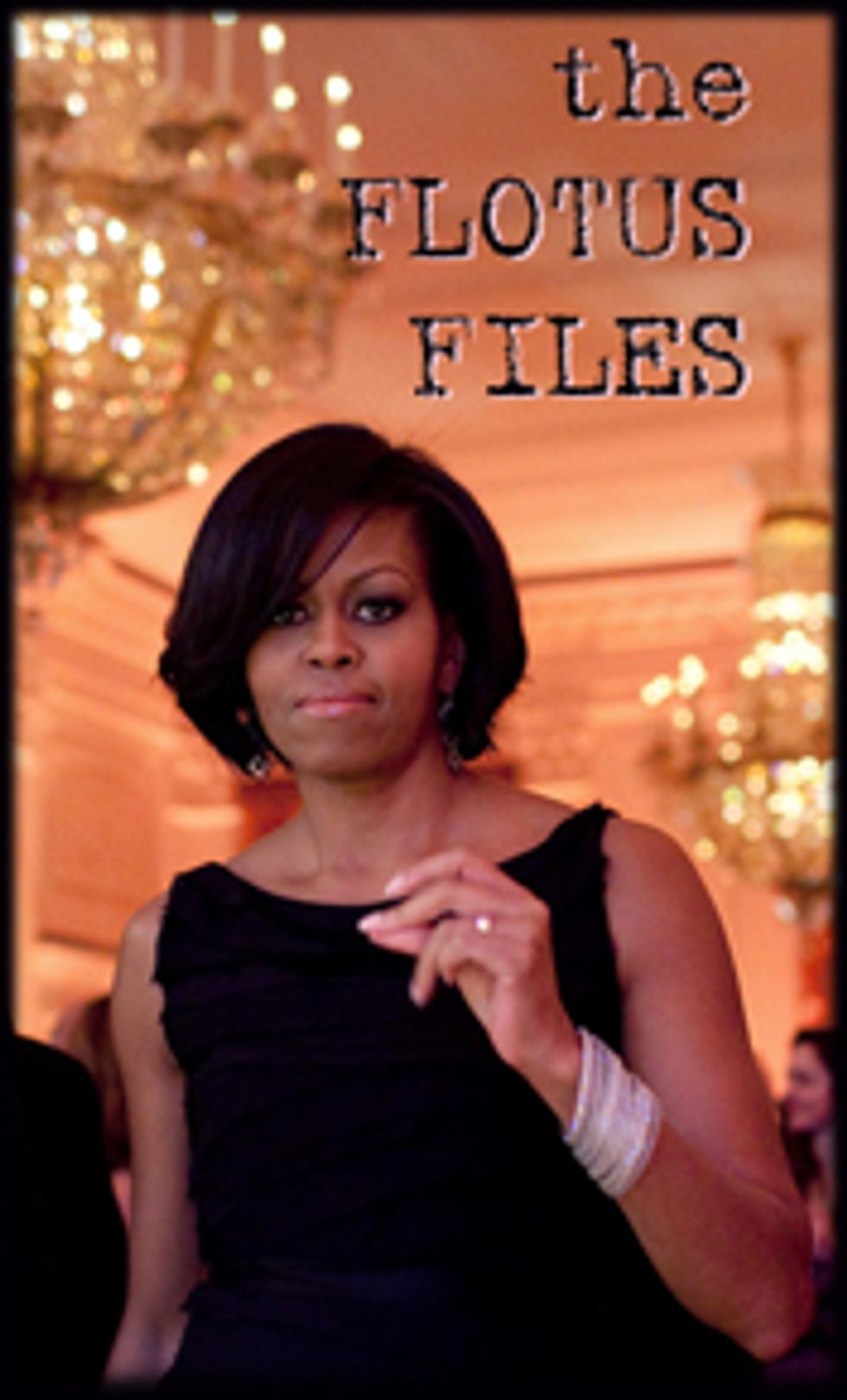 As you waited in line for a jumbo slice of pizza at Costco this weekend, did you notice that something was missing? Has the candy aisle at your local grocery store disappeared or been replaced with a shelf full of lettuce? If you have checked your fat son or daughter's bedroom and noticed that there is no occupant in sight, it's probably because last week, Michelle Obama's No Fat Kid Left Behind billpassed the House and is now awaiting a signature from the President, who will probably throw it in the garbage because he loves to eat hamburgers and cigarettes.
---
Obesity -- and hunger, because if there's one thing worse than a kid with too much food it's a kid who won't stop whining about the empty jar of Bacos -- is now completely over forever, thanks to our FLOTUS and the passage of "The Healthy, Hunger-Free Kids Act." The $4.5 billion bill approved by the House 264-157 basically puts Michelle Obama in charge of all the vending machines, or something. It also makes bake sales totally illegal, and any child caught planning or purchasing food at a bake sale will be sent straight to Gitmo with a backpack full of Lean Cuisines.
Bake sales and other school sponsored fundraisers that sell unhealthy foods could be limited under the legislation, which only allows them if they are infrequent. The Agriculture Department would determine how often they could be held. Public health advocates pushed for the language, saying they are concerned about daily or weekly fundraisers that allow children to substitute junk food for a healthier meal.
This kind of nonsense really sends Great American Mind and teevee person Gretchen Carlson into a state of rage and helplessness, because who are the people of the Department of Agriculture to inappropriately touch our children's muffins?
Brian Kilmeade and his sad, lonely cupcake plate were similarly enraged by Michelle's "ban on bake sales," even though it doesn't exactly "exist," per se, because isn't it every child's right, as an American, to buy cake in support of new cheer leading uniforms that will be sparkly and flattering, even on children who prefer to stuff their faces with cake?
Maybe things are done a certain way in Michelle's household, but in Real America, parents raise their children a certain way. It's a tradition of getting children strung out on caffeine and sugar and then soothing them with ADHD medication every hour, on the hour, and no child nutrition bill is going to take away that special Freedom. [AP]
Blair Burke (blairelinor@gmail.com) obsessively follows Michelle Obama's every move for "The FLOTUS Files," which appears every Monday here at your Wonkette. Except when it appears on a Tuesday.