Midterm Madness: A Nice Doctor Tries To Surgically Remove The GOP Hold On Arizona's 8th.
Science
April 22, 2018 11:30 AM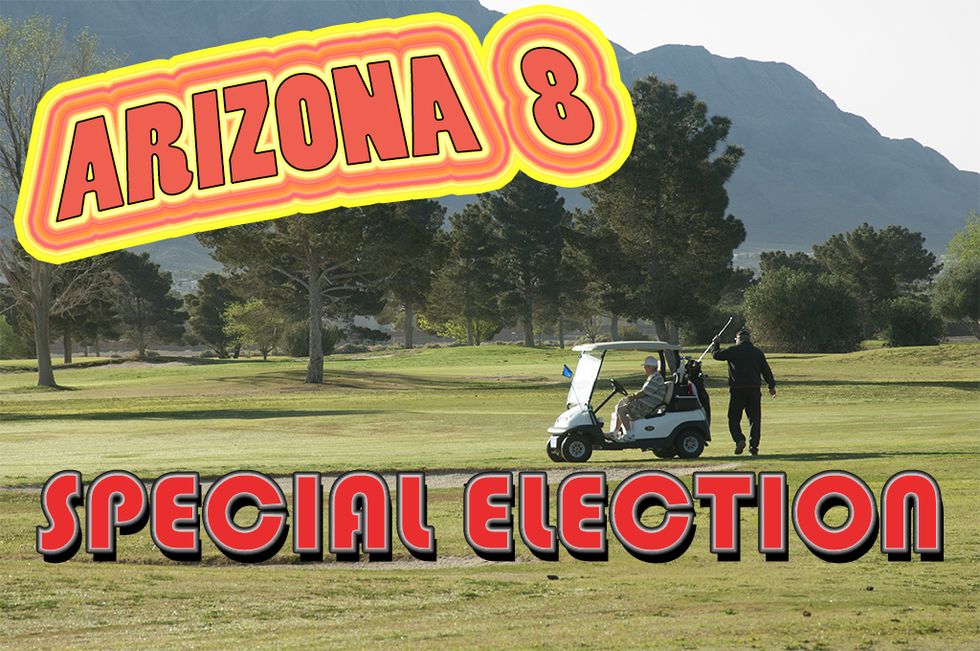 This week we're heading to Arizona for look at the special election in the 8th District!
---
The 8th is sort of northwest of Phoenix, and there's no mincing words here: it's a suburban conservative stronghold full of bitchy old white people with lots of free time and money. This is Maricopa County, where the irrational fear of Mexicans is greater than the total Latino population (thanks, Joe Arpaio). There are at least a dozen golf courses in the district, all within a 30 minute drive of one another. It's one of those places where fun goes to sleep at a reasonable hour, dinner is served unnecessarily early and rainy days are metaphors for a fiber-rich diet.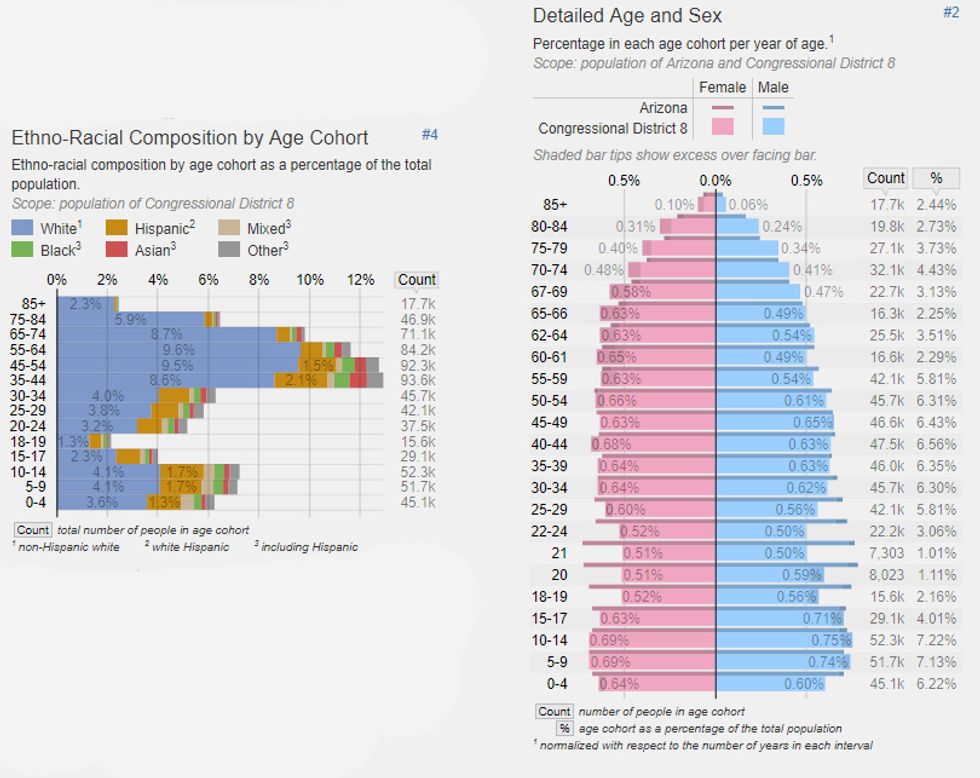 Ethnio-Racial Composition by Age, and detailed Age/Sex of Residents in AZ 08, via Statistical Atlas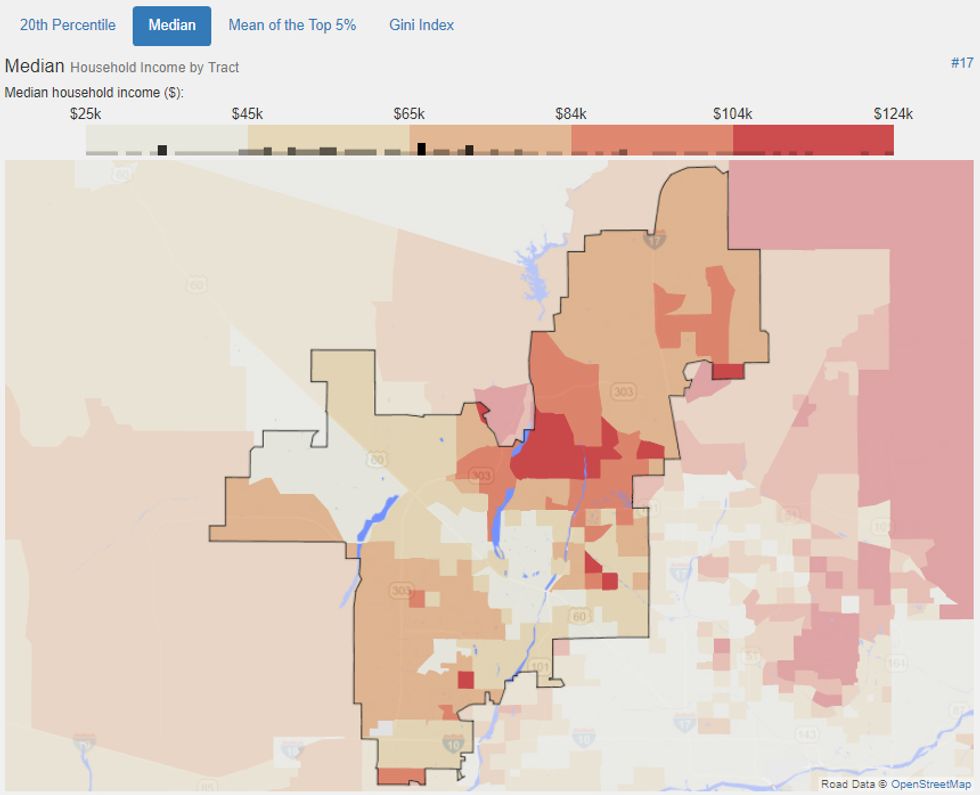 Median Household Income of AZ 08, via Statistical Atlas
Liberty-fucking, gay-hating, Islamophobic gun fetishist Trent Franks WAS the Rep. in the 8th, but he got #MeToo'd for trying to pay staffers MILLIONS to be his baby incubation devices. Franks resigned in December after Paul Ryan stated there were "credible" allegations that Franks was attempting to create human franchises with multiple women. Shortly after his resignation, a woman wrote an op-ed in WaPo alleging Franks rescinded an internship offer after she declined a late night "one-on-one interview" at his house.
The Republican candidate, Debbie Lesko has literally copy-pasted her legislative agenda from whatever a lobbyist handed her. She's been mucking about in state politics for some time, and is a board member of ALEC, an evil pro-corporate lobby. A pro-Trump lackey, she is shockingly vague on everything other than "legislation that permits Sun City and Sun City West residents to drive golf carts on the right side of the streets without getting a ticket," which seems petty until you stop to remember how many golf courses are in the district. She's the kind of politician who is content to read printed instructions off the back of her donors' business cards.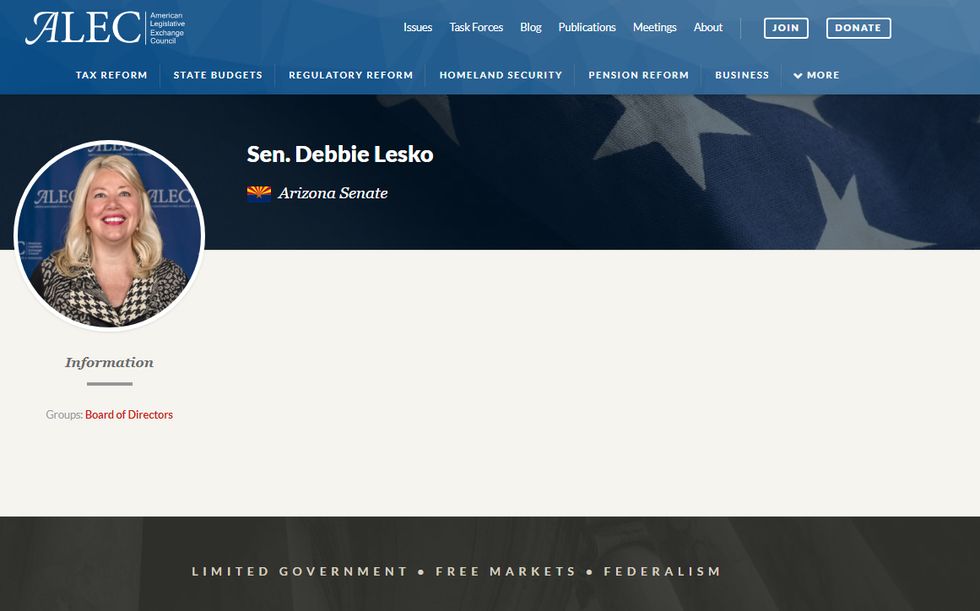 Fun Fact: Debbie Lesko is not important enough to have even a single bio line on ALEC's website.
Hiral Tipirneni is pretty much the opposite of Lesko. Originally from India, her family immigrated to the US when she was three and settled in Ohio. She became an ER doc, and has been involved in all sorts of public health initiatives and cancer research. Tipirneni is the perfect candidate to run against a bigoted immigration hardliner. Watching her speak gives you the sense that she really believes in helping people, which is sweet and refreshing considering the cesspool that is American politics.
Above all else, the most important issue here is healthcare. Lesko has been curiously silent on the issue, and it doesn't even appear among the talking points on her website. We can only assume Debbie Lesko would use an army of orphans to build and patrol Trump's wall with long guns so Mexicans can't go to the local clinic. Tipirneni, being a doctor, actually has a decent plan to strengthen Medicaid coverage, and lower insurance costs by expanding options. She's even got a slick video to explain her idea.

This is one of those races that has
scared the hell out of Republicans.
After a Democratic sweep of special elections in reliably conservative areas over the past year, wealthy Republican donors have tried to stop the bleeding by patching their gaping wounds with $100 bills. On paper
Tipirneni has been winning the dash for the cash thanks to small donors,
hauling in $734,937 to Lesko's $564,404. Republican groups have since been raiding their piggy banks for Lesko to the tune of $1 million.
The GOP is even calling in their big guns. Paul Ryan and Kevin McCarthy just hosted fundraisers for Lesko, and voters are being bombarded by fear-mongering robocalls from Trump about immigrants stealing jobs and healthcare from retirees. Lesko affiliated groups have been engaged in run-of-the-mill conservative fuckery, accusing Tipirneni of deceptive ads and FEC violations, though Lesko's primary opponent accused her of $50,000 in illegal campaign contributions.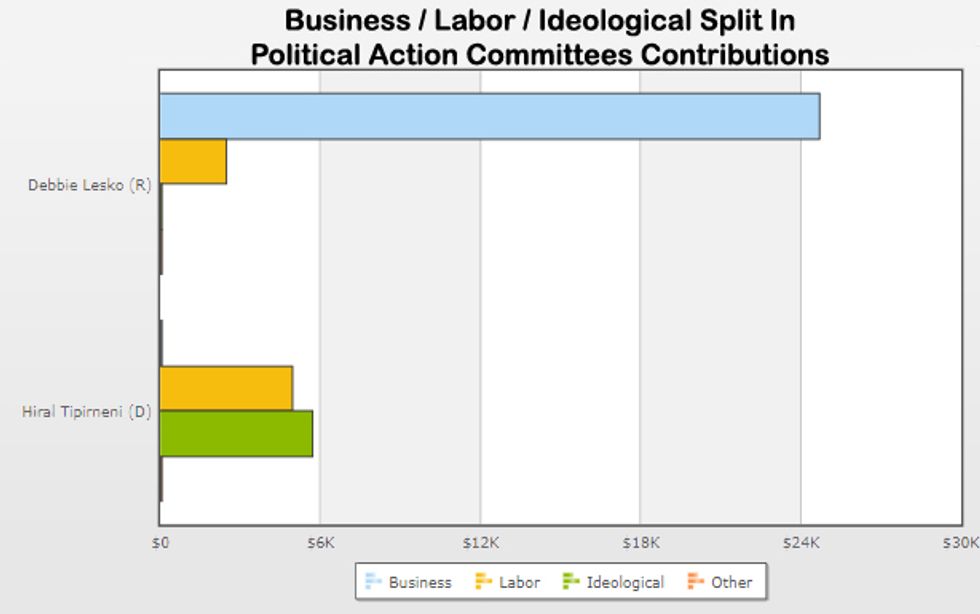 Graph via OpenSecrets.org
Recent polls show this race as a complete toss-up. Tipirneni is now in a statistical dead heat with Lesko even though Republicans outnumber Democrats by 17.04 percent. Though there are 33.69 percent of unaffiliated voters, the early election returns  don't look good. Its possible those unaffiliated voters break for Tipirneni -- provided the new County Recorder cleaned up the purging and fuckery of voter rolls.
There's lot of factors making this race so funky. Trump won the district in 2016 by 20 points, but he's spent the last two years shitting all over on John McCain and Jeff Flake (a grouchy war hero dying of cancer, and a Mormon, respectively). Trump's poll numbers are in the toilet statewide, and Lesko has clung tightly to her MAGA hat. And let's not forget that Trent Frank's resignation is what triggered the damn election.
The bottom line here: there's a chance Democrats could take this one, but it's a long shot. Whoever wins the seat still has to defend it in November, so any victory would be short-lived as the primary and general elections heat up. Of all the Democratic candidates, Tipirneni has the best odds of winning the general thanks to the name recognition and war chest she built during the special election, but the raw number of potential voters in the district add up to a steep, though not insurmountable, hill to climb.
Donate to Dr. Hiral Tipirneni!
Wonkette is a 100% ad-free, reader supported, woman owned business, and we could use some help paying our bills and bar tabs. 
[Ballotpedia / Statistical Atlas / Arizona Secretary of State / Arizona Secretary of State Registration Counts / FEC / 538 / ABC News / CNN / Phoenix New Times / Roll Call / NBC News / AZ Central / WaPo / Phoenix Business Journal / NPR / The Intercept]
Dominic Gwinn
Dominic is a broke journalist in Chicago. You can find him in a dirty bar talking to weirdos, or in a gutter taking photos.