Mike Flynn Dumped By Trump! Wonkagenda For Tues., Feb. 14, 2017
Culture
February 14, 2017 09:11 AM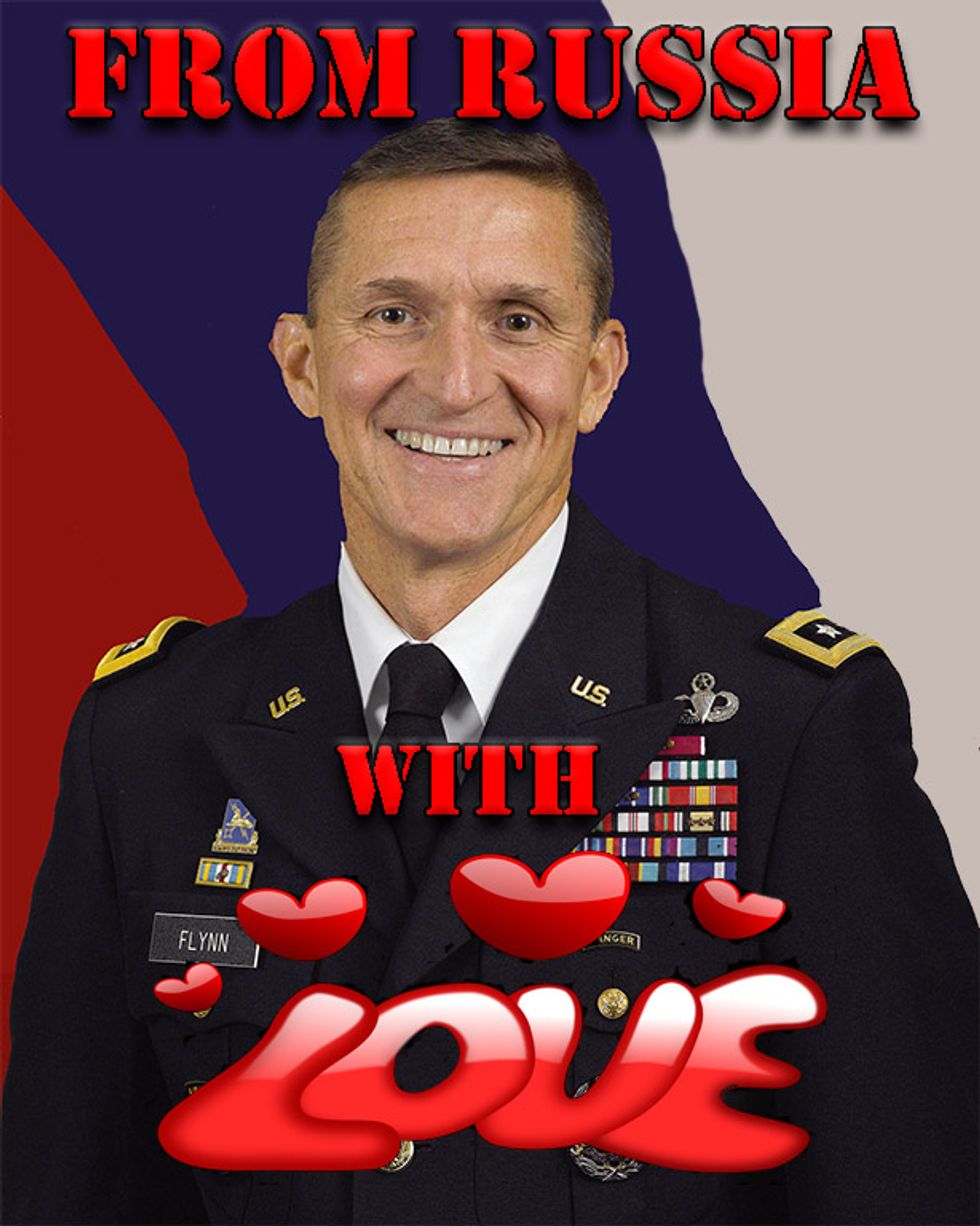 Morning Wonkers! Grab some chocolate, or some coffee, or put some chocolate in your coffee and get uncomfortably close to Yr Wonkette because there's a ton of stuff that happened while you were sleeping. Here's just some of the things we may be talking about today!
---
Mike Flynn has resigned as National Security Advisor after people become increasingly concerned that he was a little too chummy with Putin, and lied to Mike Pence.
Keith Kellog has been named as Flynn's temporary replacement because he too was an early-Trumpkin, but speculation says the job could go to Vice Adm. Robert Harward or even David Petraeus.
Before she was "You're Fired" by Trump, Sally Yates warned the White House that Flynn might be compromised, and vulnerable to blackmail.
Russian politicos are defending Mike Flynn and accusing the U.S. of "thoughtcrime," "russophobia," and paranoia for not wanting oligarchs and a dictator to whisper sweet, vodka-flavored nothings in our ears.
Hillary Clinton threw some modest shade at Mike Flynn on the Tweet-space because she's a funny lady, not a conspiracy peddling asshole.
Apparently, Oprah found that tape of Labor Secretary Nominee Andrew Puzder's ex-wife accusing him of abuse 27 years ago, and sent it to senators ahead of Puzder's scheduled confirmation hearing Thursday.
Steve Mnuchin is your new Treasury Secretary so just wait a little bit before you start short-selling stocks and gaming markets because those regulations haven't been rolled back yet.
Wilbur Ross will keep the millions of Ameros he's invested in businesses if he's confirmed because he promises that he'll excuse himself "in the unlikely event" of something like an oil spill. [Archive]
Federal Reserve Chair Janet Yellen will head to the Hill later today and tell Congress critters all about the great job our B. Barry Bamz did fixing our broken economy, then make some suggestions that nobody will care about.
Randy Berry will stay on as the Special Envoy for the Human Rights of LGBTI Persons in the State Department, making him the second Obama official to stick around now that David Shulkin will head up the Veterans Affairs. Hurray!
Kim Jung Un's weird half-brother was apparently murdered in an airport in Kuala Lumpur with a poison needle by two lady ninjas. Yup, MORE secret agent spy stuff!
After everyone at Mar-a-Lago posed for selfies with potentially classified materials, Senators Tom Carper and Claire McCaskill have written a letter to James Mattis wondering if Trump is actually using a "secured, encrypted" smartphone.
Super nerds are building software to monitor changes to government websites, and backing up mountains of data for safe keeping.
Harold T. Martin III was indicted under the Espionage Act for stealing a shitload of government data from the NSA, but his attorneys say he wasn't stealing, he was hoarding.
Big-mouthed conservative blowhards Sean Hannity and Joe Scarborough are having a three way now that White House social media director Dan Scavino has become involved in their lover's quarrel. Of course, Scarborough may just be reeling from his breakup with Kellyane Conway. Eww...
And here's your late night wrap up! Seth Myers took A Closer Look at Trump's foreign problems and voter fraud allegations, Colbert invited Steven Miller to come on his show, and Trevor Noah talked about Trump's crash course with Not America.
And here's your morning Nice Time: a baby Francois langur! It's all the rage in Chicago!
Dominic Gwinn
Dominic is a broke journalist in Chicago. You can find him in a dirty bar talking to weirdos, or in a gutter taking photos.